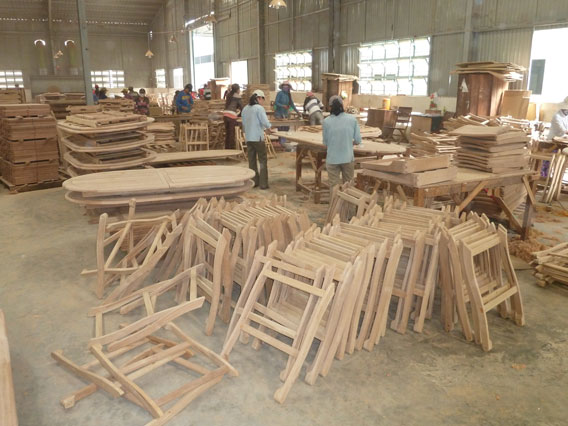 Factory in Vietnam making outdoor furniture. © Environmental Investigation Agency (EIA).
Dwindling forests in the Asian nation of Laos are being illegally destroyed and traded by Vietnamese companies with the Vietnamese army as one of the biggest players in this multi-million dollar smuggling operation, according to an investigation by the Environmental Investigation Agency (EIA). EIA agents went undercover as timber purchasers to discover a long trail of corruption and poor enforcement from the destruction of Laos forests to furniture factories in Vietnam to stores in the USA and Europe. Even a ban on exporting raw timber out of Laos has done little to stop the plunder of the nation's forests for outside gain.
"EIA first exposed the illicit log trade between Laos and Vietnam in 2008, and our latest investigations reveal that sadly nothing has changed," EIA Head of Forest Campaign Faith Doherty said in a press release.
One of the largest logging operators in the investigation was the Vietnamese Company of Economic Cooperation (COECCO). However, it was discovered that this company, which specialized in logging near dam construction sites, was owned by the Vietnamese Military Zone 4. COECCO has been logging forests with impunity for two decades, according to the EIA.
The EIA report estimates that around 500,000 cubic meters of logs make their way from Laos to Vietnam annually with logs coming from "some of the last
intact tropical forests in the Mekong region." Local people (70 percent of Lao people live in rural areas) are suffering the loss of the forest resources on which they depend, while, according to the EIA, the only beneficiaries in Laos of this underground trade are corrupt officials and criminal business people.
"The governments of Vietnam and Laos urgently need to work together to stem the flow of logs and curb the over-exploitation of Laos' precious forests before it's too late, and the Vietnamese military must be excluded from logging operations in Laos," says Doherty. "With a new Timber Regulation coming into force within European markets in 2013, both Vietnam and Laos have a lot at stake and urgently need to work with the European Union."
Already in the US, the Lacey Act makes it a federal offense to sell wood that was sourced illegally in its country of origin.
EIA recommends that the Lao government enforce its export ban on raw logs and make its forestry quotas transparent, while Vietnam should block log imports from and not allow its military to log in Laos. Consumers should be wary when purchasing Vietnamese furniture to make certain the wood didn't come from Laos forests.
Related articles
Australian 'green' buildings used illegally logged wood from rainforests allege activists
(07/27/2011) A 'green' building development being built by Frasers Property Australia in Sydney has been accused of using illegally-sourced plywood from Malaysian state of Sarawak in Borneo, according to a new Greenpeace report. The wood in question comes from a subsidiary of Samling, a company that has been connected to illegal logging and abusing the rights of indigenous groups in the past. After the revelations came to light, Frasers Property Australia said they would conduct an audit of the wood which was provided to them by Australian Wood Panels (AWP).
WWF partnering with companies that destroy rainforests, threaten endangered species
(07/25/2011) Arguably the globe's most well-known conservation organization, the World Wide Fund for Nature (WWF), has been facilitating illegal logging, vast deforestation, and human rights abuses by pairing up with notorious logging companies in a flagging effort to convert them to greener practices, alleges a new report by Global Witness. Through its program, the Global Forest and Trade Network (GFTN), WWF—known as World Wildlife Fund in the US and Canada—has become entangled with some dubious companies, including one that is imperiling orangutans in Borneo and another which has been accused of human rights abuses in the Congo rainforest. Even with such infractions, these companies are still able to tout connections to WWF and use its popular panda logo. The Global Witness report, entitled Pandering to the Loggers, calls for WWF to make large-scale changes in order to save the credibility of its corporate program.
Endangered species trafficking: What did Gibson Guitar know?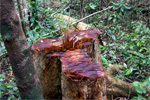 (07/07/2011) A motion filed last month by the U.S. Department of Justice alleges Gibson Guitar knew it was trafficking in endangered timber when it was busted by the U.S. Fish and Wildlife Service in November 2009, reports the Environmental Investigation Agency (EIA).