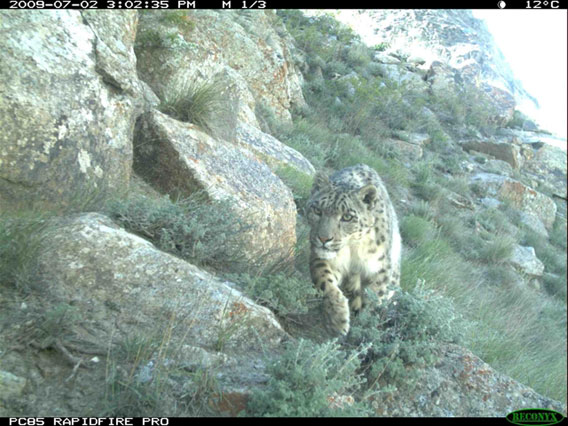 Snow leopard in the Wakhan Corridor caught on camera trap. Photo by: Wildlife Conservation Society.
Decades of war and poverty has not exterminated snow leopards (Panthera uncia) in Afghanistan according to a new paper in the International Journal of Environmental Studies, written by researchers with the Wildlife Conservation Society (WCS). Instead the researchers report a healthy population of the world's most elusive big cat in Afghanistan's remote and peaceful Wakhan Corridor region. Monitored by camera trap in the region, WCS researchers were able to identify 30 snow leopards in 16 different locations.
"This is a wonderful discovery—it shows that there is real hope for snow leopards in Afghanistan," said Peter Zahler, WCS Deputy Director for Asia Programs in a press release. "Now our goal is to ensure that these magnificent animals have a secure future as a key part of Afghanistan's natural heritage."
Snow leopards in the Wakhan Corridor, which connects Afghanistan with China, are imperiled by poaching, human-wildlife conflict, and illegal capture for the global pet trade. "For a species like the snow leopard, which occurs at low densities, and a country
like Afghanistan where the rule of law is weak" such threats are 'significant', according to the researchers.
| | |
| --- | --- |
| | Snow leopard in the Wakhan Corridor caught on camera trap. Photo by: Wildlife Conservation Society. |
With help from the US Agency for International Development (USAID), WCS has trained 59 wildlife rangers and works with 55 local communities on governance and education. Although there are few instances of snow leopards preying on livestock, WCS is also helping to build predator-proof corrals and establish a livestock insurance program.
One of the major challenges in the region is widespread poverty and lack of services for communities.
"The Wakhan is one of the most remote and isolated mountain landscapes in the
world and a place of immense beauty. […] [The people in the area] are among the
most disadvantaged in the world, having high child mortality rates, in places exceeding
50 percent by age five. Like many poor communities, the people of Wakhan are heavily
dependent on their natural resources for survival," the researchers explain, adding that given these conditions WCS's work in the area "focuses heavily on the local communities,
helping them to develop sustainable natural resource management plans and the capacity
to implement the plans. In addition to saving threatened species in Wakhan, a major aim is
livelihood improvement for the communities, in ways that harmonize with sustainable natural
resource management."
Scientists say that tourism, in hand with conservation, could become a new lifeline for these communities.
"This is one of the few peaceful places in Afghanistan,
its people never having engaged in any of the violence and strife elsewhere. Tourist numbers
in Wakhan have been increasing rapidly since 2005 with the yearly total currently
being between 200 and 250. This is providing a much needed cash stimulus to the local
economy," the authors write, adding that the conservation of snow leopards should be integrated with tourism efforts.
Next up the WCS plans to begin marking snow leopards to estimate the total population size in Wakhan.
Listed as Endangered by the IUCN Red List, global estimates of snow leopard range from 4,500 to 7,500 individuals. Like many of the world's top predators, the species is in decline. Researchers estimate its population has dropped 20 percent in less than two decades.
CITATION: Anthony Simms, Zalmai Moheb, Salahudin, Hussain Ali, Inayat Ali & Timothy
Wood (2011): Saving threatened species in Afghanistan: snow leopards in the Wakhan Corridor,
International Journal of Environmental Studies, 68:3, 299-312.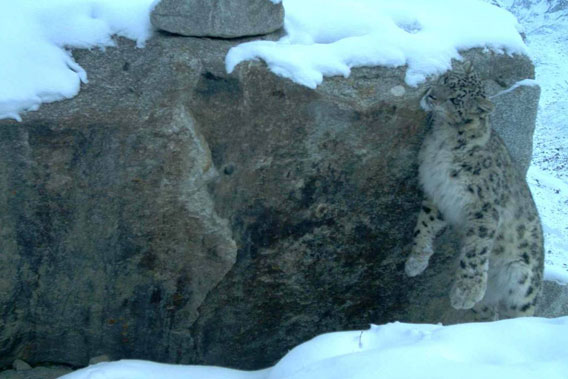 Snow leopard caught by camera trap in Afghanistan. Photo by: Wildlife Conservation Society.
Related articles
Conservationists oppose snow leopard hunt for 'science'
(03/23/2011) Conservationists have come out in opposition against a plan by the Mongolian government to issue four permits to kill snow leopards (Panthera uncia ) for 'scientific research'. The permits were awarded to foreign nationals last month. Snow leopards are listed as Endangered by the IUCN Red List with their population declining. "If the planned hunting of snow leopards is allowed to go forward, Mongolia's creditability as a leader in conservation of [snow leopards] and other rare species will be severely tarnished," reads a letter from Tom McCarthy, Executive Director of Panthera's Snow Leopard Program and George Schaller, Vice President of Panthera, to Mongolia's Minister of Nature, Environment, and Tourism.
Treasure chest of wildlife camera trap photos made public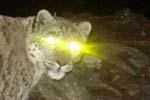 (02/27/2011) Photos taken by camera traps have not only allowed scientists to study little-seen, sometimes gravely endangered, species, they are also strangely mesmerizing, providing a momentary window—a snapshot in time—into the private lives of animals. These are candid shots of the wild with no human in sight. While many of the photos come back hazy or poor, some are truly beautiful: competing with the best of the world's wildlife photographers. Now the Smithsonian is releasing 202,000 camera trap photos to the public, covering seven projects in four continents. Taken in some of the world's most remote and untouched regions the automated cameras have captured such favorites as jaguars, pandas, and snow leopards, while also documenting little-known and rare species like South America's short-eared dog, China's golden snub-nosed monkey, and Southeast Asia's marbled cat.
Could camera traps save wildlife worldwide?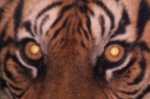 (08/31/2010) It's safe to say that the humble camera trap has revolutionized wildlife conservation. This simple contraption—an automated digital camera that takes a flash photo whenever an animal triggers an infrared sensor—has allowed scientists to collect photographic evidence of rarely seen, and often globally endangered species, with little expense and relative ease—at least compared to tromping through tropical forests and swamps looking for endangered rhino scat . Now researchers with the Wildlife Conservation Society (WCS) and the Zoological Society of London (ZSL) are taking the utility of the camera trap one step further: a study in Animal Conservation uses a novel methodology, entitled the Wildlife Picture Index (WPI), to analyze population trends of 26 species in Bukit Barisan Selatan National Park on the Indonesian island of Sumatra. While the study found a bleak decline in species, it shows the potential of camera traps for moving conservation forward since it marks the first time researchers have used camera traps to analyze long-term population trends of multiple species.