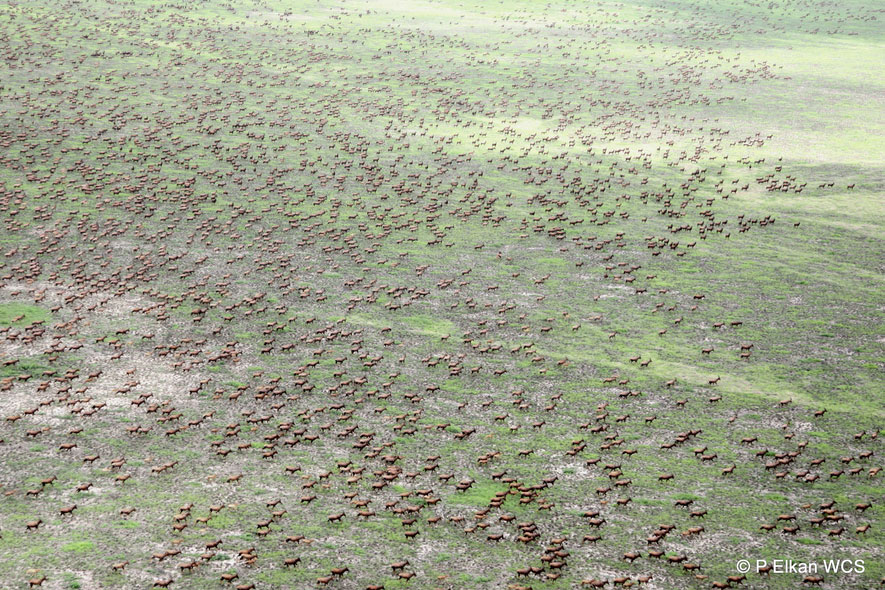 Tiang migration across Boma-Jonglei-Equatoria Landscape, South Sudan. Photo credit: © Paul Elkan/Wildlife Conservation Society.
At midnight local time on Friday, South Sudan became the world's newest nation. As celebrations continue in the new capital of Juba and congratulations come from every corner of the globe, the Wildlife Conservation Society (WCS) is urging the newborn nation to protect its ecosystems and rich wildlife in order to build a sustainable and forward-looking economy. Home to the world's second largest land migration, South Sudan boasts an abundance of African megafauna that is becoming increasingly rare throughout much of the continent.
"South Sudan's wildlife treasures provide an opportunity for a diverse economy based on eco-friendly tourism in the world's newest nation. WCS is committed to working with the government of South Sudan and USAID to help manage natural resources in a sustainable way and establish protected areas. Wildlife conservation must play a vital role in the economic future of South Sudan," Steve Sanderson, WCS President and CEO, said in a press release.
Every year 1.3 million antelope, including white-eared kob, tiang antelope, Mongalla gazelle, and reedbuck, migrate across savanna and wetlands in South Sudan. The migration was only discovered in 2007 after decades of civil war had kept scientists out. But as spectacular as it is, the migration isn't the South Sudan's only wildlife wonder. Researchers were surprised to see that much of the wildlife survived the region's political turmoil, including buffalo, giraffe, lion, bongo, chimpanzee, and some 8,000 elephants.
According to WCS, the presence of iconic African mammals in abundance could allow the nation to become a popular ecotourist destination. In 2009, nearby Kenya made $1 billion from tourism while Tanzania brought in $1.2 billion. Tourism, as opposed to large-scale resource extraction, is also sustainable over the long-term. Currently 98 percent of South Sudan's revenue comes from one thing: oil.
The new nation is facing an array of massive challenges. Lack of infrastructure, deep poverty, and the fear of continuing conflicts with the north.
Given the difficult task facing the new nation, WCS is also asking the US government to continue aid to South Sudan.
"US government support remains critical to the development of South Sudan and is vital for American national security and economic interests. Foreign assistance through USAID in areas such as natural resource and protected area management, education, and job creation help to stabilize volatile regions and prevent conflicts. Stabilization and development create more prosperous economies and open up potential trade markets for US goods. USAID's focus on global health, food security, and climate change serve to reinforce these goals of protecting economic and national security," reads the press release.
Wildlife migrations are threatened and collapsing worldwide, especially large mammal migrations. The pronghorn migration in the US is on its last legs; the saiga antelope migration in Central Asia has collapsed over the past two decades; the caribou migration near the Arctic is plunging and even the Serengeti migration is threatened by road-building plans in Tanzania.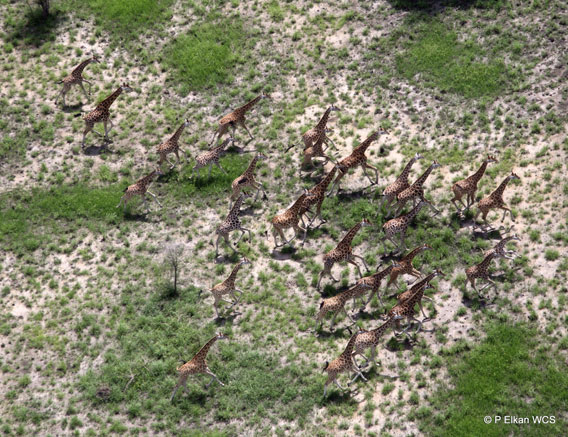 Group of giraffe in Badingilo National Park, South Sudan. Photo credit: © Paul Elkan/Wildlife Conservation Society.
Related articles
South Sudan's tropical forests fast disappearing
(06/06/2011) South Sudan's tropical montane forests are fast disappearing according to new analysis by PRINS Engineering. At current rates, Mount Dongotomea, located in South Sudan's most biodiverse ecosystem, could be completely stripped of tree cover by 2020.
Foreign big agriculture threatens world's second largest wildlife migration
(03/07/2011) As the world's largest migration in the Serengeti plains—including two million wildebeest, zebra, and Thomson's gazelles—has come under unprecedented threat due to plans for a road that would sever the migration route, a far lesser famous, but nearly as large migration, is being silently eroded just 1,370 miles (2,200 kilometers) north in Ethiopia's Gambela National Park. The migration of over one million white-eared kob, tiang, and Mongalla gazelle starts in the southern Sudan but crosses the border into Ethiopia and Gambela where Fred Pearce at Yale360 reports it is running into the rapid expansion of big agribusiness. While providing habitat for the millions of migrants, Gambela National Park's land is also incredibly fertile enticing foreign investment.
South Sudan's choice: resource curse or wild wonder?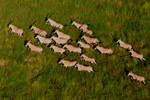 (02/11/2011) After the people of South Sudan have voted overwhelmingly for independence, the work of building a nation begins. Set to become the world's newest country on July 9th of this year, one of many tasks facing the nation's nascent leaders is the conservation of its stunning wildlife. In 2007, following two decades of brutal civil war, the Wildlife Conservation Society (WCS) surveyed South Sudan. What they found surprised everyone: 1.3 million white-eared kob, tiang (or topi) antelope and Mongalla gazelle still roamed the plains, making up the world's second largest migration after the Serengeti. The civil war had not, as expected, largely diminished the Sudan's great wildernesses, which are also inhabited by buffalo, giraffe, lion, bongo, chimpanzee, and some 8,000 elephants. However, with new nationhood comes tough decisions and new pressures. Multi-national companies seeking to exploit the nation's vast natural resources are expected to arrive in South Sudan, tempting them with promises of development and economic growth, promises that have proven uneven at best across Africa.