In response to a campaign by Greenpeace asserting that packaging used for its iconic toy building blocks is contributing to deforestation in Indonesia, the LEGO Group on Thursday announced it is taking steps to reduce the environmental impact of its packaging materials and paper.
Denmark-based LEGO said its new policy includes three initiatives: reducing the amount of packaging materials used, using more recycled materials, and ensuring that non-recycled packaging materials are sourced sustainably (e.g. derived from forests and plantations certified by the Forest Stewardship Council (FSC).
"It is our intent that we will only source material from suppliers that are not involved in deforestation," said Helle Sofie Kaspersen, Vice President Corporate Governance and Sustainability at the LEGO Group, in a statement.
The move means LEGO has effectively barred Asia Pulp & Paper (APP) from supplying its fiber, according to Greenpeace.
"[Lego has] confirmed that this means APP will not be able to supply the company," wrote Andy Tait, Senior Campaign Advisor for Greenpeace UK, on the Greenpeace blog.
Greenpeace and other environmental groups have targeted APP due to its ongoing role in forest clearing on Sumatra. APP suppliers control tens of thousands of hectares of natural forest and peatlands on the Indonesian island. The area is key habitat for critically endangered Sumatran tigers and elephants. It is also home to some of the last traditional forest tribes in Indonesia.
APP has previously committed to phasing out sourcing of wood-pulp from natural forests, yet it has consistently failed to meet its targets for doing so. APP's subsidiaries are also under investigation for illegal logging in the province of Riau. Damages are estimated in the tens of billions of dollars by Indonesia's audit agency.
APP has recently stepped up an aggressive public relations campaign to counter criticism over its environmental practices. It has released a number of sustainably reports and regularly runs advertisements in publications like The Economist and The New York Times touting its environmental record. It has also contributed money conservation projects in Sumatra, including a tiger "conservation" initiative, the Indonesian government's effort to protect the Javan rhino, and two reserves: Giam Kecil-Bukit Batu Reserve and the Bukit Tigapuluh. But these initiatives have received a tepid response from scientists, conservationists, and environmentalists, who note that APP still intends to destroy far more forest than it claims to help protect.

A network of tracks in a huge deforested area among pristine forest. © Greenpeace / Daniel Beltra


Eucalyptus plantations east of Pekanbaru. © Greenpeace / Daniel Beltra




Some of APP's marketing tactics have been highly controversial. For example, APP says it supports groups like World Growth International and the Tea Party-affiliated Consumer Alliance for Global Prosperity, which have launched public attacks on companies that have dropped its products (Staples, Office Max, Office Depot) and environmental organizations that have raised concerns about its environmental conduct (Greenpeace, the Rainforest Action Network, WWF, local NGOs). World Growth International and the Consumer Alliance for Global Prosperity are now working to undermine the Lacey Act, the law that prohibits the import of timber and paper products sourced via illegal logging. Meanwhile a Facebook page operated by the Consumer Alliance for Global Prosperity currently hosts comments calling for the murder of environmental activists.
Nevertheless pressure on APP from environmental groups continues to mount. Greenpeace says it will continue to target other companies listed in its most recent packaging material report — Disney, Hasbro, and Mattel — until they adopt packaging sourcing policies that exclude fiber produced from the destruction of Indonesian rainforests. Such policies would bar pulp and paper materials from APP "until [it] makes real changes on the ground that protect Indonesian rainforests, biodiversity and respect the rights of people living in these forests," according to Greenpeace.
Related articles
Barbie, Legos, other toys linked to destruction of Indonesia's rainforests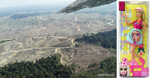 (06/07/2011) Some of the world's largest and most prominent toy-makers are sourcing their packaging materials from companies linked to large-scale destruction of Indonesia's rainforests, alleges a new report from Greenpeace. The report, How APP is Toying with Extinction, is based on forensic analysis of toy packaging from Mattel, which manufacturers Barbie and Hot Wheels toys; Disney, which makes a variety of toys linked to its movies; Hasbro, which produces GI Joe, Star Wars, and Sesame Street toys and various games like Monopoly and Scrabble; and Lego, which makes the iconic plastic building blocks. The analysis found traces of mixed-tropical hardwood (MTH) and acacia fiber which are principally sourced from Asia Pulp & Paper (APP), an umbrella paper products brand that sources from several companies that have been linked to rainforest destruction in Sumatra.
Google Earth animation reveals Indonesian forest targeted for destruction by pulp and paper companies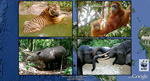 (05/14/2011) A new animation created using Google Earth offers a tour of an area of forest slated for destruction by logging companies. The animation, created by WWF-Indonesia and David Tryse, with technical assistance from Google Earth Outreach, highlights the rainforest of the Bukit Tigapuluh landscape in Sumatra, the only island in the world that is home to Sumatran tigers, elephants, rhinos, and orangutans. All of these species are considered endangered or critically endangered due to habitat destruction or poaching.
7 conglomerates control 9M ha of land in Indonesia
(05/05/2011) Efforts to slow deforestation in Indonesia should include curtailing further expansion of forestry holdings by giant conglomerates, says an Indonesian activist group. Analyzing data from the Ministry of Forest's Production Forest Utilization Quarterly Report, Jakarta-based Greenomics-Indonesia found that seven conglomerates in Indonesia control more than 9 million hectares of land, including large forest concessions that will likely be exempt from any moratorium on forest clearing established under the country's Reducing Emissions from Deforestation and Degradation (REDD) program. The extent of holdings could complicate Indonesia's efforts to reduce emissions from logging and plantation development.
Pulp and paper firms urged to save 1.2M ha of forest slated for clearing in Indonesia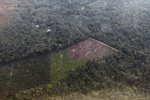 (03/17/2011) Indonesian environmental groups launched a urgent plea urging the country's two largest pulp and paper companies not to clear 800,000 hectares of forest and peatland in their concessions in Sumatra. Eyes on the Forest, a coalition of Indonesian NGOs, released maps showing that Asia Pulp and Paper (APP) and Asia Pacific Resources International Limited (APRIL) control blocks of land representing 31 percent of the remaining forest in the province of Riau, one of Sumatra's most forested provinces. Much of the forest lies on deep peat, which releases large of amount of carbon when drained and cleared for timber plantations.
Does chopping down rainforests for pulp and paper help alleviate poverty in Indonesia?
(01/13/2011) Over the past several years, Asia Pulp & Paper has engaged in a marketing campaign to represent its operations in Sumatra as socially and environmentally sustainable. APP and its agents maintain that industrial pulp and paper production — as practiced in Sumatra — does not result in deforestation, is carbon neutral, helps protect wildlife, and alleviates poverty. While a series of analyses and reports have shown most of these assertions to be false, the final claim has largely not been contested. But is conversion of lowland rainforests for pulp and paper really in Indonesia's best economic interest?