A 'green' building development being built by Frasers Property Australia in Sydney has been accused of using illegally-sourced plywood from Malaysian state of Sarawak in Borneo, according to a new Greenpeace report. The wood in question comes from a subsidiary of Samling, a company that has been connected to illegal logging and abusing the rights of indigenous groups in the past. After the revelations came to light, Frasers Property Australia said they would conduct an audit of the wood which was provided to them by Australian Wood Panels (AWP).
"Australia imports around $840 million worth of illegal timber products a year. After years of lobbying the government, it has finally drafted laws to ban illegal timber imports. Yet they are too weak to be effective," Greenpeace said in a news report.
To drive their point home, Greenpeace activists scaled a construction crane on the building development in questions and unfurled a banner that read: 'STOP ILLEGAL TIMBER'.
In 2010, the Norwegian government divested its national pension from Samling after the NGO Earthsight uncovered a number of problems with the timber giant, including cutting protected species and undersized trees, destroying forests in a buffer zone for a national park, cutting too close to river, and working without a Environmental Impact Assessment (EIA).
But the illegally logged plywood targeted by Greenpeace may go beyond Australia. The Environmental Investigation Agency (EIA) has found that 22 US companies have sourced from Samling subsidiaries since 2010. Under the Lacey Act it is a federal offense to source wood illegally cut in its country of origin.
"It appears that some US companies are taking seriously the legal and reputational risks involved in sourcing from a company with a track record like Samling," said Andrea Johnson with the EIA in a press release. "We call upon all of Samling's customers to ask the questions necessary to make sure they're not buying or selling illegal wood from Malaysia's few remaining forests."
Related articles
WWF partnering with companies that destroy rainforests, threaten endangered species
(07/25/2011) Arguably the globe's most well-known conservation organization, the World Wide Fund for Nature (WWF), has been facilitating illegal logging, vast deforestation, and human rights abuses by pairing up with notorious logging companies in a flagging effort to convert them to greener practices, alleges a new report by Global Witness. Through its program, the Global Forest and Trade Network (GFTN), WWF—known as World Wildlife Fund in the US and Canada—has become entangled with some dubious companies, including one that is imperiling orangutans in Borneo and another which has been accused of human rights abuses in the Congo rainforest. Even with such infractions, these companies are still able to tout connections to WWF and use its popular panda logo. The Global Witness report, entitled Pandering to the Loggers, calls for WWF to make large-scale changes in order to save the credibility of its corporate program.
Another rosewood bust in Madagascar
(07/12/2011) Authorities in Madagascar confiscated six containers of rosewood logs worth $360,000 – $600,000 at a port in the northwestern part of the country, reports AFP.
Endangered species trafficking: What did Gibson Guitar know?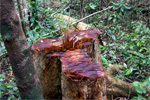 (07/07/2011) A motion filed last month by the U.S. Department of Justice alleges Gibson Guitar knew it was trafficking in endangered timber when it was busted by the U.S. Fish and Wildlife Service in November 2009, reports the Environmental Investigation Agency (EIA).