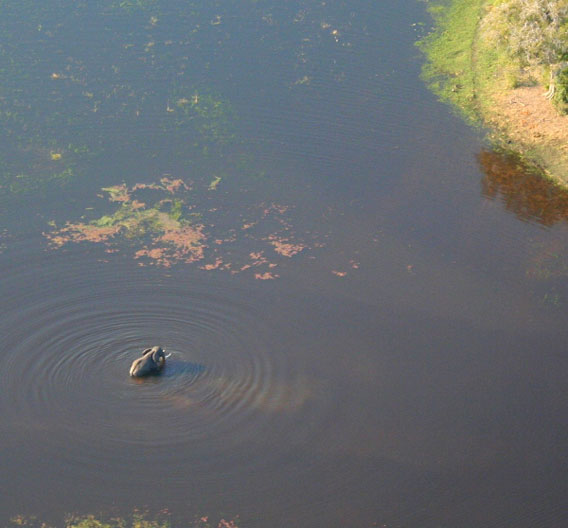 An African elephant wades in the Okavango Delta in Botswana. Photo by Tiffany Roufs.
Even the African elephant, the world's largest terrestrial animal, looks small from the air.
African elephants (Loxodonta africana) range throughout southern, central, and western Africa, as far north as Mali. A highly social and intelligent species, African elephants live in herds headed by matriarchs. Adult males, however, are usually loners.
African elephants are listed as Vulnerable by the IUCN Red List, however scientists believe the population is increasing. The primary threat to elephants is illegal poaching for the ivory trade. Other major threats include habitat loss and human-wildlife conflict.
Scientists have recently suggested that there are two species of elephant in Africa. The more common (photographer above) savanna elephant (Loxodonta africana) and the forest elephant (Loxodonta cyclotis), which inhabits the Congo rainforest. This elephant is smaller than its savanna cousin and sports straighter tusks. It is also likely more endangered due to poaching.