Sabah, the eastern-most state in Malaysian Borneo, has applied for World Heritage status for three rainforest areas, reports the Sabah Wildlife Department.
Maliau Basin, Danum Valley and Imbak Canyon contain a variety of forest types and house rare and endangered wildlife like the Borneo bay cat, the Borneo clouded leopard, the Bornean orangutan, the pygmy elephants and Hose's civet.
"Maliau Basin, Danum Valley and Imbak Canyon are part of the larger contiguous forest concession area belonging to the Sabah Foundation," said Laurentius Ambu, the Director of the Sabah Wildlife Department, in a statement. "This area as a whole is vital because it has different types of forest types such as lowland and highland and supports a number of different species."
| | |
| --- | --- |
| | The mysterious Borneo Bay Cat (Pardofelis badia) found only in Borneo. Photo courtesy of Joanna Ross and Andrew Hearn of Oxford University's WildCRU. |
Datuk Masidi Manjun, Sabah's Minister of Tourism, Culture and Tourism, said the listing of the three sites would help protect them from political expropriation and boost ecotourism in Sabah.
"The reason behind this is simple, we want to protect our forests so no future corrupted politician can take it away," said Masidi Manjun. "Eventually, tourism will be the number one earner for Sabah and people will come from all over the world to see Sabah's nature and it makes business sense to protect our jungles."
The UNESCO World Heritage list includes some 911 sites around the world, 180 of which are purely "natural" sites. Nearly 190 countries have ratified the World Heritage Convention.
Related articles
Where two worlds collide: visiting Tabin Wildlife Reserve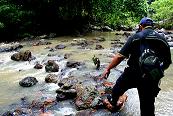 (02/21/2010) The vehicle stopped on the way into Tabin Wildlife Reserve as a troupe of pig-tailed macaques began making their way across the road. In a flash a domestic dog, which may or may not have been 'ownerless', ambushed the group. Chaos erupted as the big predator fell upon the community. As quickly as it began it was all over and the dog was rushing over with an infant monkey in its mouth, leaving the macaques' screeching out their helplessness. As my uncustomary welcome to Tabin Wildlife Reserve shows: the park is a meeting of two worlds. On the left side of the road leading into the reserve is a massive oil palm plantation, on the right is the rainforest and the many species the reserve protects. Tabin, therefore, gives the visitor a unique up-close view of the debate raging in Borneo and throughout much of Southeast Asia over conservation and environment versus oil palm plantations.