Scientists have discovered a colorful new species of mushroom in the rainforest of Borneo and named it after a popular cartoon character: SpongeBob SquarePants.
Spongiforma squarepantsii was discovered in 2010 in the Lambir Hills in Sarawak, Malaysia, on the island of Borneo. It is bright orange and smells "vaguely fruity or strongly musty," according to San Francisco State University researcher Dennis Desjardin who, together with colleagues, describes the species in the journal Mycologia.
The species is unusual for more than its name however — there is only one other species in the Spongiforma genus. But that species differs in color and odor.
Both species however lack the cap and stem style typically associated with mushrooms.
| | |
| --- | --- |
| | Spongiforma squarepantsii is found in the forests of Borneo. Credit: Tom Bruns, U.C. Berkeley |
"It's just like a sponge with these big hollow holes," Desjardin said in a statement. "When it's wet and moist and fresh, you can wring water out of it and it will spring back to its original size. Most mushrooms don't do that."
Desjardin says there remain many more fungi species to be discovered.
"Most of these are very cryptic, molds and little things, most of them are not mushrooms," he said.
"We go to underexplored forests around the world, and we spend months at a time collecting all the mushrooms and focusing on various groups. And when we do that type of work, on average, anywhere from 25 percent to 30 percent of the species are new to science."
Related articles
The saola: rushing to save the most 'spectacular zoological discovery' of the 20th Century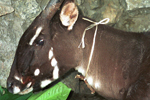 (04/04/2011) The saola (Pseudoryx nghetinhensis) may be the most enigmatic, beautiful, and endangered big mammal in the world—that no one has ever heard of. The shy ungulate looks like an African antelope—perhaps inhabiting the wide deserts of the Sahara—but instead it lives in the dense jungles of Vietnam and Laos, and is more related to wild cattle than Africa's antelopes. The saola is so unusual that is has been given its own genus: Pseudoryx, due to its superficial similarities to Africa's oryx. In the company of humans this quiet forest dweller acts calm and tame, but has yet to survive captivity long. Yet strangest of all, the 200 pound (90 kilogram) animal remained wholly unknown to science until 1992.
New species of zombie-creating fungi discovered
(03/02/2011) As everyone knows, human zombies are created when an uninfected human is bitten by a member of the brain-craving undead. But what about ant zombies? Yes, that's right: ant zombies.
Updating the top 100 weirdest and most imperiled mammals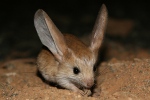 (01/24/2011) A lot can change in three years. In January 2007, the Zoological Society of London (ZSL) jumpstarted a program unique in the conservation world: EDGE, which stands for Evolutionarily Distinct and Globally Endangered, selects the species it works with not based on popularity or fund-raising potential but on how endangered and evolutionary unique (in laymen's terms: weird) they are. When EDGE first arrived in 2007, it made news with its announcement of the world's top 100 most unique and endangered mammals. While this list included a number of well-known species—such as the blue whale and the Asian elephant—it also introduced the public to many little-recognized mammals that share our planet, such as the adorable long-eared jerboa, the ancient poisonous solenodon, and the ET-like aye-aye. However, after three years the EDGE program found that their top 100 mammals list already need updating.
World's weirdest aphrodisiac: elephant-digested durian fruit
(01/20/2011) The spiky, odorous, weighty, and almost impenetrable durian fruit is considered by some to be a fine delicacy, but others a putrid horror. Its taste has been described between a delicious custard and old gym socks. Still, even durian lovers may be uncomfortable with the idea of eating the fruit after it has been consumed and expelled by a wild Asian elephant. But according to the New Straits Times recently wealthy businessmen are willing to pay over $300 for a sample of elephant-ingested durian, which they believe acts as an aphrodisiac.
Beyond bizarre: strange hairy antelope photographed in Kenya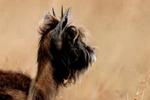 (08/19/2010) Is it a hairy goat roaming the plains? An antelope with some genetic mix-up? At this point no one knows. This strange creature was photographed in Kenya's Masai Mara National Reserve. Apart of the Serengeti plains, the Masai Mara covers 1,500 square kilometers and is home to a wide-range of iconic African savannah species, from elephants to lions and giraffes to hippos.The photos were first published on conservation organization WildlifeDirect's website.
Photos: Gelatinous Blobfish in danger
(01/26/2010) A species dubbed "the world's most miserable-looking fish" is at risk of extinction due to poor fishing practices, reports The Daily Telegraph.
Scientists discover that bats practice oral sex
(10/28/2009) The short-nosed fruit bat Cynopterus sphinx is the first bat species to have been observed engaging in oral sex.
Photo: Mystery 'alien-beast' in Panama is likely a sloth
(09/19/2009) The 'mystery alien-beast' discovered by four teens in a community in Panama and widely reported in the media over the past few days is likely a deformed sloth.
Chupacabra story is a hoax; likely a Xolo dog breed (Nov 1, 2007)

An alleged chupacabra carcass found in Texas is likely a hoax to sell T-shirts say dog experts. The animal, described in an Associated Press report last week as "a cross between two or three different things", was found as road kill last month near the Texas town of Cuero. The woman who discovered the carcass has been using it to market chupacabra T-shirts. In lively Internet discussions dog breeders say the carcass appears to be that of a Xoloitzcuintle or Xolo, otherwise known as a Mexican Hairless dog, rather than the blood-sucking creature of legend.
Frogs species discovered living in elephant dung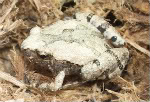 (06/10/2009) Three different species of frogs have been discovered living in the dung of the Asian elephant in southeastern Sri Lanka. The discovery—the first time anyone has recorded frogs living in elephant droppings—has widespread conservation implications both for frogs and Asian elephants, which are in decline. "I found the frogs fortuitously during a field study about seed dispersal by elephants," Ahimsa Campos-Arceiz, a research fellow from the University of Tokyo, told Monagaby.com.
Birds can dance, proving humans aren't the only ones with rhythm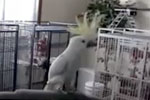 (04/30/2009) Another ability long-thought to belong solely to humans, like tool-use or counting, does in fact occur in other species, according to two new studies. In this case, it is the capacity to move rhythmically with music. Studying two different birds the research groups found that the birds weren't just moving randomly or mimicking owners, but actually changing the tempo of their movement to match the music—in other words, dancing.
Massive freshwater stingray takes 13 men to pull it ashore in Thailand
(02/27/2009) It took ninety minutes and thirteen men to reel in an astounding specimen of giant freshwater stingray on the Ban Pakong River in Thailand. At seven feet wide and weighing an estimated 580-770 pounds (265-350 kilograms), the monstrous fish is thought to be the largest freshwater fish ever caught with a rod and line, according to Fishsiam, a company that provides fishing tours in Thailand.
Rediscovery of the solenodon, a rare venomous mammal, in Haiti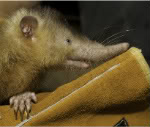 (01/09/2009) In the journal Oryx researchers from EDGE, a program of the Zoological Society of London (ZSL), have announced the rediscovery of a small population of Hispaniolan solenodons in Haiti. At the same time scientists in the Dominican Republic have taken the first ever footage of this endangered mammal.
World's only blue lizard heads toward extinction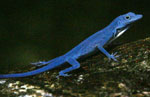 (03/07/2007) High above the forest floor on the remote Colombian island of Gorgona lives a lizard with brilliant blue skin, rivaling the color of the sky. Anolis gorgonae, or the blue anole, is a species so elusive and rare, that scientists have been unable to give even an estimate of its population. Due to the lizard&spod;s isolated habitat and reclusive habits, researchers know little about the blue anole, but are captivated by its stunning coloration.
In search of Bigfoot, scientists may uncover unknown biodiversity in Malaysia
(02/01/2006) Malaysian scientists are scouring the rainforests of Johor state in search of the legendary ape-man Bigfoot, supposedly sighted late last year. But they are more likely to encounter some less fantastic but unique creatures that dwell in these still unexplored ecosystems.
Sex vs. Intelligence: Bigger balls mean smaller brain
(12/13/2005) In a recent study of bats, Scott Pitnick, professor of biology at Syracuse University, found that testis size is negatively correlated with brain size. In other words, the bigger the balls of a bat species, the smaller its brain.