In a landmark court decision a judge has slapped a logging company with a nearly $100 million (K225.5 million) fine for large-scale illegal logging. Last week, Malaysian timber company, Concord Pacific, was sentenced to pay four forest tribes for environmental destruction in the first ruling of its kind for Papua New Guinea.
"The damages done is immeasurable. The logging operations has completed destroyed the lives of the people and has had great impact especially on women and children," reads the 42-page court judgement, which sought statements of 1,800 tribal members and four environmental experts. The court cited environmental effects from the logging including erosion, flooding, loss of food gardens, and a decline in hunting animals.
"This was an extremely vulnerable and untouched forest area and the land owners, local clans, are now left with the problem of major environmental damage," said Kenn Mondiai of Papua New Guinea Eco-Forestry Forum in a press release. "The local communities are highly reliant on the forest and the land which they cultivate. This widespread environmental destruction thus has a major impact on them".
Concord Pacific was granted a 'road-line clearance' in 1994, which allowed the company to clearcut forests 40 meters to either end of the determined road. Instead the company went ahead and cleared 20 kilometers (12.4 miles) on either side of the road line, 500 times the amount allotted.
"This is a major victory and it will serve as a powerful warning to other logging companies in Papua New Guinea," says Damien Ase, lawyer and director of Centre for Environmental Law and Community Rights (CELCOR), who brought the charges against Concord Pacific. CELCOR says that the case sets a new precedence for logging companies in a country that is experiencing large-scale deforestation.
"This is one of perhaps eight cases that we have, so we are still pursuing the other seven cases. Now that we have set a precedent, we feel that the other cases look good so we can base our demands on the current case that we've won," Harrison Owage, Pprogram director of CELCOR told Radio Australia.
The four tribes who won the case are the Kuni, Pare, Zimakana, and Yonhom. However, a press release from Rainforest Foundation Norway, which partners with CELCOR predicts that it is likely Concord Pacific will attempt to avoid paying the fine by deregistering and disappearing.
"It is highly likely that […] the land owners will never see any of the money," admits Lars Løvold, Director of Rainforest Foundation Norway. "The message this judgement sends out to other timber companies, however, is very clear-any future destructive logging operations in Papua New Guinea comes with a huge price tag."
The road, which the logging company received the forest clearance permit, has fallen in disrepair and is no longer passable.
While most of the attention on deforestation has been focused on Brazil, Malaysia, and Indonesia, forests in Papua New Guinea have been quietly disappearing. A study in 2008 found that nearly a quarter of the country's forests were degraded or lost between 1972 and 2002, a number far higher than researchers anticipated.
Related articles
Pictures: Turquoise 'dragon' among 1,000 new species discovered in New Guinea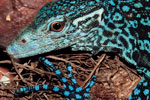 (06/27/2011) Scientists discovered more than 1,000 previously unknown species during a decade of research in New Guinea, says a new report from WWF. While the majority of 1,060 species listed are plants and insects, the inventory includes 134 amphibians, 71 fish, 43 reptiles, 12 mammals, and 2 birds. Among the most notable finds: a woolly giant rat, an endemic subspecies of the silky cuscus, a snub-fin dolphin, a turquoise and black 'dragon' or monitor lizard, and an 8-foot (2.5-m) river shark.
Papua New Guinea suspends controversial grants of community forest lands to foreign corps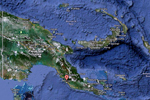 (05/06/2011) The government of Papua New Guinea yesterday suspended its controversial Special Agricultural and Business Leases program which has granted logging and plantation development concessions to mostly foreign corporations across 5.2 million hectares of community forest land, reports the Courier-Post5 million hectares of Papua New Guinea forests handed to foreign corporations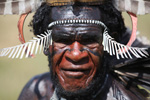 (03/23/2011) During a meeting in March 2011 twenty-six experts—from biologists to social scientists to NGO staff—crafted a statement calling on the Papua New Guinea government to stop granting Special Agricultural and Business Leases. According to the group, these leases, or SABLs as they are know, circumvent Papua New Guinea's strong community land rights laws and imperil some of the world's most intact rainforests. To date 5.6 million hectares (13.8 million acres) of forest have been leased under SABLs, an area larger than all of Costa Rica. "Papua New Guinea is among the most biologically and culturally diverse nations on Earth. [The country's] remarkable diversity of cultural groups rely intimately on their traditional lands and forests in order to meet their needs for farming plots, forest goods, wild game, traditional and religious sites, and many other goods and services," reads the statement, dubbed the Cairns Declaration. However, according to the declaration all of this is threatened by the Papua New Guinea government using SABLs to grant large sections of land without going through the proper channels.