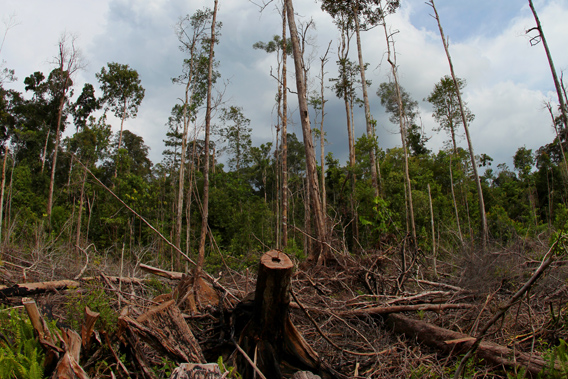 Illegal logging in Indonesian Borneo.
Indonesia's Anti-Mafia Law Task Force asked authorities Tuesday to reopen an investigation into illegal logging that may have cost the Indonesian state $115 billion.
The investigation, which looked into logging by 14 pulp and paper companies in off-limits areas in the Riau province, was abruptly terminated in late 2008 after political pressure and the transfer of the lead investigator to a new post, according to an in-depth exposé published last month in the Jakarta Globe. As a result, the allegations against pulp and paper companies, which are associated with Asia Pulp & Paper and Riau Andalan Pulp and Paper, a subsidiary of Asia Pacific Resources International Holdings (APRIL), "never had a chance to be proven in court."
But now the Anti-Mafia Law Task Force, a unit of the Corruption Eradication Commission (KPK), wants to reopen the case, citing "many irregularities" and conflicts of interest between ministry of officials involved in the original investigation. The Task Force estimates the value of illegally logged timber at $8.6 billion and the total state losses due to "environmental destruction" at $234 billion.
The announcement came the same day Asia Pulp & Paper issued a statement asserting it "[follows] the legal guidelines of the Government of Indonesia."
Related articles