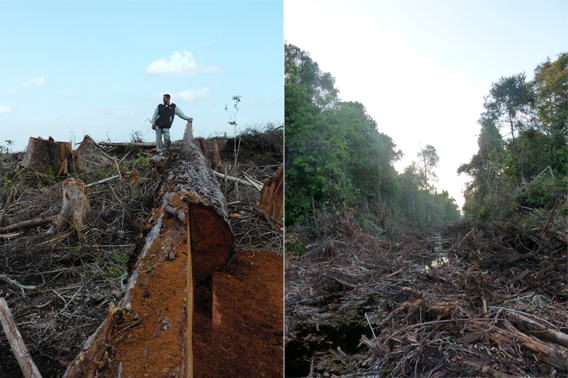 Recently cleared area (see map location below). Courtesy of EIA.
Indonesia's REDD+ Task Force will investigate charges that PT Menteng Jaya Sawit Perdana (PT Menteng), a palm oil company owned by Malaysia-based Kuala Lumpur Kepong Berhad (KLK), has cleared peat forest in breach of the country's newly-signed moratorium on the granting of new forestry licenses on peatlands and in primary forest areas.
The allegation was levied by the Environmental Investigation Agency, an international NGO, and Telapak, an Indonesian group, after an on-the-ground undercover investigation. EIA and Telapak found that PT Menteng had cleared peat forest near Sampit in Indonesia's Central Kalimantan province without securing proper licenses. PT Menteng had only a Location Permit, not the Plantation Business Permit required under Indonesian plantation law or a permit from the Ministry of Forestry releasing the 7,400-ha (18,300-acre) concession.
PT Menteng's parent company KLK has since called the accusation "preposterous", yet has failed to produce any evidence showing that it has secured the proper permits, according to EIA.
"EIA and Telapak's evidence shows that the KLK subsidiary PT Menteng was systematically clearing land within Indonesia's moratorium zone in the REDD+ Pilot Province," EIA's Tomasz Johnson told mongabay.com.

Excavator picture in the PT Menteng area (see map below for location)


Oil palm plantation in the PT Menteng area.


Peatlands clearance in the PT Menteng area. Images courtesy of EIA/Telapak
"Plantation licensing records held by the Provincial and Central governments, also held by EIA, indicate that KLK does not have a plantation business operation permit for PT Menteng, nor has the land in question been released from the forest estate by the Ministry of Forestry."
In comments emailed to Reuters, KLK admitted a small area of potential illegal clearing by a contractor, but asserted it had secured a permit in 2009, two years before the moratorium went into affect. By EIA also cast doubt on those claims.
"KLK's claim that an 'over-eager' contractor may have cleared 70 hectares does nothing to address [its lack of the proper permits]," said Johnson. "Nor does KLK's claim to have obtained a plantation business permit for 6,000 hectares in 2009 clarify the matter any further. They refer to 'Kalimantan province', which doesn't exist, and don't stipulate which of their numerous concessions or subsidiaries the permit is supposedly for – in Central Kalimantan alone KLK has at least three concessions operating in just under 30,000 ha. "
"KLK's own company report from 2010 makes no reference to a plantation business permit for PT Menteng. Our evidence stacks up, KLK's doesn't."
To bolster its case, EIA released a trove of video, photos, and GPS coordinates. Last week, EIA and Telapak issued a joint report — Caught REDD Handed — detailing the alleged transgressions by PT Menteng.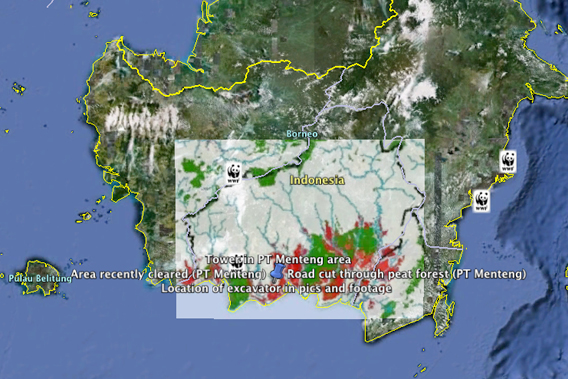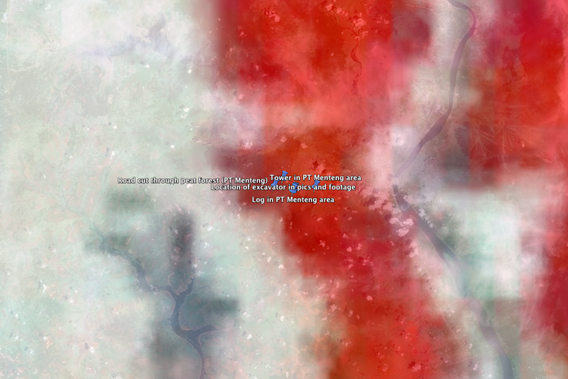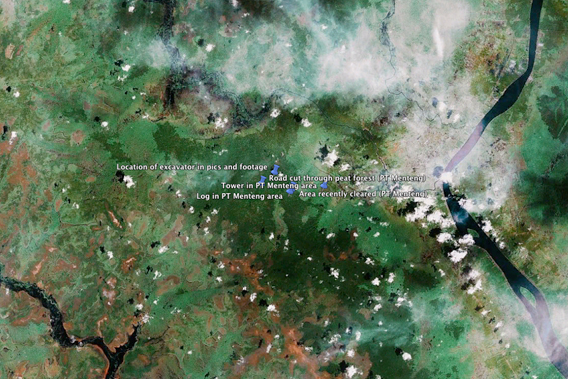 The allegations are especially damaging because the investigation occurred the day the forest moratorium was officially defined by Indonesian President Susilo Bambang Yudhoyono. The two-year moratorium is part of Indonesia's commitment to reduce emissions from deforestation and peatlands degradation under a $1 billion REDD+ agreement with Norway. Central Kalimantan, the province where the alleged clearing took place, is the pilot province for Indonesia's REDD+ program.
The report also caused some discomfort in Norway by highlighting the Norwegian government's $41 million investment in KLK. The KLK shares are held in Norway's pension fund portfolio, which also includes other logging and plantation companies linked to deforestation in Indonesia.
"Norway's Government Pension Fund Global (GPFG) has investments in scores of plantation and logging companies in Indonesia, including four major groups operating 24 plantation subsidiaries without relevant permits in the Central Kalimantan Pilot Province," said EIA in a statement. "Norway has made roughly five times more money from plantations and logging in Indonesia and neighboring countries during the past year – including illegal operations – than it has granted to Indonesia thus far under the US$1bn REDD+ Letter of Intent."
Note: KLK did not respond to mongabay.com's request for comment.
Related articles
Malaysian palm oil company violates Indonesia's logging moratorium

(06/16/2011) An undercover investigation has found evidence that a subsidiary of Malaysian palm oil company has illegally cleared forest in breach of the Indonesia's moratorium on new permits in primary forest areas and peatlands.
Indonesia's moratorium map has errors, says government
(06/03/2011) The map underpinning Indonesia's moratorium on new concessions in primary forests and peatlands is "inaccurate", an Indonesian forestry official told The Jakarta Post.
Interview with Indonesian climate official on rainforest logging moratorium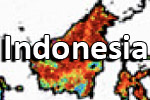 (06/03/2011) In May, Indonesia President Susilo Bambang Yudhoyono issued a presidential instruction laying out the specifications for a two-year moratorium on new concessions in primary forests and peatlands. The moratorium aims to create a window for Indonesia to enact reforms needed to slow deforestation and forest degradation under its Letter of Intent with Norway, which would pay the Southeast Asian nation up to a billion dollars for protecting forests.
Lack of clarity complicates Indonesia's logging moratorium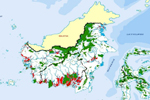 (05/27/2011) Lack of clarity makes it difficult to assess whether Indonesia's moratorium on new logging concessions in primary forest areas and peatlands will actually reduce greenhouse gas emissions from deforestation, according to a new comprehensive assessment of the instruction issued last week by Indonesian President Susilo Bambang Yudhoyono. The analysis, conducted by Philip Wells and Gary Paoli of Indonesia-based Daemeter Consulting, concludes that while the moratorium is "potentially a powerful instrument" for achieving the Indonesian president's goals of 7 percent annual growth and a 26 percent reduction in greenhouse gas emissions from a projected 2020 baseline, the language of the moratorium leaves significant areas open for interpretation, potentially offering loopholes for developers.