The Travancore flying squirrel (Petinomys fuscocapillus) occurs in the forests of the Western Ghats and Sri Lanka, a global biodiversity hotspot, and is listed as Near Threatened on the IUCN Red List. During the first half of the 20th century the species was thought to be extinct, but was rediscovered in the 1960s, then not seen again for over twenty years.
Being small, cryptic, nocturnal and arboreal, it is difficult to observe. Its range has so far been determined from only a small number of sporadic sightings over the last century.
Likely because of this, its conservation status and habitat requirements are poorly known, which has made it difficult to recommend conservation action.
| | |
| --- | --- |
| | The Travancore flying squirrel. |
A new study in the Mongabay.com open access journal Tropical Conservation Science has overcome these challenges through the use of GIS and ecological niche modeling. This approach has produced a predicted range map for the species, allowing the authors to recommend a plan of action for its conservation.
"We utilized occurrence records of 32 confirmed sightings of [the Travancore flying squirrel] to model the species' potential geographic distribution by applying an ecological niche modelling (ENM) framework using Genetic Algorithm for Rule set Prediction (GARP). Results indicate that the modeled potential distribution of [the Travancore flying squirrel] in India is highly restricted to the narrow strip on western slope of the Western Ghats, and in Sri Lanka the predicted distribution is predominant in the lowlands of wet and intermediate zones."
The authors found that the squirrel should occur mostly in medium elevation and lowland areas below 1200 meters in the two countries, but that less than 12 percent of the predicted range falls within protected areas. Additionally, in both India and Sri Lanka, lowland evergreen forest is the most disturbed and fragmented forest type. They recommend reforestation efforts in degraded lowland forests, biodiversity-friendly management of forest plantations, conservation of remaining forest fragments and better enforcement of anti-hunting laws "for the long term survival of this species".
CITATION: Kumara, H.N. and Suganthasakthivel, R. 2011. Predicting the potential distribution of Travancore flying squirrel Petinomys fuscocapillus in Peninsular India and Sri Lanka using GARP and its conservation. Tropical Conservation Science Vol. 4(2):172-186
Related articles
Rise in wildlife tourism in India comes with challenges
(04/27/2011) A line of tourist jeeps clogs the road in a dry forest, as all eyes—and cameras—are on a big cat ambling along the road ahead; when the striped predator turns for a moment to face the tourists, voices hush and cameras flash: this is a scene that over the past decade has becoming increasingly common in India. A new study in Conservation Letters surveyed ten national parks in India and found that attendance had increased on average 14.9% from 2002-2006, but while rising nature tourism in India comes with education and awareness opportunities, it also brings problems.
Parks key to saving India's great mammals from extinction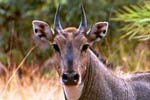 (02/24/2011) Krithi Karanth grew up amid India's great mammals—literally. Daughter of conservationist and scientist Dr. Ullas Karanth, she tells mongabay.com that she saw her first wild tigers and leopard at the age of two. Yet, the India Krithi Karanth grew up in may be gone in a century, according to a massive new study by Karanth which looked at the likelihood of extinction for 25 of India's mammals, including well-known favorites like Bengal tigers and Asian elephants, along with lesser known mammals (at least outside of India) such as the nilgai and the gaur. The study found that given habitat loss over the past century, extinction stalked seven of India's mammals especially: Asiatic lions, Bengal tigers, wild dogs (also known as dholes), swamp deer, wild buffalo, Nilgiri Tahr, and the gaur. However, increasing support of protected areas and innovative conservation programs outside of parks would be key to saving India's wildlife in the 21st Century.
India government: forest target 'unrealistic'
(03/20/2011) Not long ago much of India was covered in vast and varied forests. Today just over one-fifth (21%) of the nation remains under forest cover, according to the Food and Agriculture Organization (FAO) but an ambitious plan hopes to bring the forest cover percentage to 33%, or one third of the country. However that goal has been dubbed 'unrealistic' by India's influential Minister for Environment and Forests, Jairam Ramesh, as reported by The Hindu.