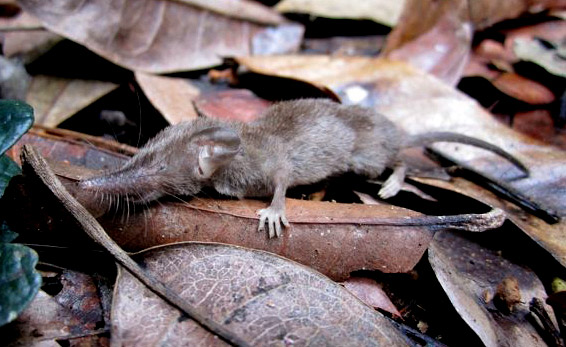 New shrew species in Sulawesi. Photo by Jake Esselstyn
A research expedition has turned up two to four new species of shrew on the Indonesian island of Sulawesi, reports a conservation group working to protect their forest habitat.
Jake Esselstyn of McMaster University and Anang Setiawan Achmadi of Indonesia's Museum of Zoology in Bogor led the survey of Mount Tompotika, a 1,600-meter high mountain in eastern Sulawesi. The researchers identified 3-4 shrew species over about a week of surveying this past April. Only one of the shrews — Crocidura elongata — was known to science.
"The 2-3 other shrew species that the survey team found–all Crocidura or whitetoothed shrews–are completely new to science," stated the Alliance for Tompotika Conservation (AlTo) in its monthly newsletter.
But even the previously described species may be new to science.
| | |
| --- | --- |
| | New shrew species in Sulawesi. Photo by Jake Esselstyn |
"Tompotika's Crocidura elongata… has some obvious anatomical differences from Crocidura elongata specimens found in other Sulawesi locations, but it's too early to call it a distinct separate species," said AlTo.
Esselstyn and colleagues now plan to conduct genetic work to determine exactly how many new species were collected during the survey.
According to AlTo, the discoveries reflect Sulawesi's rich shrew diversity.
"Shrews are said to be 'morphologically conservative,' — that is, if you see a shrew in, say, Africa, it's going to look very similar to a shrew in North America or Asia, even though they're all different species," said the group. "But according to Dr. Esselstyn, Sulawesi's shrews are remarkably diverse: one shrew in Sulawesi looks quite different to the next one, and the group as a whole is much more diverse in Sulawesi than in the neighboring islands of Borneo, Sumatra, and elsewhere."
The discoveries add to the 7 animal species already known to live only in the Tompotika Conservation Area, which covers 2,400 square kilometers. Other species endemic to Tompotika include a snake, three frogs, and three geckos.
Related articles