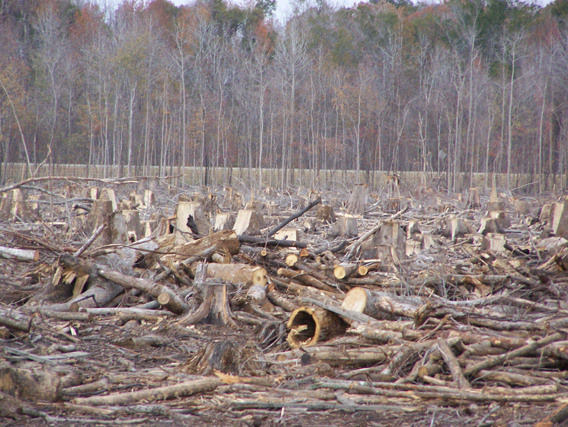 White Marsh Clearcut, outside of the Green Swamp, North Carolina, US. Photo by: Abigail Singer, courtesy of Dogwood Alliance.
More people, less forests: that's the conclusion of a US Forest Service report for forests in the US South. The report predicts that over the next 50 years, the region will lose 23 million acres (9.3 million hectares) largely due to urban sprawl and growing populations amid other factors. Such a loss, representing a decline of over 10 percent, would strain ecosystem services, such as water resources, while potentially imperiling over 1,000 species. However, Dogwood Alliance, which campaigns for conservation of southern forests criticizes the new report for underplaying the role of clearcutting natural forests for the paper industry in the south.
According to US Forest Service report, US southern forests—which spread over 13 states from Virginia to Texas—will see large future declines mostly due to overpopulation and sprawl.
"Several important socioeconomic changes continue to influence forest conditions and uses in the South. Recent population and economic growth has outstripped national growth rates, with the resulting urbanization steadily consuming forests and other rural lands," the report reads.
| | |
| --- | --- |
| | Urbanization could significantly reduce forest cover in the South. Photo credit: Larry Korhnak, courtesy of Interface South. |
The report also found that beyond sprawling populations other factors likely to impact forests include climate change, invasive species, changes in land ownership, and timber markets. Forest fragmentation due to sprawl and climate change could also increase the chance of forest fires.
"Changes in federal public lands policies in the 1990s reduced timber harvesting from the western forests and increased demand for southern timber," explains the report adding that the economic downturn "suddenly and irreversibly altered the commercial ownerships that controlled a large portion of the South's forests and had long been seen as semi-permanent, but now appear much less stable."
This means that forests that were once protected by private landowners, acting as longtime stewards, are now being sold-off. Unlike much of the US, few of the forests in the South are under any formal protection. Around 90 percent of southern forests are privately owned.
"[The report] clearly demonstrates the urgent need for developing a collaborative strategy to conserve and restore southern forests. A healthy and prosperous America relies on the health of our natural resources, and particularly our forests," Forest Service Southern Regional Forester Liz Agpaoa said in a press release.
However, Scot Quaranda, campaign director with Dogwood Alliance, told mongabay.com that the report underplayed role of the paper industry's impact on southern forests, saying the focus on sprawl parroted the 'industry line for the last ten years'.
"Sprawl has been a factor, but the study ignored the impact that the paper industry has which includes clearcutting 5-6 million acres of forests every year and the conversion of natural forests to plantation to the point where 1 in 5 acres in the region is now in plantations," Quaranda explains, adding that "the pulp and paper industry is still the largest destroyer of forests in the region and has a massive footprint."
However, the US Forest Service report says that paper demand is declining in the US, leading them to conclude this isn't as important an issue for the future.
| | |
| --- | --- |
| | The Green Swamp in North Carolina. Photo courtesy of Dogwood Alliance. |
The fact that such a high percentage of forest in the south is privately owned also allows companies the chance to purchase forest land enmasse without regulations, especially likely in these tougher economic times.
"The fate of our forests rests in the hands of thousands of individual landowners, most of which value the land and want to be good stewards," says Quaranda. "Unfortunately, being the largest paper producing region in the world, there is heavy pressure to sell that timber to keep the industry running full steam ahead."
Although the US Forest Service report looks ahead 50 years, Quaranda says they have failed to fully address the impact of the up-coming bioenergy industry.
"According to academic, industry, and environmental projections, at its current rate of growth, this industry will match the overall impact of the paper industry meaning over 10 million acres clearcut every year and another 42 million acres of tree plantations," says Quaranda. "This is a catastrophe waiting to happen and will have a much larger impacts on the forests, communities and wildlife of the region than sprawl."
In contrast to Quaranda's warning, the US Forest Service report considers bioenergy a largely 'uncertain' player.
Quarandra calls the forests in these 13 south-eastern states "one of the real environmental treasure of North America", they "provide clean drinking water for millions of people, store carbon, provide a place for respite, and are home to more freshwater species than anywhere else on the planet."
Related articles
Ten-year-old takes on KFC for destroying US forests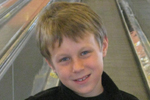 (05/15/2011) Cole Rasenberger's quest to save forests in the US South started as a school assignment to 'be an activist' about something important to him. However, after learning from Dogwood Alliance that coastal forests in North Carolina are being destroyed to make throw-away paper packaging for big fast food companies—such as McDonalds and KFC—Cole Rasenberger, at the age of 8, became more than an activist; he became an environmental leader! He started by targeting McDonalds directly. With the help of 25 friends, and his elementary school administration, he got every student in his school to sign postcards to McDonalds. In all, Cole sent 2,250 postcards to McDonalds.
Forest carbon map released for the US
(04/20/2011) The Woods Hole Research Center (WHRC) has released the first hectare-scale map displaying aboveground woody biomass and forest carbon in US forests. The map, which also shows canopy heights, is known as the National Biomass and Carbon Dataset (NBCD).
US Eastern forests suffer "substantial" decline: 3.7 million hectares gone
(04/07/2010) The United States' Eastern forests have suffered a "substantial and sustained net loss" over the past few decades, according to a detailed study appearing in BioScience. From 1973 to 2000, Eastern have declined by 4.1 percent or 3.7 million hectares. Deforestation occurred in all Eastern regions, but the loss was most concentrated in the southeastern plains.