The co-founder of an initiative that discourages illegal logging by bringing affordable, high quality health care to impoverished communities in Indonesian Borneo has been recognized with a prestigious conservation award.
Dr. Hotlin Ompusunggu, co-founder of Alam Sehat Lestari (ASRI), was this week awarded the £30,000 Whitley Award during a ceremony hosted in London by Princess Anne.
Alam Sehat Lestari (ASRI) partners with Health In Harmony, a U.S.-based group, to deliver healthcare to communities living around Gunung Palung National Park in the province of West Kalimantan, on the island of Borneo. Research by the organizations has found that healthcare costs — which amount to more than 40 percent of average spending in the targeted communities — is a major driver of illegal logging. Timber is cut from protected areas in order to pay for basic treatment, which is often poor at best. But clearing forests exacerbates health problems by increasing incidence of insect-transmitted disease like malaria; reducing available of fresh water (local people at times turn to pricey bottled water); worsening air pollution, aggregating respiratory ailments; and contributing to worsening flooding.
| | |
| --- | --- |
| | Illegal logging in Gunung Palung. Photo by Rhett A. Butler 2011. |
The ASRI/Health in Harmony is working to address this cycle by providing extremely low-cost health care to communities that agree to reduce illegal logging. Communities that don't sign the agreement still receive access to top quality health care but see smaller subsidies. Local people have several payment options, including training in organic gardening, making handicrafts, and helping with reforestation. Already some participants have seen dividends beyond receiving treatment — incomes of some smallholders have been substantially increased by adopting organic agricultural techniques, which sharply cut input costs and allow farmers to grow more valuable crops like vegetables.
ASRI and Health in Harmony are now building a clinic to handle a wider full-range of health conditions and ailments. Once the clinic is complete, there is interest in expanding the program to other parts of Indonesia and talk of using it as a model to deliver benefits from the proposed Reducing Emissions from Deforestation and Degradation (REDD) forest conservation program.
Health in Harmony won mongabay.com's "Innovation in Conservation" Award in 2008.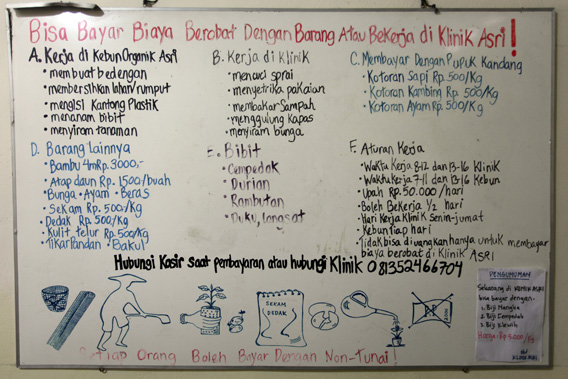 Board explaining to patients the payment options at Alam Sehat Lestari in Sukadana, West Kalimantan. Photo by Rhett A. Butler 2011.
Related articles
Photos: Visiting Gunung Palung in Indonesian Borneo
(03/30/2011) A description of mongabay.com's Rhett Butler's recent visit to Gunung Palung National Park in West Kalimantan, Indonesian Borneo. In my travels in Kalimantan, the forest of Gunung Palung around Cabang Panti ranks among the best. Within 24 hours of arriving I had already seen wild orangutans, red leaf monkeys, gibbons, bearded pigs, a variety of lizards and frogs, a cobra (a little too close for comfort), and an innumerable diversity of insects.
Linking rural health care to forest conservation proving a success in Borneo
(12/08/2008) Health in Harmony was today awarded mongabay.com's annual "Innovation in Conservation" award for its unique approach to conservation which combats illegal logging by providing healthcare and sustainable livelihoods to communities living around Gunung Palung National Park in Kalimantan, on the island of Borneo. The award includes a cash grant and prominent placement on the mongabay.com web site and newsletter for the month of December. Health in Harmony is working to break an impoverishing cycle of illegal logging and deforestation by offering healthcare rewards to encourage the villagers to protect the national park, rather than log it. The effort seems to be paying off: since launching a 'forests-for-healthcare' incentive program in September, 18 of 21 communities have signed a moratorium of understanding agreeing to participate.