Down to a few hundred individuals, every Philippine eagle is important if the species is to survive. However, the Philippine Eagle Foundation (PEF) has recently announced that people continue to illegally trap and keep eagles captive. Since December the organization has taken-in four confiscated Philippine eagles (Pithecophaga jefferyi), according to The Philippine Star. One died of a fungal infection after confiscation, while two others has suffered serious injuries.
"The abuse and harm caused on Philippine eagles illustrate our reckless management of our natural resources," Dennis Salvador, director of PEF, told The Philippine Star. "If the Philippine eagle, which is already perhaps the most prominent and recognizable of Philippine wildlife species, suffers a fate as grim as the above four eagles have experienced, how much more other species? What bigger injustices could possibly be happening to the rest of the Philippine environment?"
The Philippine eagle is one of the world's biggest raptors with a two meter long (6.5 foot) wingspan. Decimated by large-scale deforestation in its range islands of Luzon, Samar, Leyte and Mindanao, the bird is listed as Critically Endangered by the IUCN Red List and its population continues to decline.
PEF has been involved in raising captive birds and re-releasing them in the wild. But the program so far has failed. Two birds have been re-released: the first died of electrocution, and the second was shot by a poacher. Despite such setbacks, PEF plans to continue re-releasing birds.
The Philippines has a bleak environmental record. Widespread logging decimated the islands' forests during the late 1900s and early 2000s, leading to deadly floods. Currently a timber ban is in place, but illegal logging continues and forests are still declining by over 1% a year. In 2008, the Philippines' Environment and Natural Resources Secretary Joselito Atienza said that half of the nation's endemic species (found no-where else) are threatened with extinction. Still the island's environmental crisis has not garnered the same attention as its neighbors to the north, Indonesia and Malaysia.
Related articles
From Cambodia to California: the world's top 10 most threatened forests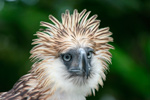 (02/02/2011) Growing populations, expanding agriculture, commodities such as palm oil and paper, logging, urban sprawl, mining, and other human impacts have pushed many of the world's great forests to the brink. Yet scientists, environmentalists, and even some policymakers increasingly warn that forests are worth more standing than felled. They argue that by safeguarding vulnerable biodiversity, sequestering carbon, controlling erosion, and providing fresh water, forests provide services to humanity, not to mention the unquantifiable importance of having wild places in an increasingly human-modified world. Still, the decline of the world's forests continues: the FAO estimating that around 10 million hectares of tropical forest are lost every year. Of course, some of these forests are more imperiled than others, and a new analysis by Conservation International (CI) has catalogued the world's 10 most threatened forests.
Environmentalists say President of Philippines not deserving of conservation award
(04/13/2010) Filipino environmentalists and religious leaders have expressed shock and anger that Gloria Macapagal-Arroyo, the President of the Philippines, has been chosen to receive a conservation award from the US Congress in Washington, DC today according to the Philippine Daily Enquirer.
Photo: Fruit-eating dragon discovered in the Philippines
(04/07/2010) Scientists have discovered a new species of giant lizard in the unlikeliest of places: a highly populated, deforested landscape in the Philippines.