Two separate protests against logging companies by local communities have turned violent in the Democratic Republic of Congo (DRC), leaving at least one dead. According to Greenpeace, one of the companies involved in the violence, Sodefor, is sustainably certified by the Forest Stewardship Council (FSC). Given that the industry in DRC is rife with social conflict and corruption, Greenpeace is advocating that FSC place a moratorium on certifying new industrial-style logging concessions in the central African nation.
A week ago, conflict erupted between the local community of Inongo and logging company Sodefor, a subsidiary of Group NorSüdTimber. According to Greenpeace-Africa, locals were beaten and seven protestors are currently held in custody 'in appalling conditions' without any charges being made against them.
In January Sodefor received Controlled Wood certification from the FSC. Even before the local violence and detainments, Greenpeace had requested that FSC dissociate itself from Sodefor.
| | |
| --- | --- |
| | Inongo, Democratic Republic of Congo (DCR). Image from Google Earth. |
At the time, Greenpeace described Sodefor as: "one of the largest and highly controversial logging companies in the [DRC] which has a track record of social conflicts that have resulted in violence, arbitrary arrests and human rights violations."
The most recent incident should be the last straw for FSC, according to Greenpeace-Africa.
"Recent violence shows us that sustainable forest management doesn't exist in Democratic Republic of Congo," Rene Ngongo, Greenpeace-Africa's Senior Forest Campaigner, said in a press release. "To avoid further controversial certificates being issued and to maintain the support of the FSC's members and stakeholders, FSC should not associate itself with companies such as Sodefor. These companies are not only involved in fragmenting large High Conservation Values Forests, but also in social conflicts linked to the violation of traditional and human rights,"
The incident in Sodefor was not the only recent conflict between locals and big logging companies. In April villagers in Bosanga protested against Siforco, claiming the subsidiary of Danzer had not followed-through on its promises to build the community infrastructure. Siforco called on the police to quell protesters. Reportedly several villagers were then beaten, a number of women were raped, property was destroyed, and one man, Mr Momoma Tika Frédéric, was killed. Siforco is currently working toward sustainable forest management under the FSC.
"One of the main sources of these ever re-occurring conflicts is the absence of participative land use planning in forest areas allocated to logging," Ngongo said. "It is crucial that the Democratic Republic of Congo government and the international donor community commit themselves to uphold the moratorium on the allocation of new logging operations."
The DRC has held a moratorium on new logging concessions since 2009 when the World Bank found that 90 concessions were granted either under questionable circumstances or during past moratoriums. Activists fear the government is signaling that the moratorium will soon end: recently, the DRC legalized 15 concessions that were originally listed as illegal after the World Bank report.
Currently, logging operations in the DRC cover an area the size of South Korea: 10 million hectares. If the moratorium is lifted another 15 million additional hectares, or 25 million hectares in total (an area larger than the UK) of the Congo, could become open to logging.
The FSC is no stranger to criticism. Critics contend that it cozies up to some of the worst logging companies in the world, including Asia Pulp & Paper, a partnership it dropped after a report in the Wall Street Journal. Others criticize the non-profit organization for certifying monoculture plantations and the clearcutting of old growth forests. In 2008, the Swedish Society for Nature Conservation (SSNC) withdrew its long-time support of the FSC.
"We initiated FSC in Sweden some 15 years ago but today the number of violations of laws and standards is too high for any environmental organisation to accept. We refuse further greenwashing under the FSC logotype", says Mikael Karlsson, President of the SSNC said in 2010.
Greenpeace, along with a number of other environmental groups, retains its support for the FSC, but says it is trying to reform the certification standard from within.
Related articles
Congo legalizes 15 logging concessions, prompting concern that moratorium will be lifted next
(03/13/2011) The Democratic Republic of Congo (DRC) has legalized 15 logging concessions that were previously listed as illegal under an effort to clean up the industry of widespread corruption. The environmental group, Greenpeace, fears that the move precedes an announcement to lift the DRC's moratorium on granting any new logging concessions, which would open the Congo Basin to widespread logging.
China to establish giant oil palm plantation in DR Congo
(07/10/2009) ZTE Agribusiness Company Ltd, a Chinese firm, plans to establish a one million hectare oil palm plantation in the Democratic Republic of Congo (DR Congo) for biofuel production, reports China state media.
The EU and Republic of Congo announce system to eradicate illegal logging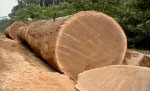 (05/11/2009) The Republic of Congo and the EU have announced a new system to ensure that by 2011 no illegal timber will reach European Union member nations from the Republic of Congo. Under the system all wood products will be required to carry a license showing that the timber was obtained legally.