After five-and-a-half months of delay due to lobbying and political debate, Indonesian President Susilo Bambang Yudhoyono finally signed a two-year moratorium on the granting of new permits to clear rainforests and peatlands, reports Reuters.
But details of the moratorium, which was a condition under Indonesia's billion dollar forest conservation partnership with Norway and was supposed to be signed January 1, won't be released until Friday, leaving it unclear what types of forest will be protected from logging and conversion to plantations. The moratorium will certainly include primary forests, but natural forests that have high conservation value and carbon stocks may still be left on the chopping block.
| | |
| --- | --- |
| Deforestation in Kalimantan and Sumatra | |
The oil palm, logging, and pulp and paper sectors have lobbied intensely to define the moratorium as narrowly as possible, while some environmentalists have sought to set a bar based on the carbon storage of a forest, a target that would include both primary and secondary forests. Either way, some observers say the moratorium will have little impact in practice because millions of hectares of forests and peatlands are already concessioned. For example, analysis of concession data by WWF-Indonesia found that pulp and paper companies in Sumatra's Riau Province alone control a 1.2 million hectares of forest that would be exempt from the moratorium. Converting this area of forest to wood-pulp plantations would generate hundreds of millions in greenhouse gas emissions, while putting endangered species like Sumatran orangutans, tigers, and elephants at greater risk.
Nevertheless the moratorium is seen as an important step toward Indonesia meeting its commitment of reducing carbon dioxide emissions by at least 26 percent from a projected 2020 baseline. Indonesia is presently the third largest greenhouse gas emitter after China and the United States due primarily to degradation of peatlands and deforestation.
Related articles
Is Indonesia losing its most valuable assets?

(05/16/2011) Deep in the rainforests of Malaysian Borneo in the late 1980s, researchers made an incredible discovery: the bark of a species of peat swamp tree yielded an extract with potent anti-HIV activity. An anti-HIV drug made from the compound is now nearing clinical trials. It could be worth hundreds of millions of dollars a year and help improve the lives of millions of people. This story is significant for Indonesia because its forests house a similar species. In fact, Indonesia's forests probably contain many other potentially valuable species, although our understanding of these is poor. Given Indonesia's biological richness — Indonesia has the highest number of plant and animal species of any country on the planet — shouldn't policymakers and businesses be giving priority to protecting and understanding rainforests, peatlands, mountains, coral reefs, and mangrove ecosystems, rather than destroying them for commodities?
Will Indonesia's big REDD rainforest deal work?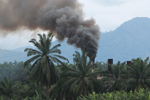 (12/28/2010) Flying in a plane over the Indonesian half of the island of New Guinea, rainforest stretches like a sea of green, broken only by rugged mountain ranges and winding rivers. The broccoli-like canopy shows little sign of human influence. But as you near Jayapura, the provincial capital of Papua, the tree cover becomes patchier—a sign of logging—and red scars from mining appear before giving way to the monotonous dark green of oil palm plantations and finally grasslands and urban areas. The scene is not unique to Indonesian New Guinea; it has been repeated across the world's largest archipelago for decades, partly a consequence of agricultural expansion by small farmers, but increasingly a product of extractive industries, especially the logging, plantation, and mining sectors. Papua, in fact, is Indonesia's last frontier and therefore represents two diverging options for the country's development path: continued deforestation and degradation of forests under a business-as-usual approach or a shift toward a fundamentally different and unproven model based on greater transparency and careful stewardship of its forest resources.