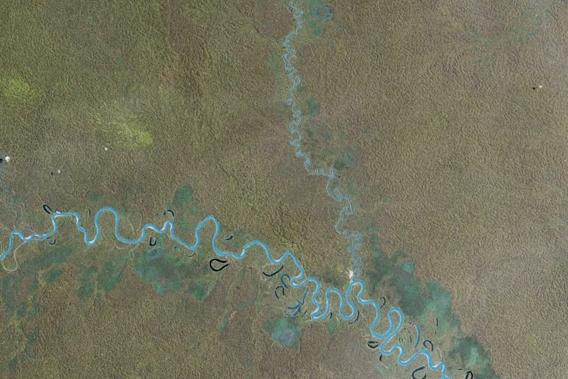 A portion of Block 67 which runs up against the border of Ecuador as viewed by Google Earth.
ConocoPhillips has announced it is withdrawing from its 45% share of oil drilling in Block 39 of Peru's Amazon rainforest. The withdrawal comes after pressure from indigenous-rights and environmental groups to leave two Peruvian oil blocks—39 and 67—alone, due to the presence of indigenous people who have chosen to remain uncontacted. ConocoPhillips and other companies have been warned they will 'decimate' tribes if they remain. However, Spanish oil company Repsol-YPF still operates in block 39 and is currently doing seismic testing for oil reserves in the untouched region. ConocoPhillips has not divulged what company is taking their place.
"It is crucial now that remaining operators in the region, Perenco and Repsol, follow ConocoPhillips' lead and withdraw from these controversial oil blocks," said Mitch Anderson, Corporate Campaigns Director at the indigenous rights organization Amazon Watch, in a press release.
Anglo-French company, Perenco, operates in block 67 and owns 100% interest. On its website—which displays aerial photos of a river winding through the Amazon—it states that it has made three discoveries of oil in the block. Perenco says that there is no evidence of uncontacted people in block 67, NGOs argue otherwise.
"It is estimated that these [oil] fields will have the potential to produce over 60,000 barrels of oil per day. The development plan includes the drilling of approximately 175 directional wells from 18 platforms, the construction of processing facilities and the installation of buried pipelines," Perenco, which is headquartered in London, states on its website.
The oil industry's presence in these areas threatens the lives of indigenous people, because uncontacted people are gravely susceptible to infectious disease. In addition, tribal groups may be hostile and could pose a threat to oil workers.
"There are certain areas of the world where the risks to human life and the environment posed by oil drilling and exploration is too great," said Gregor MacLennan, Amazon Watch's Peru Program Coordinator. "Oil operations in these areas risk destroying some of the world's most vulnerable people and irreparably damaging some of the most biodiverse places left on this planet. Governments and the oil industry have the responsibility to establish no-go zones."
Peru's government has been pushing an industrial revolution in its largely untouched Amazon region. According to Amazon Watch, around 75% of Peru's Amazon is now leased out for oil exploration and extraction. Twenty-two more blocks are waiting to be auctioned off to the highest bidder.
Related articles
Report: 90 oil spills in Peruvian Amazon over 3 years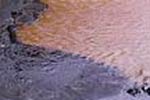 (03/03/2011) A new report has uncovered 90 oil spills by Pluspetrol in northern Peru's Amazon rainforest over the past 3 years. Covering two oil blocs—1-AB and 8—the report, complied by the Federation of Indigenous Communities of the Corrientes River (FECONACO), recorded 18 major oil spills in just the last year. "A week after the landmark ruling against Chevron in Ecuador for $9 billion of
damage from operations in the 1970's and 80's, this new report highlights
the ongoing devastation caused by the oil industry on the fragile Amazon
ecosystem and the people that live there," said Atossa Soltani, Executive
Director at Amazon Watch, in a press release.
Incredible new photos of uncontacted tribe in the Amazon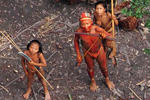 (01/31/2011) Taken by Brazil's Indian Affairs Department and released by indigenous-rights group, Survival International, new aerial photos show an uncontacted tribe on the border of Brazil and Peru in detail. According to a press release by Survival International, the photos "reveal a thriving, healthy community with baskets full of manioc and papaya fresh from their gardens", but a community that is also threatened by illegal loggers from Peru.
Renewed conflict between tribes and oil companies looms in Peru
(01/06/2011) Indigenous peoples and their allies have intensified their fight against two oil companies over contamination in the Peruvian Amazon. Last week, a group of indigenous protesters blockaded portions of the Marañon and Corrientes Rivers in the province of Loreto in northeastern Peru. The protesters were demanding that Pluspetrol, an Argentinean oil company, compensate them for a recent oil spill. As of December 28th, after eight days, the blockade remained unbroken.