China imported $6.1 billion worth of logs in 2010, a 22.4 percent increase over 2009, according to the country's customs bureau.
Russia dominated the trade, accounting for 41 percent by volume and 30 percent by value. New Zealand (17.3 percent and 13.1 percent, respectively) and the United States (8.1 percent and 9.6 percent) were second and third by volume and value.
Among tropical countries, Papua New Guinea was the largest supplier of logs to China. It sent 2.5 million cubic meters of wood worth 478 million. It was followed by the Solomon Islands, Malaysia, Gabon, and Republic of Congo.
Sawnwood imports jumped 49 percent in volume and 67 in value over 2009. Russia, Canada, and the U.S. accounted for more than two-thirds of sawnwood volume and 57.4 percent of value.
Meanwhile 34 percent of China's wood furniture exports (by value) ended up in the United States. Just under 7 percent went to the U.K. China's wood furniture export market was worth $16.2 billion in 2010.
The timber import and furniture export data was reported in the April 30, 2011 issue of the ITTO Tropical Timber Market Report.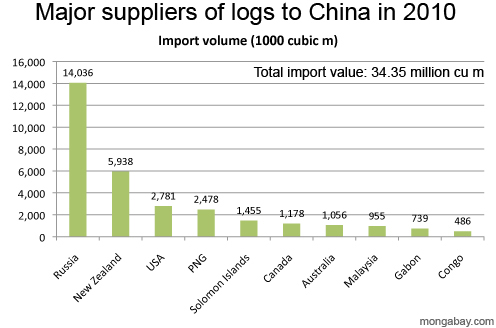 Major suppliers of logs to China in 2010
Country
Import volume
(1000 cubic m)
Proportion (%)
Change
Russia
14,036
40.9
-5.2
New Zealand
5,938
17.3
34.6
USA
2,781
8.1
266.2
PNG
2,478
7.2
49.3
Solomon Islands
1,455
4.2
29.4
Canada
1,178
3.4
216.8
Australia
1,056
3.1
44.3
Malaysia
955
2.8
32.4
Gabon
739
2.2
-32.2
Congo
486
1.4
11.3
Total
34,348
100
22.4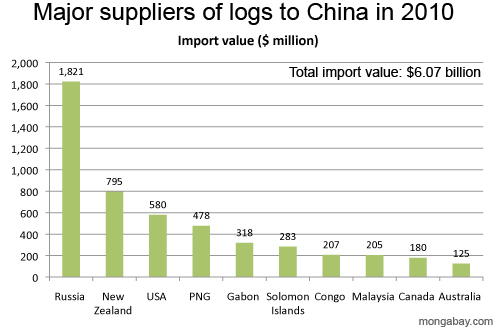 Major suppliers of logs to China in 2010
Country
Import value
($ million)
Proportion (%)
Change
Russia
1,821
30
4.8
New Zealand
795
13.1
85.8
USA
580
9.6
245.2
PNG
478
7.9
73.8
Gabon
318
5.2
39.4
Solomon Islands
283
4.7
61.7
Congo
207
3.4
158.3
Malaysia
205
3.4
60.2
Canada
180
3
253
Australia
125
2.1
92.3
Total
6,071
100
48.6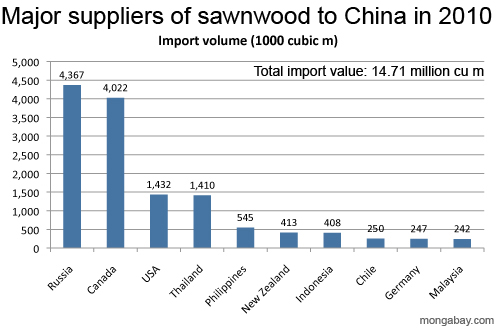 Major suppliers of sawnwood to China in 2010

Country
Import volume
(1000 cubic m)
Proportion (%)
Change (%)
Russia
4,367
29.7
40
Canada
4,022
27.3
65
USA
1,432
9.7
54.2
Thailand
1,410
9.6
37.6
Philippines
545
3.7
85.4
New Zealand
413
2.8
-1.2
Indonesia
408
2.8
92
Chile
250
1.7
25.7
Germany
247
1.7
Malaysia
242
1.7
18.4
Total
14,711
100
48.8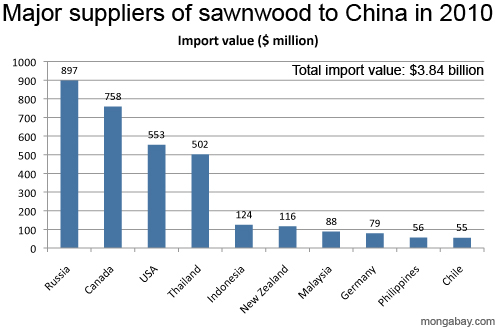 Major suppliers of sawnwood to China in 2010

Country
Import value
($ million)
Proportion (%)
Change (%)
Russia
897
23.3
49.8
Canada
758
19.7
108.2
USA
553
14.4
77.8
Thailand
502
13.1
71.9
Indonesia
124
3.2
93.8
New Zealand
116
3
18.4
Malaysia
88
2.3
37.5
Germany
79
2.1
Philippines
56
1.5
100
Chile
55
1.4
44.7
Total
3,843
100
65.7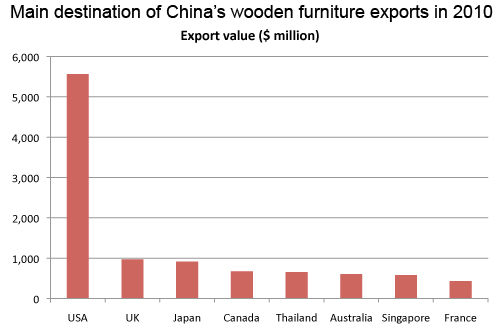 Main destination of China's wooden furniture exports in 2010

Country
Export value
($1,000)
Change from 2009 (%)
Proportion (%)
USA
5,560
30.6
34.4
UK
972
16.6
6.6
Japan
916
14.8
5.7
Canada
670
37.3
4.2
Thailand
653
480.2
4
Australia
602
16.3
3.7
Singapore
582
-17.7
3.6
France
432
50.3
2.7
Total-exports
16,157
34.3
100
Related articles