A review of mongabay.com's April 2011 stories.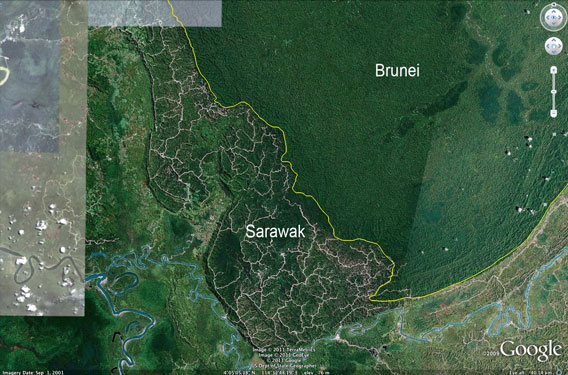 For the second month in a row the most popular news story on mongabay.com was the perhaps unsurprising revelation that Sarawak's forests are heavily impacted by logging. The March 2011 article was a response to Sarawak Chief Minister Pehin Sri Abdul Taib Mahmud's claim that his state's forests were 70 percent intact. A simple Google Earth fly-over showed that Sarawak's forests are heavily degraded by logging roads and other damage relative to surrounding countries.
The most visited "new" news article was Jeremy Hance's interview with William Robichaud, who is working to save the saola, one of the world's least known large mammals. The species, which was only first documented in 1992, has never been spotted in the wild by scientists.
Mongabay.com's continuing look at the efforts of the pro-deforestation lobby also had a lot of interest. Mongabay covered a push by World Growth International, a group that advocates on behalf of big forestry companies in Indonesia and Malaysia, to undermine the Lacey Act (groups that fund World Growth International could suffer under the anti-illegal logging regulation) and thwart Indonesia's proposed moratorium on granting new concessions in natural forests and peatlands. Mongabay.com's work on forestry front groups was recognized in a front page article in the New York Times on March 31.
Jeremy Hance's piece about the Tanzanian government's apparent shift on the environment also garnered a lot of interest. Tanzania, which has long been seen as a leader on conservation, recently launched a series of projects that could devastate the environment, including the world-famous wildebeest migration in the Serengeti.
Finally Jeremy Hance's passionate Earth Day commentary of the gifts provided by nature rounded out the top 10 most popular news articles for April.
Most popular mongabay.com news articles – April 2011
NOTE:
Italicized titles represent news articles posted during the month.