Following years of criticism from environmentalists and some governments the World Bank has proposed new rules regarding carbon-intensive coal plants, reports the Guardian. The new rules would allow lending for coal-fired plants only to the world's poorest nations and would only lend after other alternatives, such as renewable energy, had been ruled out.
World Bank President Robert Zoellick has spoken a number of times of the need for nations to move away from fossil fuels in order to combat climate change, but the World Bank has still provided massive loans for fossil fuel projects. Last year it faced steep criticism after approving a $3.75 billion loan to South Africa to build one of the world's largest coal-fired plants.
Steve Kretzmann, a spokesman for the non-profit organization Oil Change International, told Bloomberg that the proposal a "very good first step," but "if their two priorities are energy poverty reduction and low-carbon energy, fossil fuels should entirely be phased out, not just coal but oil and gas as well."
Senior advisor on climate change for Christian Aid, Alison Doig, was less impressed.
"The draft strategy is disappointing. It looks as though the World Bank is trying to greenwash its activities while by and large continuing with dirty business as usual," she told the Guardian. "While it proposes a ban on coal lending to middle-income countries, the bank will continue its fossil fuel investments in the poorest countries, condemning them to a high-carbon future."
According to the new rules only nations that received all of the funding from the World Bank through the International Development Association would be eligible for loans for coal plants.
Two 2009 reports in Nature found that if the world wants to stay within 'safe levels' of climate change, i.e. the temperature not rising 2 degrees Celsius above pre-industrial levels, then coal must be abandoned altogether unless carbon capture and storage (CCS) proves effective.
Related articles
Photo gallery: Borneo paradise saved from beachside coal plant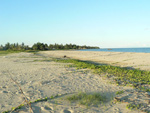 (02/22/2011) Last week the Malaysian government announced it had canceled a plan to build a coal-fired plant in the state of Sabah. The coal plant would have rested on a beach overlooking the Coral Triangle, one of the ocean's most biodiverse ecosystems, and 20 kilometers from Tabin Wildlife Reserve, a rainforest park home to endangered orangutans, Sumatran rhinos, Bornean elephants, and thousands of other species. The cancellation followed a long campaign by a group of environmental and human right organizations dubbed Green SURF (Sabah Unite to Re-power the Future), which argued that the coal plant would have imperiled ecosystems, ended artisanal fishing in the area, hurt tourism, and tarnished Sabah's reputation as a clean-green state.
Coal's true cost in the US: up to half a trillion
(02/20/2011) According to the global market coal is cheap, yet a new study in the Annals of the New York Academy of Sciences finds that the hidden costs of coal are expensive, very expensive. Estimating the hidden costs of coal, such as health and environmental impacts, the study found that burning coal costs the US up to $523 billion a year. Dubbed 'externalities' by economists, the paper argues that these costs are paid by the American public.
U.S. government may finance massive coal projects in India, South Africa
(08/26/2010) The United States Export-Import Bank (Ex-Im Bank) voted on Wednesday to seek a final review of a $900m loan for a controversial 3,960 MW coal-fired power plant in India, reports Pacific Environment, a San Francisco-based environmental group.