A pulp supplier for a major paper company is clearing natural forest in a wildlife corridor in central Sumatra, alleges a new investigation conducted by Eyes on the Forest, a coalition of environmental groups.
The report says that PT Riau Andalan Pulp and Paper (RAPP), a major timber supplier of Asian Pacific Resources International Holdings Limited (APRIL), last year cleared protected forest in the Indonesian province of Riau. While the company secured a permit to log the land in 2010 — a year prior to when Indonesia's forest moratorium was set to go into effect — Eyes on the Forest says the clear-cutting breaks APRIL's 2005 pledge to not destroy high conservation value forest. It notes that the area is one of "few" tiger conservation in Indonesia.




Logs from natural forest clearance by PT RAPP blok Logas Selatan (Sei
Tasem), an APRIL's affiliation, for acacia expansion. Picture taken by Eyes on the
Forest, in August 2010. GPS position S0°20'21.04 E101°13'40.51
"[The] Bukit Batabuh area is an important habitat for the Sumatran tiger (Panthera tigris sumatrae) in Riau, functioning as a wildlife corridor between Bukit Tigapuluh and Bukit Rimbang Baling," said Eyes on the Forest (EoF) in a statement. "Bukit Batabuh is classified as a protected area by Riau Province in 1994, and categorized as a limited production forest based on Indonesia's 1986 Land Use Consensus, meaning no company can legally exploit the forest."
"EoF urges APRIL to stop the clearcutting of natural forest in the area and urges the importance to assess High Conservation Value Forests in collaboration with stakeholders before starting to fell the trees inside the tropical rainforest in order to carry out its own public policy."
The complaint isn't the first time RAPP and APRIL have been criticized by environmental groups. In 2009 local NGOs warned that RAPP is converting land used by local communities in Kepulauan Meranti, islands north of Sumatra's Kampar Peninula, to industrial pulp plantations without proper gazetting. In December 2009, almost 30,000 people from the affected area signed a petition calling for the government to revoke the license. APRIL has been called out by green groups for logging in other parts of Sumatra as well. The company failed to meet its 2009 target to phase out pulping of natural forests for its paper and pulp products and last year lost its FSC certification.
The pulp and paper industry has taken a heavy toll on Sumatra's rainforests, which disappeared at the highest rate of any island in Indonesia over the past decade. Eyes on the Forest estimates that wood-pulp plantations now occupy more than a million ha of former forest and peatland in Sumatra.
"Sumatra's 'Mega Pulp Project' is a climate disaster far worse than the ex Mega Rice Project," stated a report released by Eyes on the Forest last November, referring to the 900,000-hectare project in Central Kalimantan during the 1990s.
APRIL uses wood-pulp to manufacture paper products — like PaperOne — sold abroad. APRIL recently said it will spend $4.6 billion to expand its pulp and paper operations in China.
Related articles
Pulp and paper firms urged to save 1.2M ha of forest slated for clearing in Indonesia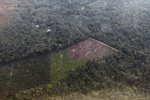 (03/17/2011) Indonesian environmental groups launched a urgent plea urging the country's two largest pulp and paper companies not to clear 800,000 hectares of forest and peatland in their concessions in Sumatra. Eyes on the Forest, a coalition of Indonesian NGOs, released maps showing that Asia Pulp and Paper (APP) and Asia Pacific Resources International Limited (APRIL) control blocks of land representing 31 percent of the remaining forest in the province of Riau, one of Sumatra's most forested provinces. Much of the forest lies on deep peat, which releases large of amount of carbon when drained and cleared for timber plantations.
Indonesia grants slew of last-minute logging concessions on eve of moratorium
(01/25/2011) Indonesia's Minister of Forestry granted nearly 3 million hectares of plantation forestry concessions the day before the country's president was due to sign a decree establishing a two-year moratorium on new logging licenses, reports a new analysis by Greenomics, an Indonesian environmental group.
Does chopping down rainforests for pulp and paper help alleviate poverty in Indonesia?
(01/13/2011) Over the past several years, Asia Pulp & Paper has engaged in a marketing campaign to represent its operations in Sumatra as socially and environmentally sustainable. APP and its agents maintain that industrial pulp and paper production — as practiced in Sumatra — does not result in deforestation, is carbon neutral, helps protect wildlife, and alleviates poverty. While a series of analyses and reports have shown most of these assertions to be false, the final claim has largely not been contested. But is conversion of lowland rainforests for pulp and paper really in Indonesia's best economic interest?
Will Indonesia's big REDD rainforest deal work?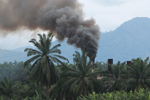 (12/28/2010) Flying in a plane over the Indonesian half of the island of New Guinea, rainforest stretches like a sea of green, broken only by rugged mountain ranges and winding rivers. The broccoli-like canopy shows little sign of human influence. But as you near Jayapura, the provincial capital of Papua, the tree cover becomes patchier—a sign of logging—and red scars from mining appear before giving way to the monotonous dark green of oil palm plantations and finally grasslands and urban areas. The scene is not unique to Indonesian New Guinea; it has been repeated across the world's largest archipelago for decades, partly a consequence of agricultural expansion by small farmers, but increasingly a product of extractive industries, especially the logging, plantation, and mining sectors. Papua, in fact, is Indonesia's last frontier and therefore represents two diverging options for the country's development path: continued deforestation and degradation of forests under a business-as-usual approach or a shift toward a fundamentally different and unproven model based on greater transparency and careful stewardship of its forest resources.