Indonesia's low carbon development strategy will not impede the palm oil industry's growth said a key Indonesian climate official during a meeting with leaders from the country's palm oil industry.
During a meeting on Thursday, Kuntoro Mangkusubroto, head of Indonesian President Susilo Bambang Yudhoyono's REDD+ Task Force, asked industry leaders for their input on the government's effort to shift oil palm expansion to degraded non-forest land.
"It's only through sustainable management of natural resources we can achieve the government's target, with 7% economic growth and 26% reduction of greenhouse gas emissions," Kuntoro said in a statement. "Providing Indonesia's industry with access to degraded land is a cornerstone of our plans for sustainable economic growth and it's one of the key areas the REDD+ Taskforce is working on."
| | |
| --- | --- |
| | Palm oil is used widely in processed foods, cosmetics, and soaps. It is also increasingly used as a biofuel. But palm oil's emergence as a economic juggernaut in Indonesia and Malaysia has come at a cost. By some estimates, more than half of oil palm expansion since 1990 occurred at the expense of forests, spurring criticism from environmentalists concerned about greenhouse gas emissions and loss of habitat for endangered wildlife—including orangutans, pygmy elephants, Sumatran rhinos and tigers. Oil palm plantation development has also at times exacerbated conflicts over land. |
Kuntoro noted that Indonesia has more than 25 million hectares of degraded land, much of which could be suitable for oil palm and timber plantations.
"This means sufficient land is available for the future growth of palm oil and forestry industry, even when the most optimistic growth scenarios for these sectors are taken into account," stated a press release from the REDD+ Task Force. "Palm oil makes a vital contribution to the Indonesian economy, but it's also an industry where there is clear room for improvement in how resources are managed. A key initiative would be to move away from a land use system, where forests are converted for plantations, while degraded land remains unused."
A representative for the Indonesian palm oil industry seemed amenable to the ideas of expanding new plantings on degraded lands.
"Sustainability has been a top of mind issue for the Indonesian palm oil industry for a long time," said Joko Supriono, Secretary General Indonesian Palm Oil Producers Association (GAPKI), in a statement. "For a number of reasons, degraded land has been extremely difficult to develop and we welcome initiatives from the government that will allow for expansion into these areas."
Expansion on degraded lands has been hindered by land tenure conflicts — non-forest land is more likely to be claimed by local communities — and higher development costs. Some plantation companies have relied on logging revenue to subsidize costs of plantation development. Futhermore, degraded lands often have degraded soils, further increasing the cost of plantation establishment.
"If we can work together and make this happen, it will be an important contribution to strengthening the sustainability of Indonesia's palm oil industry," said Supriono.
Kuntoro's meeting with the palm oil industry came as efforts continued to break a deadlock over the definitions of what type of forest will be included in a proposed moratorium on new concessions. The moratorium, a condition of Norway's one billion pledge to support forest conservation in Indonesia, was supposed to go into effect January 1, 2011 but has been stalled due to differences in opinion on whether the concession ban will apply to all natural forest or just primary forest. Logging, mining, and plantation interests are keen on seeing a narrower definition to ensure they will still have access to new forest areas. Environmentalists want all forest to be protected. Some observers say the dispute is somewhat of a red herring because Norway's support — and REDD in general — is dependent on actual reductions in emissions from deforestation and degradation no matter how forest is classified.
Related articles
New World Growth report contains 'false and misleading' information
(03/31/2011) A new report from World Growth International, a lobby group for industrial forestry interests, contains 'false and misleading' information on the economic impact of reducing Indonesia's deforestation rate, says an Indonesian environmental group. The report, released today, claims that reducing deforestation in Indonesia will cost the country 3.5 million jobs annually by slowing expansion in the forestry sector.
Pro-deforestation group criticizes palm oil giant for sustainability pact
(03/24/2011) World Growth International, a group that advocates on behalf of industrial forestry interests, has criticized Golden Agri Resources (GAR), Indonesia's largest palm oil producer, for signing a forest policy that aims to protect high conservation value and high carbon stock forest and requires free, prior informed consent (FPIC) in working with communities potentially affected by oil palm development. In a newsletter published March 10, World Growth International claimed that GAR's agreement "could severely hamper the company's growth" by limiting where it can establish new plantations and says that negotiating with multiple stakeholders "will delay and complicate any investment by the company." World Growth International concludes by implying that GAR may renege on its commitment. But Peter Heng, Managing Director, Communications and Sustainability at GAR, disagreed with World Growth International's assessment.
Will Indonesia's big REDD rainforest deal work?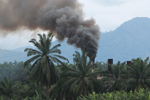 (12/28/2010) Flying in a plane over the Indonesian half of the island of New Guinea, rainforest stretches like a sea of green, broken only by rugged mountain ranges and winding rivers. The broccoli-like canopy shows little sign of human influence. But as you near Jayapura, the provincial capital of Papua, the tree cover becomes patchier—a sign of logging—and red scars from mining appear before giving way to the monotonous dark green of oil palm plantations and finally grasslands and urban areas. The scene is not unique to Indonesian New Guinea; it has been repeated across the world's largest archipelago for decades, partly a consequence of agricultural expansion by small farmers, but increasingly a product of extractive industries, especially the logging, plantation, and mining sectors. Papua, in fact, is Indonesia's last frontier and therefore represents two diverging options for the country's development path: continued deforestation and degradation of forests under a business-as-usual approach or a shift toward a fundamentally different and unproven model based on greater transparency and careful stewardship of its forest resources.