Indonesia can meet its low carbon development goals without sacrificing economic growth, reports an assessment commissioned by the British government.
The research, authored by Dominic Elson, finds that while costs of reducing emissions from deforestation and degradation (REDD) could amount to two percent of annual GDP by 2030, the benefits of shifting to a greener growth model would more than outweigh the outlays. Gains would come from reduced severity and impact of natural disasters, avoided air pollution and degradation of ecosystem services, and improved productivity—especially on degraded, non-forest land.
"Indonesia still has a substantial forest estate and extensive peatlands," writes Elson. "Sensible management of these landscapes in the context of global carbon markets has great potential to release some of the 'utility' value that reflects the true economic, social and environmental value of the forest, not just the short term extraction value. This will improve the welfare of millions of rural Indonesians, whilst also setting the economy on a path of higher productivity and more resilient prosperity."
| | |
| --- | --- |
| | Value of land use sector to Indonesian economy – trend 2004-2009. |
Elson notes that REDD offers to potential to reverse the declining contribution of the Indonesian forestry sector to the national economy. Despite increased expansion and associated deforestation, the forestry sector now accounts for more than a quarter less economic output than it did in 2004. Declining natural resources is a factor in the decline. Pulp and paper and plantations have also declined in relative significance since 2004.
Dominic Elson (2011). Cost-Benefit Analysis of a Shift to a Low Carbon Economy in the Land Use Sector in Indonesia. UK Climate Change Unit of the British Embassy, Jakarta.
Related articles
New World Growth report contains 'false and misleading' information
(03/31/2011) A new report from World Growth International, a lobby group for industrial forestry interests, contains 'false and misleading' information on the economic impact of reducing Indonesia's deforestation rate, says an Indonesian environmental group. The report, released today, claims that reducing deforestation in Indonesia will cost the country 3.5 million jobs annually by slowing expansion in the forestry sector.
Pro-deforestation group criticizes palm oil giant for sustainability pact
(03/24/2011) World Growth International, a group that advocates on behalf of industrial forestry interests, has criticized Golden Agri Resources (GAR), Indonesia's largest palm oil producer, for signing a forest policy that aims to protect high conservation value and high carbon stock forest and requires free, prior informed consent (FPIC) in working with communities potentially affected by oil palm development. In a newsletter published March 10, World Growth International claimed that GAR's agreement "could severely hamper the company's growth" by limiting where it can establish new plantations and says that negotiating with multiple stakeholders "will delay and complicate any investment by the company." World Growth International concludes by implying that GAR may renege on its commitment. But Peter Heng, Managing Director, Communications and Sustainability at GAR, disagreed with World Growth International's assessment.
Will Indonesia's big REDD rainforest deal work?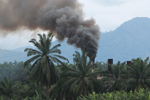 (12/28/2010) Flying in a plane over the Indonesian half of the island of New Guinea, rainforest stretches like a sea of green, broken only by rugged mountain ranges and winding rivers. The broccoli-like canopy shows little sign of human influence. But as you near Jayapura, the provincial capital of Papua, the tree cover becomes patchier—a sign of logging—and red scars from mining appear before giving way to the monotonous dark green of oil palm plantations and finally grasslands and urban areas. The scene is not unique to Indonesian New Guinea; it has been repeated across the world's largest archipelago for decades, partly a consequence of agricultural expansion by small farmers, but increasingly a product of extractive industries, especially the logging, plantation, and mining sectors. Papua, in fact, is Indonesia's last frontier and therefore represents two diverging options for the country's development path: continued deforestation and degradation of forests under a business-as-usual approach or a shift toward a fundamentally different and unproven model based on greater transparency and careful stewardship of its forest resources.