Wandojo Siswanto, one of the negotiators for Indonesia's delegation at 2009 climate talks in Copenhagen and a key architect of its Reduced Emissions from Deforestation and Degradation (REDD) partnership with Norway, has been sentenced to three years in prison for accepting bribes.
Following an investigation by the Corruption Eradication Commission (KPK), Wandojo was found guilty of receiving a bribe of about $10,000 from Anggoro Widjojo, a director of PT Masaro Radiokom, to win favorable treatment in the Ministry of Forestry's budget for the telecommunications company. Wandojo had been named in at least two other corruption probes, including a 2008 case where he admitted to taking a Rp 50 million ($4,600) kickback from lawmaker Al-Amien Nasution.
Wandojo was removed as a Special Advisor to the Minister of Forestry in September.
Wandojo's arrest and sentencing highlight concerns about the capacity of Indonesia's forestry ministry to manage potentially billions of dollars of payments under the proposed REDD+ program, which aims to reduce Indonesia's greenhouse gas emissions by shifting its development model away from one that consumes forests to one that protects forests. Several governments—including Norway, which has already committed up to a billion dollars—are supporting the initiative.
Concerns over the fate of Indonesia's REDD funds have been raised before. Critics cite the country's reforestation fund, which lost $5.25 billion between 1994 and 1998, according to Ernst and Young audit. The fund was managed by the forestry ministry. Losses have continued through 2009.
Chandra M. Hamzah, deputy chairman at the KPK, told Reuters in September that the forestry sector is "a source of unlimited corruption."
Wandojo has been one of several figures in the investigation. In August the Corruption Court convicted Anggodo Widjojo — the brother and business partner of PT Masaro Radiokom's Anggoro Widjojo — for attempting to bribe officials from the Corruption Eradication Commission (KPK) with as much as Rp 5.1 billion ($566,000) in an attempt to get it to drop a corruption case against his brother. Anggodo Widjojo was sentenced to four years in prison, while his brother has been at-large since August 2008.
Kaban, the forestry minister from 2004 to 2009 and a legislator from 1999-2004, is also a person of interest in the case. Kaban has been linked to several other corruption cases, including bribe-taking for issuance of forest concessions, according to the Jakarta Post.
Related articles
Will Indonesia's big REDD rainforest deal work?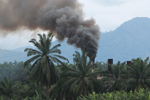 (12/28/2010) Flying in a plane over the Indonesian half of the island of New Guinea, rainforest stretches like a sea of green, broken only by rugged mountain ranges and winding rivers. The broccoli-like canopy shows little sign of human influence. But as you near Jayapura, the provincial capital of Papua, the tree cover becomes patchier—a sign of logging—and red scars from mining appear before giving way to the monotonous dark green of oil palm plantations and finally grasslands and urban areas. The scene is not unique to Indonesian New Guinea; it has been repeated across the world's largest archipelago for decades, partly a consequence of agricultural expansion by small farmers, but increasingly a product of extractive industries, especially the logging, plantation, and mining sectors. Papua, in fact, is Indonesia's last frontier and therefore represents two diverging options for the country's development path: continued deforestation and degradation of forests under a business-as-usual approach or a shift toward a fundamentally different and unproven model based on greater transparency and careful stewardship of its forest resources.