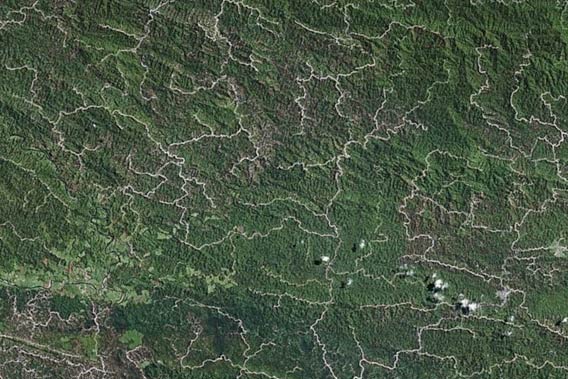 Logging roads criss-cross Sarawak's forests. Photo courtesy of Google Earth.
At the end of this month it will be 30 years since Abdul Taib Mahmud came to power in the Malaysian state of Sarawak on the island of Borneo. Environmentalists are using the occasion, along with new revelations, to highlight corruption and nepotism they say have characterized his regime. Chief Minister Taib and his decades-long administration are no strangers to such allegations, but a new report from the indigenous-rights group Bruno Manser Fund (BMF)—amid criticism from independent media sources, such as Sarawak Report and Radio Free Sarawak—are adding fuel to the fire. Most recently, the report describes in great detail how the tropical timber trade in Sarawak has undercut indigenous groups while toppling some of the world's greatest rainforests, all at the expense of the Sarawak people.
With government approval, rampant logging began in the 1980s and has continued to present day, transforming Sarawak's once verdant forests into a shadow of their former selves—environmentalists estimate less than 10 percent of the state's primary forests remain. Eight percent of the remaining forests are protected in parks, but these protected areas are chronically threatened by illegal logging and even government concessions. While the 1980s saw some of Borneo's richest forests fall, it also saw the rise of a number of Sarawak logging companies including Samling, Rimbunan Hijau, WTK, KTS, Shin Yang and Ta Ann. Over the past three decades the logging operations have grown exponentially, expanding timber operations worldwide and spreading into such non-related areas as the media and construction.
| | |
| --- | --- |
| | |
"[The companies'] track records of diversification and internationalization, however, go hand in hand with the violation of human rights, political patronage and the destruction of the environment in their home country and many other parts of the world," writes Daniel Faeh in the report. Research assistant at the Economic Geography Group at the University of Bern in Switzerland, Faeh is the author of Bruno Manser Funds' report.
Owning 1.3 million acres, Samling is the largest timber company in the Sarawak. It has been accused of illegal logging and environmental destruction throughout Southeast Asia, in the Amazon, and the Pacific. The second largest logging company, Rimbunan Hijua, has repeatedly been accused of violating human rights and abusing indigenous people. The WTK group was accused of illegal logging in the Amazon, and the Ta Ann group has been criticized for logging old-growth temperate rainforests in Tasmania.
There is little oversight in these matters in Sarawak. Taib is not only Chief Minister of Sarawak, but also Minister of Planning and Resource Management, which means, according to the report, that "[he] has absolute control over the allocation of timber licenses and logging concessions to himself, his allies, friends and family."
| | |
| --- | --- |
| | Oil palm plantation in Sarawak, Malaysia. Courtesy of BMF |
Sarawak's regulatory body for the logging industry, known as the Sarawak Timber Industry Development Corporation (STIDC)—of which Taib is chairman—is also heavily involved in logging. Dubbed by the report as the "seventh major timber group" in Sarawak, the STIDC is hampered by competing interests.
"The state government itself has become a major timber player with its vehicle STIDC," reads the report.
Many of these companies have since expanded their influence in industry and media—for example, the KTS group owns the Borneo Post, Sarawak's biggest English-language paper—and all of these companies have connections to Taib, his family, close advisers, or the state government, according to the report. In fact, the Sarawak Report, a website run by journalist Clare Rewcastle, alleges that Taib has billions of dollars in assets hidden abroad and made from corrupt dealings.
Much of the media in Sarawak is connected to Taib's government, while independent media, such as Radio Free Sarawak (RFS), are harassed by the government in the name of state security. To date the government has largely ignored Sarawak Report, but RFS is currently being investigated by the state for spreading "malicious lies", according to the Borneo Post.
But the biggest victims in all of this have been Sarawak's marginalized indigenous groups.
| | |
| --- | --- |
| | Deforestation by a logging company around a Penan village in the Middle Baram region in Sarawak. Image courtesy of the Bruno Manser Fund |
"Right up to the present, the system of political patronage is still fueling the destruction of the rainforest in Sarawak, and local indigenous groups like the Penan are still fighting for nothing more than their legitimate rights to their land," reads the report.
Indigenous groups have been fighting—and losing—against logging companies for decades in Sarawak. Blockades, protests, legal challenges have not succeeded in saving indigenous peoples' land, and such actions are often met with crackdowns—occasionally violent and sometimes conducted by state police—and the destruction of homes.
"All six major timber groups are involved in logging activities in areas where traditional settlements of indigenous communities exist and where their native customary rights (NCR) are being systematically neglected. Logging activities on this land not only have serious impacts on flora and fauna, soil erosion, siltation, air and water pollution, and flooding, the local communities also suffer from marginalization, hardship, depleting scarce resources and police brutality," reads the report.
Now plans to build upward of a hundred dams in Sarawak further threatens the remaining, though dwindling, forests and indigenous people of Sarawak.
| | |
| --- | --- |
| | Samling bulldozers near Ba Jawi. Photo courtesy of BMF. |
The report contends that the timber companies that came of age in the 1980s now "control many other important industries in Sarawak", such as shipping, construction, and media, while also exporting their controversial business practices abroad. Decreasing forest land for clearcutting has not, as expected, weakened the government. Instead, according to the report the state has found a new industry on which to "capitalize its power once again": palm oil. The government has said it wants to plant 2 million hectares by 2020, including targeting indigenous lands.
"Sarawak is one of the resource-richest states in Malaysia and earns billions of US dollars a year from timber and timber products—plus the same amount again from crude oil, natural gas and, more recently, from palm oil," reads the report, "however, the government and the political elites have […] failed to distribute the timber wealth and revenues equally to the people of Sarawak."
The Bruno Manser Fund is calling for international authorities to investigate over 30 corporations, reported to be connected to Taib or his family, in Canada, Australia, the US, the UK, Hong Kong, and the British Virgin Islands. It is asking authorities under anti-money laundering laws to "freeze all Taib family assets for later restitution to the people of Sarawak."
Related articles
Sarawak government mocks its indigenous people
(02/20/2011) The Sarawak government mocked the plight of its rainforest people in a press release issued earlier this month, says a rights' group.
Malaysian palm oil producers destroying Borneo peat forests faster than ever before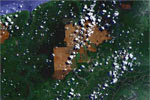 (02/01/2011) Peatlands and rainforests in Malaysia's Sarawak state on the island of Borneo are being rapidly destroyed for oil palm plantations, according to new studies by environmental group Wetlands International and remote sensing institute Sarvision. The analysis shows that more than one third (353,000 hectares or 872,000 acres) of Sarawak's peatswamp forests and ten percent of the state's rainforests were cleared between 2005 and 2010. About 65 percent of the area was converted for oil palm, which is replacing logging as timber stocks have been exhausted by unsustainable harvesting practices.
Sarawak's last nomad: indigenous leader and activist, Along Sega, dies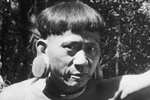 (02/03/2011) Along Sega never knew exactly how old he was, but when he passed away yesterday in a hospital far from the forest where he born, he was likely in his 70s. Leader among the once-nomadic hunter and gatherer Penan people of Borneo and mentor to Swiss activist, Bruno Manser, Along Sega will be remembered for his work to save the Penan's forest—and their lifestyle and culture—from logging companies, supported by the Sarawak government and provided muscle by the state police.
Rainforest people sue logging company, Sarawak govt over planned deforestation
(12/22/2010) A community of forest people is taking a logging company and the state government of Sarawak to court over a plan to log 15,000 hectares of tropical rainforest, reports the Bruno Manser Fund.
Sarawak to cut down 1 million ha of rainforest for palm oil
(12/14/2010) The government of Sarawak aims to convert more than 1 million hectares (2.5 million acres) of tropical forest by 2020, according to the Malaysian state's Land Development Minister, James Masing.
Sarawak to double oil palm plantations by focusing on native customary forest
(11/30/2010) Sarawak plans to double its oil palm estate by 2020, reports The Star.
Photos: Massive logjam in Borneo blocks Malaysia's longest river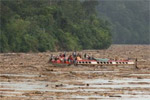 (10/10/2010) A massive 50-km-long (30-mi) logjam has blocked the Rajang river in Sarawak, Malaysian Borneo, bringing river traffic to a standstill and posing a threat to riverbank communities, reports Malaysian state media, Bernama. The Rajang, Malaysia's longest river, is presently unnavigable, according to Bernama. The source of the logs and debris is believed to be the Baleh River and upper tributaries of the Rajang. Heavy rain reportedly triggered a landslide or landslides at log ponds at a major timber camp.
Endangered species listing could hit Malaysian Borneo's timber trade
(10/04/2010) Sarawak fears its timber industry may be adversely affected by a proposal to list three genera of Dipterocarp trees as threatened, reports The Star.
Norway divests from Malaysian logging company after rainforest destruction
(08/24/2010) The Norwegian Government's pension fund sold all its 16 million shares of Samling Global, a Malaysian timber company, after concluding the firm had committed 'serious transgessions' in logging outside of concession areas and destroying protected rainforests, reports the Bruno Manser Fund. The sale, worth a total of $1.2 million, represents about 0.3 percent of the company's outstanding shares based on today's closing market price in Hong Kong.