Kellogg Company will support greener palm oil production through the purchase of 'sustainable' palm oil certificates until it can obtain a segregated, sustainable supply, said the food giant in a statement.
The maker of Frosted Flakes® and PopTarts® will offset all of its palm oil consumption through the purchase of GreenPalm certificates, which represent physical palm oil certified under the Roundtable on Sustainable Palm Oil (RSPO), a body that sets social and environmental criteria for palm oil production.
"Kellogg is committed to conducting our business in a way that reduces our environmental impact," said Celeste Clark, Kellogg's Chief Sustainability Officer. "While palm oil is a very small percentage of our total ingredients, as a socially responsible company, concerns about the sustainable production of palm oil are clearly on our radar screen."
| | |
| --- | --- |
| | Palm oil is now found in up to half of packaged processed foods in some markets. By virtue of its high yield, palm oil is a cheaper substitute than other vegetable oils. In an effort to reduce costs, some candymakers are using palm oil in place of cocoa butter in their milk chocolate products. Photo by Rhett A. Butler |
"We intend to continue this commitment until we are able to purchase a segregated supply of sustainably grown palm oil."
Kellogg accounts for roughly 0.1 percent of the global annual consumption of palm oil, according to the company.

Palm oil
Palm oil is used widely in processed foods, cosmetics, and soaps — WWF estimates that palm oil is found in roughly half of packaged supermarket products. It is also increasingly used as a biofuel.
RSPO was originally formed as a response to pressure from environmentalists who maintain that oil palm production has driven large-scale destruction of rainforests across southeast Asia over the past two decades, triggering the release of billions of tons of carbon dioxide emissions and imperiling rare species, including the Sumatran tiger and the orangutan. RSPO has created a set of criteria to make palm oil production less damaging to the environment. These include using natural pests and composting in place of synthetic pesticides and fertilizers whenever possible, implementing no burn policies, sparing high conservation value forests from development, taking measures to reduce air pollution, and creating catchment ponds to prevent palm oil mill effluent from entering waterways where it would damage aquatic habitats. The hope is that CSPO can be sold at a premium to recoup the increased costs that certification entails.
Related articles
Breakthrough? Controversial palm oil company signs rainforest pact
(02/09/2011) One of the world's highest profile and most controversial palm oil companies, Golden Agri-Resources Limited (GAR), has signed an agreement committing it to protect tropical forests and peatlands in Indonesia. The deal—signed with The Forest Trust, an environmental group that works with companies to improve their supply chains—could have significant ramifications for how palm oil is produced in the country, which is the world's largest producer of palm oil.
Greening the world with palm oil?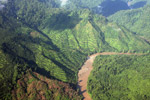 (01/26/2011) The commercial shows a typical office setting. A worker sits drearily at a desk, shredding papers and watching minutes tick by on the clock. When his break comes, he takes out a Nestle KitKat bar. As he tears into the package, the viewer, but not the office worker, notices something is amiss—what should be chocolate has been replaced by the dark hairy finger of an orangutan. With the jarring crunch of teeth breaking through bone, the worker bites into the "bar." Drops of blood fall on the keyboard and run down his face. His officemates stare, horrified. The advertisement cuts to a solitary tree standing amid a deforested landscape. A chainsaw whines. The message: Palm oil—an ingredient in many Nestle products—is killing orangutans by destroying their habitat, the rainforests of Borneo and Sumatra.