Not long ago much of India was covered in vast and varied forests. Today just over one-fifth (21%) of the nation remains under forest cover, according to the Food and Agriculture Organization (FAO) but an ambitious plan hopes to bring the forest cover percentage to 33%, or one third of the country. However that goal has been dubbed 'unrealistic' by India's influential Minister for Environment and Forests, Jairam Ramesh, as reported by The Hindu.
The goal is "unrealistic in a country like India where the population is 1.2 billion and set to become 1.6 billion by 2040. With the population and development pressure in our country, to expect India to suddenly grow a green cover from the present 21% to 33% is totally unrealistic," Ramesh said at a Green Landscape Summit. India is currently the world's second most populous nation after China.
However, even the 21% forest cover is a misnomer, since 15% of those forests are plantations. Ramesh further pointed out that nearly half of India's forests are degraded.
India recently announced a $10 billion plan to expand forests and improve tree cover in degraded forests.
Related articles
India commits $10 billion to expand forests
(02/25/2011) The Indian government has approved a bold plan to expand and improve the quality of its forests as a part of the nation's National Action Plan on Climate Change. The reforestation plan, dubbed the National Mission for a Green India (NMGI), will expand forests by five million hectares (over 12 million acres), while improving forests quality on another five million hectares for $10.14 billion (460 billion rupees).
Parks key to saving India's great mammals from extinction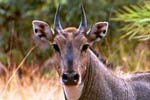 (02/24/2011) Krithi Karanth grew up amid India's great mammals—literally. Daughter of conservationist and scientist Dr. Ullas Karanth, she tells mongabay.com that she saw her first wild tigers and leopard at the age of two. Yet, the India Krithi Karanth grew up in may be gone in a century, according to a massive new study by Karanth which looked at the likelihood of extinction for 25 of India's mammals, including well-known favorites like Bengal tigers and Asian elephants, along with lesser known mammals (at least outside of India) such as the nilgai and the gaur. The study found that given habitat loss over the past century, extinction stalked seven of India's mammals especially: Asiatic lions, Bengal tigers, wild dogs (also known as dholes), swamp deer, wild buffalo, Nilgiri Tahr, and the gaur. However, increasing support of protected areas and innovative conservation programs outside of parks would be key to saving India's wildlife in the 21st Century.
India pledges to protect cat-crazy rainforest
(02/14/2011) The Jeypore-Dehing lowland rainforest in Assam, India is home to a record seven wild cat species, more than any other ecosystem on Earth. While it took wildlife biologist Kashmira Kakati two years of camera-trapping to document the seven felines, the announcement put this forest on the map—and may very well save it. A year after the record was announced, officials are promising to pursue permanent preservation status for the forest, which is threatened by logging, poaching, oil and coal industries, and big hydroelectric projects.