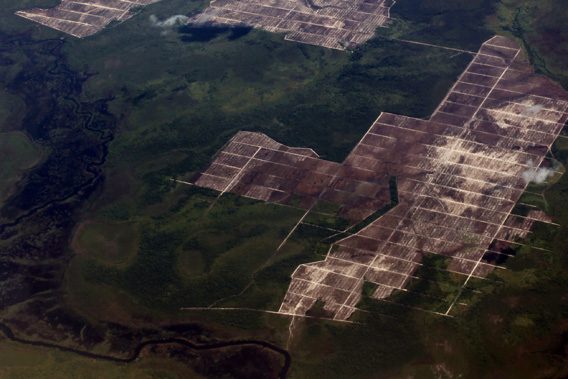 Oil palm plantations on peatlands in Central Kalimantan. Photo by Rhett A. Butler 2009
DWS, a fund management company run by Deutsche Bank, has dropped all Wilmar International stock from its financial products over concerns that the palm oil giant has failed to produce palm oil in a responsible manner despite being a member of the Roundtable on Sustainable Palm Oil (RSPO), a eco-certification initiative. The move follows a campaign by Robin Wood, a German activist group.
DWS has now removed Wilmar shares from its DWS AgriX financial product. Wilmar International is listed on the Singapore Stock Exchange.
"ROBIN WOOD applauds the decision taken by DWS," said Peter Gerhardt, tropical forest campaign coordinator at ROBIN WOOD. "This is a clear signal to the financial market that investors should not be supplying fresh funds to bodies that destroy the world's rain forests."
| | |
| --- | --- |
| | Greenpeace climber on the anchor chain of the Gran Couva during a 2008 protest against Wilmar. © Greenpeace/Novis |
Wilmar has been targeted by environmental groups over alleged clearing of carbon-dense peatlands and forests. The company was also cited in a complaint filed on behalf of local communities. That complaint ended up causing the World Bank's investment banking arm, the International Finance Corporation, to issue a moratorium on all lending to palm oil companies.
Wilmar did not immediately respond to request for comment on the latest development, but has maintained in other communications that it now abides by RSPO rules, which aim to improve the sustainability palm oil production and reduce conflict with local communities.
The DWS news comes as activists step up campaigns against financial institutions holding shares in companies associated with deforestation. Greenomics Indonesia, an Indonesian activist group, recently reported that several of the companies held by the Norwegian Pension Fund appeared on an Indonesian Ministry of Forestry list of oil palm plantation developers that failed to acquire the proper permits in Central Kalimantan on the island of Borneo (Wilmar Group companies were on the list). The Norwegian Pension Fund also owns shares in a subsidiary of Asia Pulp & Paper, a Chinese logging company that has been criticized for converting rainforests and peatlands in Sumatra into wood-pulp plantations. The investments raised eyebrows because Norway last year pledged a billion dollars toward reducing deforestation in Indonesia. Given its commitment, some critics have asked why its pension fund continues to invest in companies linked to deforestation and forest degradation.
| | |
| --- | --- |
| | The Ministry of Forestry report found that less than 20 percent of plantation operators in Central Kalimantan have the proper permits. Some companies contend they have been unfairly included on the Ministry of Forestry's list, arguing their plantations secured proper permits prior to development, but that a change in the law—which was subsequently backdated—left them in legal limbo and subject to fines. Mongabay.com has been unable to substantiate these claims. |
"If the Norwegian government continues with these investment policies that are linked to deforestation, it will become increasingly unclear what precisely Norway hopes to achieve from the letter of intent with Indonesia," said Greenomics Indonesia's Executive Director Elfian Effendi a press release.
The Norwegian Pension Fund divested from Samling, a Malaysian logging company with a particularly bad environmental reputation, last year.
Related articles
Pro-deforestation group criticizes palm oil giant for sustainability pact
(03/24/2011) World Growth International, a group that advocates on behalf of industrial forestry interests, has criticized Golden Agri Resources (GAR), Indonesia's largest palm oil producer, for signing a forest policy that aims to protect high conservation value and high carbon stock forest and requires free, prior informed consent (FPIC) in working with communities potentially affected by oil palm development. In a newsletter published March 10, World Growth International claimed that GAR's agreement "could severely hamper the company's growth" by limiting where it can establish new plantations and says that negotiating with multiple stakeholders "will delay and complicate any investment by the company." World Growth International concludes by implying that GAR may renege on its commitment. But Peter Heng, Managing Director, Communications and Sustainability at GAR, disagreed with World Growth International's assessment.
Palm oil company gives up land contested by local communities as part of sustainability pledge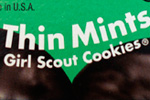 (03/21/2011) An Indonesia palm oil company has relinquished part of its plantation concession to communities that traditionally use the land as part of its commitment to sustainability principles under the Roundtable on Sustainable Palm Oil (RSPO), reports the Forest Peoples Programme. The move is a response to a new procedure that could reduce conflict between palm oil developers and forest-dependent communities.
Major palm oil companies failed to secure proper permits in Indonesian Borneo
(02/23/2011) Some of Indonesia's biggest and most powerful palm oil companies appear to have failed to initially secure the proper permits to convert rainforests to oil palm plantations in Central Kalimantan, reports Greenomics, an Indonesian activist group.
Greening the world with palm oil?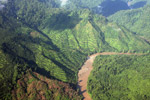 (01/26/2011) The commercial shows a typical office setting. A worker sits drearily at a desk, shredding papers and watching minutes tick by on the clock. When his break comes, he takes out a Nestle KitKat bar. As he tears into the package, the viewer, but not the office worker, notices something is amiss—what should be chocolate has been replaced by the dark hairy finger of an orangutan. With the jarring crunch of teeth breaking through bone, the worker bites into the "bar." Drops of blood fall on the keyboard and run down his face. His officemates stare, horrified. The advertisement cuts to a solitary tree standing amid a deforested landscape. A chainsaw whines. The message: Palm oil—an ingredient in many Nestle products—is killing orangutans by destroying their habitat, the rainforests of Borneo and Sumatra.
Rapid growth of palm oil industry tramples indigenous peoples' rights, says report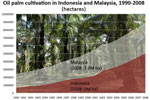 (08/30/2010) Rapid expansion of oil palm plantations across Southeast Asia have run roughshod over customary tenure systems, resulting in exploitation of local communities, conflict, and outright human rights abuses, reports a new assessment of the palm oil sector by the Forest Peoples Programme (FPP), an international indigenous rights group.
World Bank's IFC suspends lending to palm oil companies
(09/09/2009) The World Bank has agreed to suspend International Finance Corporation (IFC) funding of the oil palm sector pending the development of safeguards to ensure that lending doesn't cause social or environmental harm, according to a letter by World Bank President Robert Zoellick to NGOs. A recent internal audit found that IFC funding of the Wilmar Group, a plantation developer, violated the IFC's own procedures, allowing commercial concerns to trump environmental and social standards. The findings were championed by environmental and indigenous rights' groups who have criticized World Bank support for industrial oil palm development which they say has driven large-scale destruction of forests in Indonesia, boosting greenhouse gas emissions, endangering rare and charismatic species of wildlife, including the orangutan, and displacing forest communities.