As the world's largest migration in the Serengeti plains—including two million wildebeest, zebra, and Thomson's gazelles—has come under unprecedented threat due to plans for a road that would sever the migration route, a far lesser famous, but nearly as large migration, is being silently eroded just 1,370 miles (2,200 kilometers) north in Ethiopia's Gambela National Park. The migration of over one million white-eared kob, tiang, and Mongalla gazelle starts in the southern Sudan but crosses the border into Ethiopia and Gambela where Fred Pearce at Yale360 reports it is running into the rapid expansion of big agribusiness. While providing habitat for the millions of migrants, Gambela National Park's land is also incredibly fertile enticing foreign investment.



According to Pearce, Ethiopia has leased 400,000 hectares, much of it within Gambela National Park, to foreign agribusinesses including Karuturi Global Limited of India and Saudi Star owned by billionaire Sheik Mohammed Hussein Ali Al Amoudi. Part of the problem is the park is not quite official.



"It turns out that the park, though marked on maps, has never been formally gazetted. In any case, according to Cherie Enawgaw of the Ethiopian Wildlife Conservation Authority, a government agency, the park may have a handful of rangers but it has 'no management plan and no clear indicated boundary,'" Pearce writes. Currently, the Ethiopian government officially plans to change the borders of the park in order to suit its agricultural development.



Yale360 further reports that the foreign agriculture investment is impoverishing locals of the Anuak community, who have lost the forests and wildlife on which they depend.



Given record food prices worldwide and rising concerns about food security, Africa is being seen by many as the last great frontier for massive agricultural expansion. A number of developing nations, including China and South Korea, have even begun leasing vast swathes of land in Africa on-the-cheap as essentially food insurance for their growing populations.



The world's second largest migration of land mammals, the Sudd migration (named after the vast wetlands where it originates) only came to light recently. In 2007 the Wildlife Conservation Society (WCS) surveyed the southern Sudan region after decades of civil war had left it neglected and found wildlife populations surprisingly intact. In addition, to over a million migrating antelope the region sports healthy populations of buffalo, giraffe, lion, and thousands of elephants.



"I have never seen wildlife like that, in such numbers, not even when flying over the mass migrations of the Serengeti," survey leader and renowned conservationist J. Michael Fay said in 2007.



But now, the question is, will it survive?



Related articles



South Sudan's choice: resource curse or wild wonder?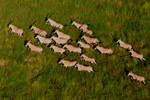 (02/11/2011) After the people of South Sudan have voted overwhelmingly for independence, the work of building a nation begins. Set to become the world's newest country on July 9th of this year, one of many tasks facing the nation's nascent leaders is the conservation of its stunning wildlife. In 2007, following two decades of brutal civil war, the Wildlife Conservation Society (WCS) surveyed South Sudan. What they found surprised everyone: 1.3 million white-eared kob, tiang (or topi) antelope and Mongalla gazelle still roamed the plains, making up the world's second largest migration after the Serengeti. The civil war had not, as expected, largely diminished the Sudan's great wildernesses, which are also inhabited by buffalo, giraffe, lion, bongo, chimpanzee, and some 8,000 elephants. However, with new nationhood comes tough decisions and new pressures. Multi-national companies seeking to exploit the nation's vast natural resources are expected to arrive in South Sudan, tempting them with promises of development and economic growth, promises that have proven uneven at best across Africa.

Migrations of large mammals in serious declines, six have vanished entirely



(06/03/2009) Watch any nature documentary and it's sure to include pulse-pounding footage of large herbivores migrating across African plains, Asian steppe, or the Arctic tundra. The images have become iconic: wildebeest forging a crocodile-inhabited river, caribou breaking through snow fields, Saiga running over tall grass. Despite such images of plenty, migrations are declining across the world, and in six cases have disappeared entirely.
'Land grab' fears in Africa legitimate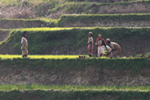 (01/31/2011) A new report by the International Institute for Environment and Development (IIED) has found that recent large-scale land deals in Africa are likely to provide scant benefit to some of the world's poorest and most famine-prone nations and will probably create new social and environmental problems. Analyzing 12 recent land leasing contracts investigators found a number of concerns, including contracts that are only a few pages long, exclusion of local people, and in one case actually give land away for free. Many of the contracts last for 100 years, threatening to separate local communities from the land they live on. "Most contracts for large-scale land deals in Africa are negotiated in secret," explains report author Lorenzo Cotula in a press release. "Only rarely do local landholders have a say in those negotiations and few contracts are publicly available after they have been signed."
Massive wildlife population discovered in Southern Sudan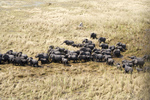 (06/12/2007) Aerial surveys by the New York-based Wildlife conservation Society found more than 1.3 million white-eared kob, tiang antelope and Mongalla gazelle in Southern Sudan, despite decades of civil war. The population, which includes more than 8,000 elephants, rivals that of the legendary Serengeti in Tanzania and suggests that the region is of critical importance for conservation efforts.
Wildlife conservation plan moves forward in southern Sudan

(04/03/2007) A leading conservation group announced that it has signed two agreements with the Government of Southern Sudan (GoSS) to launch a conservation strategy for the region's wildlife. The New York-based Wildlife conservation Society says that southern Sudan may have some of the richest wildlife in Africa.