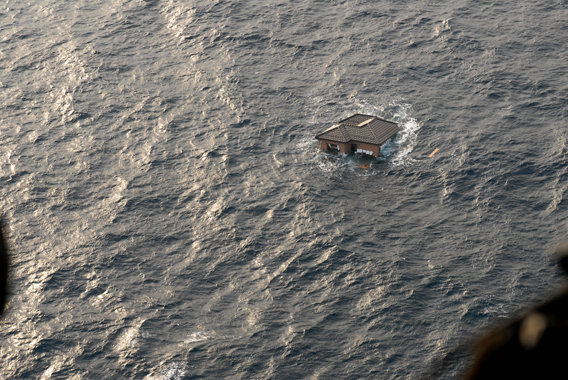 A Japanese home is seen adrift in the Pacific Ocean. Ships and aircraft from the Ronald Reagan Carrier Strike Group are searching for survivors in the coastal waters near Sendai, Japan. (U.S. Navy photo by Mass Communication Specialist 3rd Class Dylan McCord/Released)

The massive March 11 Tōhoku earthquake shifted Japan's Oshika Peninsula 5.3 meters (17 feet) in a east-southeasterly direction toward the epicenter, reports Kyodo.
Analysis of global positioning system data at the Geospatial Information Authority in Tsukuba found the 9.0-magnitude quake moved the peninsula 5.3 meters (17 feet) and dropped it by 1.2 meters (3.9 ft). The displacement was the largest on record for Japan, according to the agency.
The quake also shifted other points of Japan, including Tokyo, although the movements were smaller.
The earthquake triggered a devastating tsunami that killed thousands along the eastern coast of Japan. The tsunami also crippled the Fukushima Daiichi nuclear power plant.
Related articles
Pictures of tsunami devastation, including a house floating in the open ocean
(03/17/2011) The U.S. Navy released shocking pictures showing widespread devastation in Japan following last week's 9.0-magnitude earthquake and accompanying tsunami. The photos include a house floating in the open ocean, scenes of destruction in Ofunato, and piles of vehicles and debris, among others.
Before-and-after tsunami satellite pictures
(03/15/2011) Google released satellite images revealing the devastation caused by the March 11 tsunami in Japan.
Japan's earthquake disaster may boost rainforest logging in Borneo
(03/13/2011) Malaysian loggers say Japan's recovery from last week's devastating earthquake and tsunami will boost demand for rainforest timber, reports the Borneo Post.
Is Japan's tsunami linked to climate change?
(03/11/2011) Could the earthquake that triggered Japan's devastating tsunami be linked to climate change? The short answer is probably not, but recent research suggests that changing climate has the potential to influence earthquakes in some parts of the world