The Sarawak government mocked the plight of its rainforest people in a press release issued earlier this month, says a rights' group.
The release says forest people are poised to benefit from massive dam and forestry projects under the Sarawak Corridor of Renewable Energy (SCORE) scheme that will convert the Malaysian state's rivers into lakes and forests into open pit mines, wood-pulp plantations, and oil palm estates.
"SCORE will develop 10 key industries including hydropower, heavy industry and tourism," stated the release. "Baram, currently a rural and underdeveloped area, will benefit from a new hydro dam. As a result, the district will attract a wide range of industries such as palm oil, pulp and paper and timber which will provide job opportunities for the indigenous people living there."
| | |
| --- | --- |
| | Samling bulldozers near Ba Jawi. Photo courtesy of BMF. |
But the Bruno Manser Fund, a Swiss NGO which works to secure rights for Sarawk's forest people, says these projects will further marginalize groups like the Penan, whose culture and livelihoods are closely tied to healthy forests.
"The statement on SCORE is an outrageous lie," Lukas Straumann of BMF told mongabay.com. "The dams cannot be realized without displacing thousands of natives from their traditional lands. This is why the dam projects, in particular the Baram dam, are met with strong resistance from the longhouses."
The Penan, a group of once-nomadic forest tribes, has fiercely resisted loggers and plantation developers. In recent years their strategy for defending their land has mostly transitioned from armed standoffs to taking legal action. But neither has been effective in protecting their forest homeland. Vast swathes of Sarawak's rainforest has been lost, while the government and companies have largely ignored court rulings in favor of the Penan. The government, which has long pushed forest dwelling Penan to leave the forest and settle permanently, has recently made a policy of targeting native customary rights land for conversion to industrial oil palm plantations, which provide few employment opportunities for the Penan.
Critics say the government's interest in these large development projects stems from opportunities for corruption. Sarawak's Chief Minister Abdul Taib Mahmud is believed to have squirreled away hundreds of millions to billions of dollars in ill-gotten gains during his 30 years in power. A recent investigation found that Taib controls properties worth hundreds of millions of dollars in Canada, Australia, the U.K. and the U.S. despite earning a salary of less than $200,000 a year.
"It is also known that SCORE is a scheme linked to massive corruption in the building sector," said Straumann. "Sarawak's main construction companies (CMS, Naim Cendera etc.) are closely linked to the family of Taib Mahmud who is hoping to enrich himself further with these unnecessary dam projects (there is a power glut in Sarawak already). We prefer to rename it SCORR – Sarawak Corridor of Corruption."
Related articles
Sarawak's last nomad: indigenous leader and activist, Along Sega, dies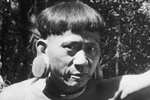 (02/03/2011) Along Sega never knew exactly how old he was, but when he passed away yesterday in a hospital far from the forest where he born, he was likely in his 70s. Leader among the once-nomadic hunter and gatherer Penan people of Borneo and mentor to Swiss activist, Bruno Manser, Along Sega will be remembered for his work to save the Penan's forest—and their lifestyle and culture—from logging companies, supported by the Sarawak government and provided muscle by the state police.
Malaysian palm oil producers destroying Borneo peat forests faster than ever before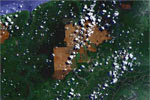 (02/01/2011) Peatlands and rainforests in Malaysia's Sarawak state on the island of Borneo are being rapidly destroyed for oil palm plantations, according to new studies by environmental group Wetlands International and remote sensing institute Sarvision. The analysis shows that more than one third (353,000 hectares or 872,000 acres) of Sarawak's peatswamp forests and ten percent of the state's rainforests were cleared between 2005 and 2010. About 65 percent of the area was converted for oil palm, which is replacing logging as timber stocks have been exhausted by unsustainable harvesting practices.
Rainforest people sue logging company, Sarawak govt over planned deforestation
(12/22/2010) A community of forest people is taking a logging company and the state government of Sarawak to court over a plan to log 15,000 hectares of tropical rainforest, reports the Bruno Manser Fund.
Sarawak to double oil palm plantations by focusing on native customary forest
(11/30/2010) Sarawak plans to double its oil palm estate by 2020, reports The Star.
Misleading claims from a palm oil lobbyist
(10/23/2010) In an editorial published October 9th in the New Straits Times ("Why does World Bank hate palm oil?"), Alan Oxley, a former Australian diplomat who now serves as a lobbyist for logging and plantation companies, makes erroneous claims in his case against the World Bank and the International Finance Corp (IFC) for establishing stronger social and environmental criteria for lending to palm oil companies. It is important to put Mr. Oxley's editorial in the context of his broader efforts to reduce protections for rural communities and the environment.
Photos: Massive logjam in Borneo blocks Malaysia's longest river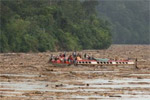 (10/10/2010) A massive 50-km-long (30-mi) logjam has blocked the Rajang river in Sarawak, Malaysian Borneo, bringing river traffic to a standstill and posing a threat to riverbank communities, reports Malaysian state media, Bernama. The Rajang, Malaysia's longest river, is presently unnavigable, according to Bernama. The source of the logs and debris is believed to be the Baleh River and upper tributaries of the Rajang. Heavy rain reportedly triggered a landslide or landslides at log ponds at a major timber camp.
Norway divests from Malaysian logging company after rainforest destruction
(08/24/2010) The Norwegian Government's pension fund sold all its 16 million shares of Samling Global, a Malaysian timber company, after concluding the firm had committed 'serious transgessions' in logging outside of concession areas and destroying protected rainforests, reports the Bruno Manser Fund. The sale, worth a total of $1.2 million, represents about 0.3 percent of the company's outstanding shares based on today's closing market price in Hong Kong.