A review of mongabay.com's January 2011 stories.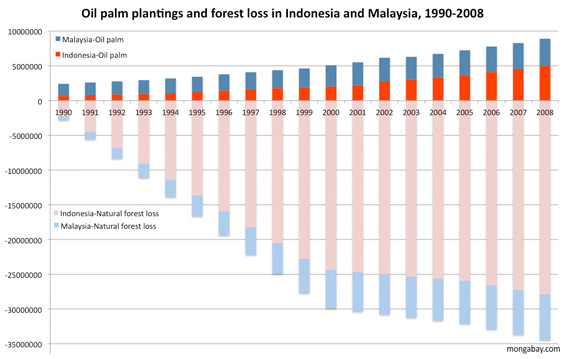 The most popular story of the month had little to do with forests and everything to do with a potentially overlooked source of meat. The article covered a paper published in the online journal PLoS One which suggested that a move towards insect farming could result in a more sustainable – and affordable – form of meat production. Researchers at Wageningen University in the Netherlands looked at mealworms, house crickets, migratory locusts, sun beetles, and Dubia cockroaches, and for the first time quantified the amounts of methane (CH4) and nitrous oxide (N2O) released per kilogram of insect meat. They found that the amounts of gases released by insects to be much smaller than those released by cattle and pigs.
| | |
| --- | --- |
| | Giant Dipterocarp tree in Sumatra. Photo by Rhett A. Butler. |
A commentary questioned whether cutting down rainforests for pulp and paper in Indonesia actually helps alleviate rural poverty as claimed by advocates for the industry. The piece looked at several recent papers on the economics of pulp and paper. The commentary apparently caused a stir, drawing nearly 10,000 people and spurring related articles in environmental blogs.
A review of the social and environmental impact of palm oil production also drew a lot of interest. This article—originally written in April 2010, updated in August 2010, and posted for the first time in January—is part of larger "Fate of Forests" series.
An article about the climate impact of Genghis Khan's murderous conquest of Asia, the Middle East, and Europe in the 14th century, provoked a surprising reaction. Climate change skeptics and conservative bloggers at Fox News, American Thinker, and other outlets tried to claim environmentalists are now championing genocide as a way to address climate change. A few more level-headed minds pointed out that the story simply reported the results of a scientific paper and offered no praise of Khan.
We posted a highly regarded conservation textbook, titled Conservation Biology for All, for free. Conservation Biology for All includes chapters on a range of topics including deforestation, extinction, ecosystem services, fragmentation, invasive species, climate change, overexploitation, biodiversity, fire, and conservation. More than two dozen authors contributed to the book. The Internet was interested: by the end of January, the book had been downloaded 20,000 times (136 gigabytes of data transfer), significantly increasing mongabay.com's carbon footprint for the month.
We interviewed Martin Strel, the first man to swim the length of the Amazon.
Brazil moved ahead with the controversial Belo Monte dam, a hydroelectric project on the Xingu River, after the president of Brazil's environmental agency IBAMA resigned.
Analysis of NASA satellite data, revealed an increase in forest fires in northeastern Madagascar, the region that has been most affected by the illegal rosewood trade.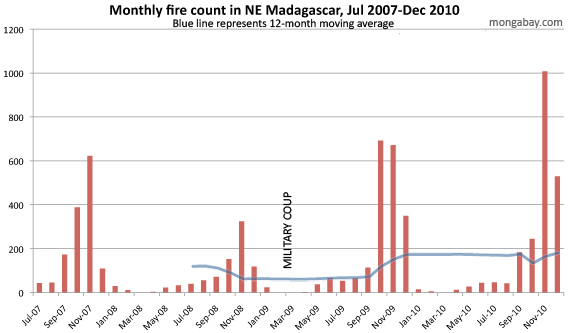 Analysis based on NASA MODIS data via the Fire Alert System (firealerts.conservation.org)
Habitat for Humanity found an unusual partner for a project in Java, Indonesia: Asia Pulp & Paper. The charity did not respond to mongabay's request for comment on the partnership, which pairs a good-works group with a controversial forestry company that is in the midst of an intense marketing campaign and has been criticized for greenwashing.
An analysis of Ministry of Forestry data by Greenomics found Indonesia granted nearly 3 million hectares of forest concessions a day before the country's president was due to sign a decree establishing a two-year moratorium on new logging licenses.
A paper published in Environmental Science and Technology claimed cocaine production is decimating forests in southern Colombia. The lead author Liliana Daválos, said that coca cultivation was at least as damaging to the forests of southern Colombia as "all the other factors combined—and I mean mining, oil drilling, logging, cattle ranching, biofuels, and food crops". The study didn't appear to account for the impact armed guerrillas have in dissuading large-scale industrial exploitation of forests.
And to end on a positive note, scientists confirmed the first harpy eagle nesting in Belize in more than 60 years.
Most popular mongabay.com news articles – January 2011