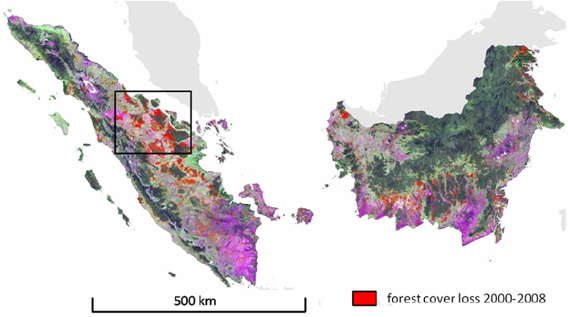 Forest cover loss for Sumatera and Kalimantan mapped at moderate spatial resolution for the 2000–2008 interval superimposed on a Landsat image composite (bands 5/7/4 as R/G/B). Image and caption courtesy of Broich 2011
Kalimantan and Sumatra lost 5.4 million hectares, or 9.2 percent, of their forest cover between 2000/2001 and 2007/2008, reveals a new satellite-based assessment of Indonesian forest cover.
The research, led by Mark Broich of South Dakota State University, found that more than 20 percent of forest clearing occurred in areas where conversion was either restricted or prohibited, indicating that during the period, the Indonesian government failed to enforce its forestry laws.
"Our analysis showed that the majority of all mapped forest cover loss (79.9%) occurred in land allocation zones that permit permanent or temporary clearing, while 20.1% occurred where clearing is either prohibited or restricted," the authors write. Under Indonesian law, clearing of conservation forest, protection forest, and limited production forest is illegal.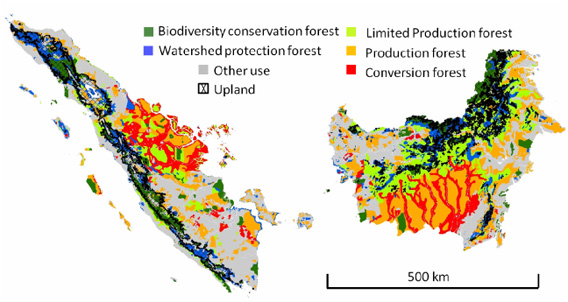 Land allocation zones (Ministry of Forestry Indonesia 2008) and upland areas for Sumatera and Kalimantan. Image and caption courtesy of Broich 2011.
Forest loss was higher in Sumatra, which saw large areas of forest converted for pulp and paper plantations and oil palm estates. Both Sumatra and Kalimantan suffered from large-scale fires set for land-clearing purposes.
Sumatra lost a total of 3.1 million hectares, while Kalimantan lost 2.3 million hectares over the period.
Overall, deforestation peaked in 2006, when forest loss topped 900,000 hectares. Riau and Central Kalimantan provinces accounted for nearly half of the total forest cover loss, according to the analysis.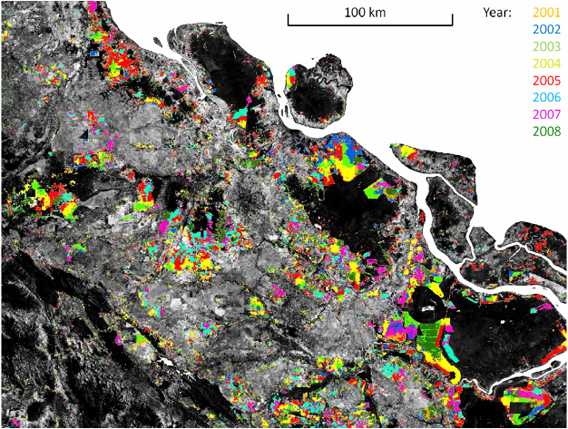 Temporal disaggregation of the moderate spatial resolution forest cover loss map for Riau province, Sumatera. Landsat band 5 is displayed in grayscale with dark tones representing forest cover. Colors mark the year of MODIS-detected forest cover loss. This map is a magnification of the box in the top-most image. Image and caption courtesy of Broich 2011.
The figures suggest that deforestation in Indonesia is worse than thought by the U.N. Food and Agriculture Organization (FAO), which estimated the country lost an average of 485,000 hectares of natural forest per year between 2000 and 2010. Broich's research puts average annual forest loss at 675,000 hectares per year in just Kalimantan and Sumatra between 2000/2001 and 2007/2008.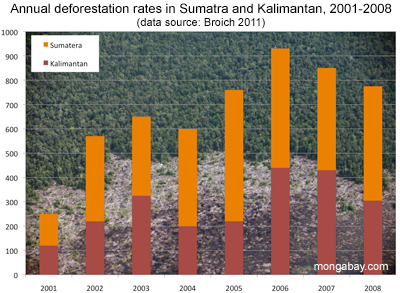 The research comes shortly after an investigation by a task force set up by President Susilo Bambang Yudhoyono found that deforestation in Central Kalimantan costs the province 158.5 trillion rupiah ($17.6 billion). A separate analysis published this week by Indonesian Corruption Watch estimated state losses from deforestation country-wide at 71 trillion Rupiah ($8 billion) between 2005 and 2009, or roughly $1.6 billion per year.
But Indonesia has lately signaled an interest in slowing deforestation. In 2009, President Yudhoyono announced Indonesia would cut greenhouse gas emissions by 26-41 percent from a projected 2020 baseline, provided it receive international assistance. The country has since signed a 'REDD+' (Reducing Emissions from Deforestation and Degradation) partnership with Norway that would generate up to $1 billion if Indonesia meets deforestation reduction targets.
More than 85 percent of Indonesia's emissions result from land use according to the country's National Climate Change Council (DNPI).
CITATION: Mark Broich, Matthew Hansen, Fred Stolle, Peter Potapov, Belinda Arunarwati Margono and Bernard Adusei1 (2011). Remotely sensed forest cover loss shows high spatial and temporal variation across Sumatera and Kalimantan, Indonesia 2000–2008. Environmental Research Letters 6 (January-March 2011) 014010 doi:10.1088/1748-9326/6/1/014010
Related articles
Will Indonesia's big REDD rainforest deal work?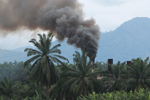 (12/28/2010) Flying in a plane over the Indonesian half of the island of New Guinea, rainforest stretches like a sea of green, broken only by rugged mountain ranges and winding rivers. The broccoli-like canopy shows little sign of human influence. But as you near Jayapura, the provincial capital of Papua, the tree cover becomes patchier—a sign of logging—and red scars from mining appear before giving way to the monotonous dark green of oil palm plantations and finally grasslands and urban areas. The scene is not unique to Indonesian New Guinea; it has been repeated across the world's largest archipelago for decades, partly a consequence of agricultural expansion by small farmers, but increasingly a product of extractive industries, especially the logging, plantation, and mining sectors. Papua, in fact, is Indonesia's last frontier and therefore represents two diverging options for the country's development path: continued deforestation and degradation of forests under a business-as-usual approach or a shift toward a fundamentally different and unproven model based on greater transparency and careful stewardship of its forest resources.
Pulp plantations destroying Sumatra's rainforests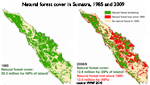 (11/30/2010) Indonesia's push to become the world's largest supplier of palm oil and a major pulp and paper exporter has taken a heavy toll on the rainforests and peatlands of Sumatra, reveals a new assessment of the island's forest cover by WWF. The assessment, based on analysis of satellite imagery, shows Sumatra has lost nearly half of its natural forest cover since 1985. The island's forests were cleared and converted at a rate of 542,000 hectares, or 2.1 percent, per year. More than 80 percent of forest loss occurred in lowland areas, where the most biodiverse and carbon-dense ecosystems are found.