Hundreds of mining and oil palm plantation companies are operating illegally in Indonesian Borneo, according to an investigation by a task force set up by President Susilo Bambang Yudhoyono.
As reported by AFP, the task force—which was established to investigate the 'forest mafia'—found that less than 20 percent of plantation companies and less than 1.5 percent of mining firms had the proper permits operate in Central Kalimantan.
"There are only 67 plantation companies out of 352 that operate legally in Central Kalimantan province, while there are only nine out of 615 mine units that operate legally," the Ministry of Forestry said in a statement.
| | |
| --- | --- |
| | Draining and clearing of peat forest in Central Kalimantan. Photo by Rhett A. Butler. |
Overall 891 companies were found to be operating illegally. The Ministry of Forestry estimated potential losses to the state at 158.5 trillion rupiah ($17.6 bilion) in the province alone.
Central Kalimantan, which is home to large populations of endangered orangutans, has suffered extensive deforestation over the past 15 years, mostly due to mining and development of oil palm and timber plantations. Much of the damage has occurred on peatlands, ecosystems that store large amounts of carbon.
Related articles
Does chopping down rainforests for pulp and paper help alleviate poverty in Indonesia?
(01/13/2011) Over the past several years, Asia Pulp & Paper has engaged in a marketing campaign to represent its operations in Sumatra as socially and environmentally sustainable. APP and its agents maintain that industrial pulp and paper production — as practiced in Sumatra — does not result in deforestation, is carbon neutral, helps protect wildlife, and alleviates poverty. While a series of analyses and reports have shown most of these assertions to be false, the final claim has largely not been contested. But is conversion of lowland rainforests for pulp and paper really in Indonesia's best economic interest?
Will Indonesia's big REDD rainforest deal work?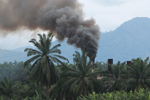 (12/28/2010) Flying in a plane over the Indonesian half of the island of New Guinea, rainforest stretches like a sea of green, broken only by rugged mountain ranges and winding rivers. The broccoli-like canopy shows little sign of human influence. But as you near Jayapura, the provincial capital of Papua, the tree cover becomes patchier—a sign of logging—and red scars from mining appear before giving way to the monotonous dark green of oil palm plantations and finally grasslands and urban areas. The scene is not unique to Indonesian New Guinea; it has been repeated across the world's largest archipelago for decades, partly a consequence of agricultural expansion by small farmers, but increasingly a product of extractive industries, especially the logging, plantation, and mining sectors. Papua, in fact, is Indonesia's last frontier and therefore represents two diverging options for the country's development path: continued deforestation and degradation of forests under a business-as-usual approach or a shift toward a fundamentally different and unproven model based on greater transparency and careful stewardship of its forest resources.
Morgan Stanley to underwrite coal mining on Borneo
(09/01/2010) Morgan Stanley, CIMB Securities, and Credit Suisse will underwrite the initial public offering of PT Borneo Lumbung Energi (Borneo Energy), a company that owns Asmin Koalindo Tuhup, a mining company that operates in Central Kalimantan in Indonesia Borneo, reports ANTARA.
Indonesia's plan to save its rainforests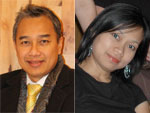 (06/14/2010) Late last year Indonesia made global headlines with a bold pledge to reduce deforestation, which claimed nearly 28 million hectares (108,000 square miles) of forest between 1990 and 2005 and is the source of about 80 percent of the country's greenhouse gas emissions. President Susilo Bambang Yudhoyono said Indonesia would voluntarily cut emissions 26 percent — and up to 41 percent with sufficient international support — from a projected baseline by 2020. Last month, Indonesia began to finally detail its plan, which includes a two-year moratorium on new forestry concession on rainforest lands and peat swamps and will be supported over the next five years by a one billion dollar contribution by Norway, under the Scandinavian nation's International Climate and Forests Initiative. In an interview with mongabay.com, Agus Purnomo and Yani Saloh of Indonesia's National Climate Change Council to the President discussed the new forest program and Norway's billion dollar commitment.