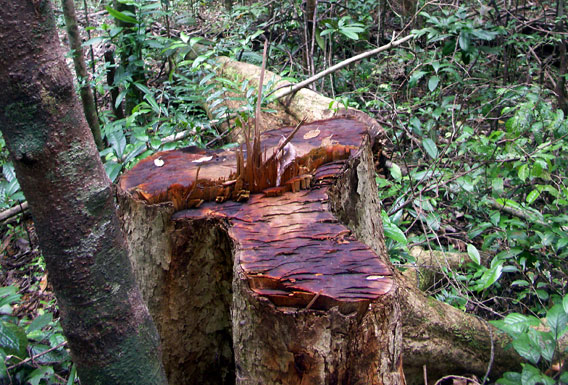 Rosewood logging in Masoala National Park, a UNESCO World Heritage Site. Photo by Rhett A. Butler
Two environmental groups investigating the illegal rosewood trade flatly rejected claims by Madagascar's acting president that they are involved in a campaign to undermine his rule.
Andry Rajoelina, the former mayor of the capital city of Antananarivo who assumed power following civil strife in March 2009, claimed last month in an interview with Revue de l'océan Indien that the London-based Global Witness and the Washington D.C.-based Environmental Investigation Agency were attempting to sully his image through their undercover investigation into the rosewood trade. The groups found evidence suggesting that Rajoelina was involved in rosewood trafficking. The evidence included video footage of Chinese rosewood traders claiming to deal directly with Rajoelina.
In the Revue de l'océan Indien interview Rajoelina said the accusations are "all part of a strategy to destroy my image." He claimed that during his time as mayor of Antananarivo he made only a single visit to Guangzhou to buy materials for the city, including plastic garbage bins. He added that at no time was he involved in the rosewood trade.
| | |
| --- | --- |
| | Panther chameleon in Madagascar |
"The rosewood industry is one that I do not know, I do not control, and which does not interest me at all," he said. "I reiterate that this report was written to discredit me."
But when asked about Rajoelina's remarks, Global Witness and the Environmental Investigation Agency (EIA) denied any sort of political motivation in their investigation.
"EIA and Global Witness are non-profit organizations dedicated to investigating and exposing environmental crime and corruption in natural resource trade," the groups told wildmadagascar.org in an emailed statement. "Each organization has worked for over a decade on illegal logging and associated trade around the world, exposing problems in both forest producer countries and consumer nations including the US, Europe and China."
The groups said their investigation emerged out of a request by the Madagascar government, in what they called "a commendable effort by the Malagasy agencies involved to understand and address this serious problem."
"Global Witness and EIA were contracted by Madagascar National Parks on behalf of the Malagasy Ministry of the Environment and Forest to investigate the illegal trade in rosewood, palissander and ebony, and identify those responsible on a national and international level. As part of this project we undertook research in China, Europe and US, which are the main consumer destinations for rosewood and ebony."
"The statements appearing to implicate the Head of the Transitional Government of Madagascar, Andry Rajoelina, were made by Chinese traders in illegal Malagasy rosewood trade during this investigation. If he wishes to demonstrate his commitment to tackling the urgent problems facing Madagascar's forests, President Rajoelina would do better to properly investigate these allegations and ensure that those suspected of illegal activities are brought to justice, rather than blaming the messenger."
Global Witness and EIA also released a transcript of the video segment when on of the rosewood traders refers to Rajoelina's visit to Guangzhou as mayor of Antananarivo.


[trader] When he was the mayor he came to Guangzhou with [redacted; Chinese name]. 01:03:24

[EIA] Oh so you knew him then? 01:03:27

[trader] Yeah, yeah when he was still the mayor. He and my partner came to Guangzhou. 01:03:31

[trader] The banners and caps for his campaign in running for the presidency were made in Guangzhou. 01:03:32

[EIA] Oh, you knew him then, of course! 01:03:37
"In our investigation transcripts, the same Chinese traders whose mentioned Rajoelina's visit to China while he was mayor also commented that he had been in Guangzhou shopping for campaign items at the time," Andrea Johnson, Director of Forest Campaigns for EIA, told wildmadagascar.org. "So the President's comments arguably corroborate our first-hand evidence all the more."
WildMadagascar.org was unsuccessful in attempts to reach Rajoelina's office for response to the statement from EIA and Global Witness.
Rosewoodgate
The rosewood accusations have erupted into a political scandal in Madagascar. Supporters of Rajoelina blame the disposed president Marc Ravalomanana, while Ravalomanana advocates finger Rajoelina's administration for trafficking of the valuable timber. Both sides say that a "Chinese mafia" is involved in the trade.
Regardless of who ultimately bears responsibility, there has been a sharp increase in rosewood harvesting since the events that transpired in March 2009. A survey last October found extensive logging camps within the boundary of Masoala National Park, a UNESCO World Heritage Site renowned for its biodiversity. Other surveys have turned up evidence of traps used for catching lemurs, which are increasingly sold into commercial bushmeat markets, according to Conservation International, an NGO that works in the region.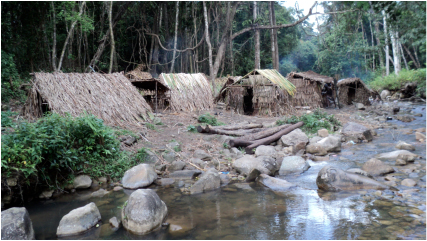 Logging camp in Masoala. Courtesy of the Missouri Botanical Garden
Environmental groups say the government has been slow to crack down on loggers operating within parks, but international rosewood shipments have been greatly reduced due to international pressure and better policing of ports.
Madagascar is one of the world's top conservation priorities due to ongoing habitat destruction and its high levels of biodiversity. More than 70 percent of Madagascar's species are found no where else on Earth.
President Rajoelina has implied that WildMadagascar.org and Mongabay.com (wildmadagascar.org's parent) are part of an effort to undermine his rule. For the record, neither WildMadagascar.org nor Mongabay.com have any political agenda in Madagascar. Neither WildMadagascar.org nor Mongabay.com have any relationship with Marc Ravalomanana or his agents.

The primary interest of WildMadagascar.org and Mongabay.com is environmental issues. WildMadagascar.org and Mongabay.com have no interest in Malagasy politics.

– Rhett Butler, founder and editor of WildMadagascar.org and Mongabay.com