7.5 million hectares of natural forest will escape Indonesia's planned moratorium on new forestry concessions, according to a new report from Greenomics Indonesia, an activist group.
Under its billion dollar forest conservation partnership with Norway, Indonesia committed to establish a moratorium on new concessions in forest areas and peatlands beginning January 1, 2011. But Indonesian President Susilo Bambang Yudhoyono has yet to sign the decree due to debate over the details of what types of forest will be exempted. Presently two versions of the decree are circulating. The one drafted by the country's REDD+ Taskforce, chaired by Kuntoro Mangkusubroto, is considerably stronger than one prepared by the Coordinating Minister for the Economy, Hatta Rajasa.
Elfian Effendi, Executive Director of Greenomics, says the Rajasa version fails to include secondary forest under the the moratorium's scope, meaning that any non-primary forest could be granted to loggers and plantation developers.
"This draft only covers primary forest and peatland," Elfian said in a statement. "That means that secondary forest can still be cleared for the purpose of developing palm oil and forestry plantations."
| | |
| --- | --- |
| | Annual deforestation rates in Sumatra and Kalimantan, 2001-2008 |
Kuntoro's version bans new concessions in both primary and secondary forests as well as peatlands.
Nevertheless, Elfian says both versions still contain a huge loophole: they allow conversion of "degraded" secondary forest.
"There are no indicators whatsoever explaining what 'degraded secondary forest' might be," he said. "Experience shows that this leaves the door wide open to manipulation, particularly if the definition of 'degraded secondary forest' is construed as meaning logged over areas. If so, then it will simply be a case of business as usual. In Indonesia, the timber potential of logged over areas amounts to hundreds of cubic meters per hectare. In reality, the phrase 'degraded secondary forest' should not have been used. It would have been enough to just use the term 'secondary forest."
Greenomics estimates that even under the stronger version of the decree, some 7.5 million hectares are already slated for conversion by more than 300 firms. These concessions, which were provisionally, but not fully, granted prior to January 1, 2011, include 4.5 million hectares of natural forest and peatlands earmarked for oil palm plantations and 3 million for timber and pulp and paper plantations.
"7.5 million hectares… is more than 110 times the area of Singapore," said Elfian.
Related articles
Indonesia set to clear 3 million ha of rainforest in New Guinea

(02/01/2011) Indonesia's Ministry of Forestry has approved conversion of some 3 million hectares of natural forest in Papua province, on the island of New Guinea, according to new analysis by Greenomics Indonesia, an environmental group.
Illegal mining, plantation development rampant in Indonesian Borneo; state losses top $17B

(02/01/2011) Hundreds of mining and oil palm plantation companies are operating illegally in Indonesian Borneo, according to a investigation by an task force set up by President Susilo Bambang Yudhoyono.
Rainforests are a source of philanthropy in Indonesia

(01/27/2011) There is nothing special about the assistance APP has provided to the people of Yogyakarta province in the vicinity of Mount Merapi. For APP, Indonesian forests have acted as philanthropists for many years, subsidizing its raw materials by providing it with free timber from the country's natural forests. Greenomics Indonesia data (2010) shows that the value of subsidized timber provided by the Indonesian state to APP amounted to at least USD1.5 billion between 2003 and 2009.
Does chopping down rainforests for pulp and paper help alleviate poverty in Indonesia?
(01/13/2011) Over the past several years, Asia Pulp & Paper has engaged in a marketing campaign to represent its operations in Sumatra as socially and environmentally sustainable. APP and its agents maintain that industrial pulp and paper production — as practiced in Sumatra — does not result in deforestation, is carbon neutral, helps protect wildlife, and alleviates poverty. While a series of analyses and reports have shown most of these assertions to be false, the final claim has largely not been contested. But is conversion of lowland rainforests for pulp and paper really in Indonesia's best economic interest?
Will Indonesia's big REDD rainforest deal work?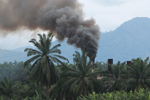 (12/28/2010) Flying in a plane over the Indonesian half of the island of New Guinea, rainforest stretches like a sea of green, broken only by rugged mountain ranges and winding rivers. The broccoli-like canopy shows little sign of human influence. But as you near Jayapura, the provincial capital of Papua, the tree cover becomes patchier—a sign of logging—and red scars from mining appear before giving way to the monotonous dark green of oil palm plantations and finally grasslands and urban areas. The scene is not unique to Indonesian New Guinea; it has been repeated across the world's largest archipelago for decades, partly a consequence of agricultural expansion by small farmers, but increasingly a product of extractive industries, especially the logging, plantation, and mining sectors. Papua, in fact, is Indonesia's last frontier and therefore represents two diverging options for the country's development path: continued deforestation and degradation of forests under a business-as-usual approach or a shift toward a fundamentally different and unproven model based on greater transparency and careful stewardship of its forest resources.