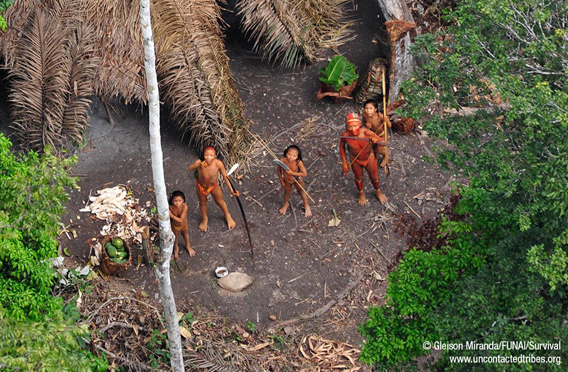 Detail of uncontacted native family from flyover. Photo courtesy of Survival International. Click for more explanation on the image.
Taken by Brazil's Indian Affairs Department and released by indigenous-rights group, Survival International, new aerial photos show an uncontacted tribe on the border of Brazil and Peru in detail.
According to a press release by Survival International, the photos "reveal a thriving, healthy community with baskets full of manioc and papaya fresh from their gardens", but a community that is also threatened by illegal loggers from Peru.
"The illegal loggers will destroy this tribe. It's vital that the Peruvian government stop them before time runs out.[…]. What they need from us is their territory protected, so that they can make their own choices about their future. But this area is now at real risk, and if the wave of illegal logging isn't stopped fast, their future will be taken out of their hands. This isn't just a possibility: it's irrefutable history, rewritten on the graves of countless tribes for the last five centuries," Survival International director, Stephen Corry, said.
However, the current Peruvian government and indigenous groups have a tense relationship. Peru's government tacit backing of oil exploration and massive dams in the Amazon has led to large-scale protests of indigenous groups. In 2009 the issue came to a head as a protest turned violent: 23 police officers and at least 10 indigenous protesters were killed. Indigenous groups additionally claim the violence was worse than reported, with Peruvian police dumping bodies where they would not be found.
Peruvian president, Alan Garcia, has stated disdain for indigenous people in the past, referring to them as "confused savages", "barbaric", "second-class citizens", "criminals", and "ignorant".
Given the elusive nature of uncontacted indigenous groups, which today survive in increasingly small communities in South America, governments and corporations have sometimes taken the stance that such natives are simply not present. Some indigenous groups have been contacted in the past, but have chosen to remain apart from the modern world.
"It is necessary to reaffirm that these peoples exist, so we support the use of images that prove these facts. These peoples have had their most fundamental rights, particularly their right to life, ignored…it is therefore crucial that we protect them," Marcos Apurinã, Coordinator of Brazil's Amazon Indian organization COIAB told Survival International.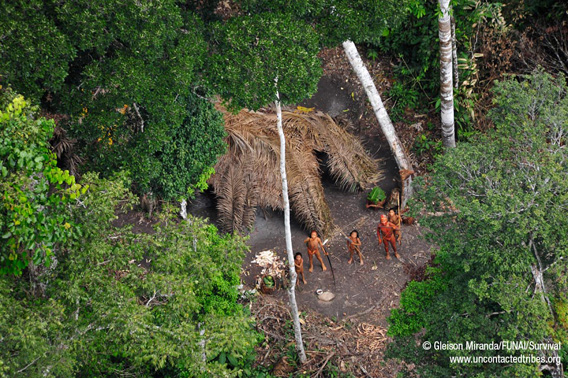 Uncontacted native family from flyover. Photo courtesy of Survival International. Click to enlarge.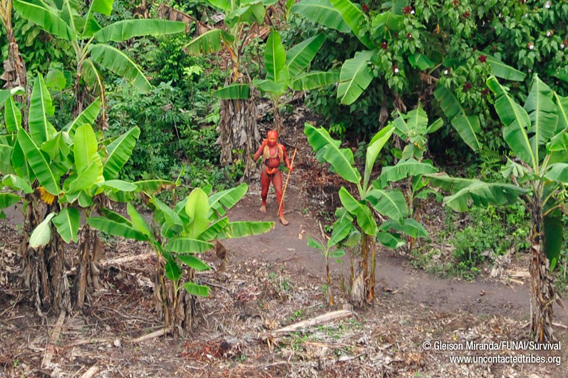 A man dyed by annatto seeds walks in the community's garden. Photo courtesy of Survival International. Click to enlarge.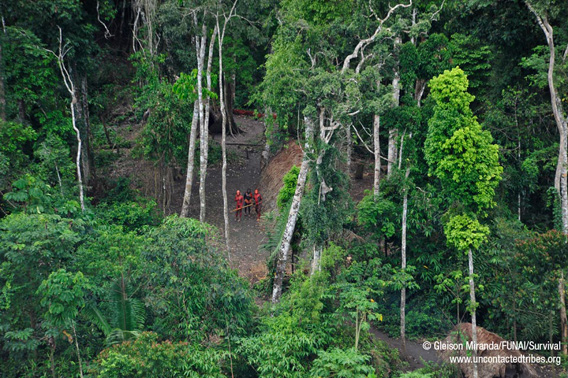 Men watch as the Brazilian government plane passes. Photo courtesy of Survival International. Click to enlarge.
Related articles
Photos reveal illegal logging near uncontacted natives in Peru
(08/17/2009) Ariel photos show proof of illegal logging for mahogany occurring in a Peruvian reserve set aside for uncontacted natives. The photos, taken by Chris Fagan from Round River Conservation Studies, show logging camps set-up inside the Murunahua Reserve, meant to protect the uncontacted indigenous group, known as the Murunahua Indians, in the Peruvian Amazon.
50 NGOS tell big oil to get out of uncontacted natives' territory
(11/21/2010) A letter signed by over 50 NGOs is calling on three big oil companies—Perenco, Repsol-YPF, and ConocoPhillips—to withdraw from Peruvian territory inhabited by uncontacted indigenous tribes. The letter states that the oil companies' presence in the area threatens the uncontacted tribe with diseases, for which they have little immunity, and puts the lives of oil company workers in jeopardy, since past encounters have ended in violence.
NGO warns oil exploration in Peru may 'decimate' uncontacted tribes
(10/17/2010) Survival International has warned that oil exploration in northern Peru threatens two uncontacted tribes. The organization, devoted to indigenous rights, has sent a letter to the UN's Special Rapporteur on indigenous peoples, James Anaya, alleging that Peru is "violating international law" by allowing oil companies to explore a region home to uncontacted people, who are especially vulnerable to disease.
Mahogany market in US threatening the lives of uncontacted natives in the Amazon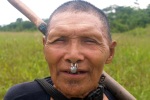 (07/20/2010) Consumers in the US purchasing mahogany furniture may be unwittingly supporting illegal logging in a Peruvian reserve for uncontacted indigenous tribes, imperiling the indigenous peoples' lives. A new report by the Upper Amazon Conservancy (UAC) provides evidence that loggers are illegally felling mahogany trees in the Murunahua Reserve where it is estimated some 200 uncontacted natives live.
Spotted uncontacted native flees, leaving dinner and dish behind
(07/07/2010) The man had set up camp and was preparing to cook live turtles for a meal when he was seen by people he did not know. He hid behind a tree and then fled from the camp into the forest, abandoning his uncooked turtles and a clay pot behind.
Oil company to cut 454 kilometers of seismic lines in uncontacted tribe territory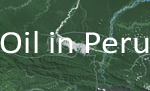 (04/21/2010) Repsol YPF, a Spanish-Argentine oil company, plans to cut 454 kilometers (282 miles) of seismic lines in a territory of the Peruvian rainforest known to be home to uncontacted indigenous peoples, according to a press release from Survival International. To construct seismic lines paths will be cleared in the forest and explosives set-off regularly. Seismic lines allow energy companies to locate oil deposits by creating a cross sectional view of the subsurface.
Last uncontacted tribe in Paraguay rapidly losing homeland
(11/19/2008) An indigenous rights' group has sounded the alarm over a new threat to an uncontacted tribe in Paraguay.
Brazil to use body-heat sensing technology to find uncontacted Amazon tribes
(11/19/2008) Brazil will use a plane equipped with body-heat sensing technology to locate tribes in the Amazon rainforest, reports the Associated Press.