Habitat for Humanity's Indonesian affiliate has partnered with Asia Pulp & Paper, a controversial logging company that has been accused by human rights organizations and environmental groups of exacerbating social conflict and destroying rainforests, to build a "eco-tourism village" near a famous cultural heritage site on the island of Java.
Asia Pulp & Paper (APP), one of the world's largest pulp and paper producers, says the partnership will result in the construction of more than 420 homes and guest accommodations in Soran, a village near Prambanan Temple, a UNESCO World Heritage Site.
"The project will improve housing for most villagers, while establishing a sustainable, eco-friendly hospitality business built on the community's historic cultural traditions," said APP in a press release. "The development will share the area's natural and cultural treasures with the world by creating accommodations for tourists who wish to tour the sacred temples, visit nearby natural landmarks or enjoy the cultural performances."
"This unique program not only improves housing for most of the community, it also allows Soran villagers to economically benefit from the art and culture they have preserved for centuries, and to share it with the world," added James Tumbuan, National Director of Habitat for Humanity Indonesia, in the press release.
| | |
| --- | --- |
| | Photo courtesy of Greenpeace, which is campaigning against planned plantation expansion by APP's affiliates near Bukit Tigapuluh National Park, one of the few remaining areas of primary lowland rainforest in Sumatra. |
But the partnership, which comes as APP has stepped up marketing efforts in the face of customer defections due environmental concerns and an adverse trade ruling by the U.S. International Trade Commission, was sharply criticized by green groups, which say the project represents little more than greenwashing by the forestry giant.
"There is nothing special about the assistance APP has provided." Elfian Effendi, director of the Indonesia-based activist group Greenomics wrote in a response to mongabay.com. "For APP, Indonesian forests have acted as philanthropists for many years, subsidizing its raw materials by providing it with free timber from the country's natural forests."
APP did not respond to mongabay.com's requests for comment on its wood sourcing practices or the statement from Effendi. In the past, APP has said it abides by Indonesian law when sourcing timber and wood used for pulp and paper production, although this claim did not withstand a recent audit by the Indonesian State Audit Board, according to Greenomics. Several of APP's suppliers are also under investigation for failing to pay taxes and fines.
Lafcadio Cortesi of the Rainforest Action Network, an activist group that is targeting APP and its parent company, Sinar Mas, over deforestation on the island of Sumatra, suggested Habitat for Humanity's decision to partner with APP raised questions about the organization's due diligence process.
"Did Habitat for Humanity conduct any due diligence on APP? If they had, they would know that APP has misled its partners and the public over its social and environmental record," Cortesi said, referring to APP's failed partnership with WWF, which severed ties with APP over poor environmental performance.
Emails to Habitat for Humanity International and Habitat for Humanity Indonesia on the due diligence process used to select APP were not returned. Reached at the organization's headquarters in Atlanta, a Habitat for Humanity representative said he would "look into the matter" but did not immediately respond to questions.
Related articles
Rainforests are a source of philanthropy in Indonesia

(01/27/2011) There is nothing special about the assistance APP has provided to the people of Yogyakarta province in the vicinity of Mount Merapi. For APP, Indonesian forests have acted as philanthropists for many years, subsidizing its raw materials by providing it with free timber from the country's natural forests. Greenomics Indonesia data (2010) shows that the value of subsidized timber provided by the Indonesian state to APP amounted to at least USD1.5 billion between 2003 and 2009.
Does chopping down rainforests for pulp and paper help alleviate poverty in Indonesia?
(01/13/2011) Over the past several years, Asia Pulp & Paper has engaged in a marketing campaign to represent its operations in Sumatra as socially and environmentally sustainable. APP and its agents maintain that industrial pulp and paper production — as practiced in Sumatra — does not result in deforestation, is carbon neutral, helps protect wildlife, and alleviates poverty. While a series of analyses and reports have shown most of these assertions to be false, the final claim has largely not been contested. But is conversion of lowland rainforests for pulp and paper really in Indonesia's best economic interest?
Pulp plantations destroying Sumatra's rainforests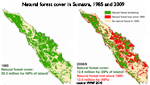 (11/30/2010) Indonesia's push to become the world's largest supplier of palm oil and a major pulp and paper exporter has taken a heavy toll on the rainforests and peatlands of Sumatra, reveals a new assessment of the island's forest cover by WWF. The assessment, based on analysis of satellite imagery, shows Sumatra has lost nearly half of its natural forest cover since 1985. The island's forests were cleared and converted at a rate of 542,000 hectares, or 2.1 percent, per year. More than 80 percent of forest loss occurred in lowland areas, where the most biodiverse and carbon-dense ecosystems are found.
Scientists blast greenwashing by front groups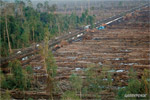 (10/27/2010) A group of prominent scientists has published an open letter challenging the objectivity of World Growth International, an NGO that claims to operate on behalf of the world's poor, and its leader Alan Oxley, a former trade diplomat who also chairs ITS Global, a marketing firm. The letter, published online in several forums, slams World Growth and ITS Global as a front groups for forestry companies. The scientists note that while the groups have not disclosed their sources of funding, they assert ITS receives funding from Sinar Mas, an Indonesian conglomerate that controls Asia Pulp & Paper (APP), a forest products brand, and Sinar Mas Agro Resources & Technology, a palm oil firm, among other companies.