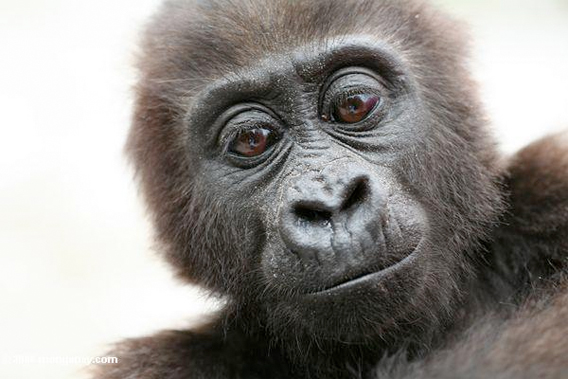 Lowland gorilla in Gabon. Photo by Rhett A. Butler.
Distinguished conservation luminaries, eminent primate experts, ape-suited bucket wielders, a group of African drummers and nearly 1,500 people
gathered in London last week for an evening of talks to shine the spotlight on the plight of apes and the forests in which they live, sending a strong
message to the climate negotiators hammering out a REDD+ mechanism in Cancun.
Hosted by conservation heavyweight Sir David Attenborough, 'Hope 4 Apes' was something of a reunion of the
first Hope 4 Apes event that took place ten years ago to raise awareness of — and funding for — ape conservation.
While the primates are still faced with the old problems of habitat loss and poaching that concerned conservationists a decade ago, these are now set
within a new context of the wider threat of climate change, as Ape Alliance chairman Ian Redmond OBE points out.
'You can have the best anti-poaching patrols, the best protected areas and the best ecotourism around apes, but if it stops raining the forests will
die and the apes are dead. And so climate change, and the things we do to stop climate change, are what we now have to highlight.'
| | |
| --- | --- |
| | Borneo orangutan |
Redmond says that while the event was an opportunity for the audience to hear the latest views of specialists of each of the great and lesser apes,
what they really wanted to draw attention to is what was happening at the UN climate change conference in Cancun last week, 'because the best hope for
apes is also the best hope for humans.'
In his opening speech Redmond called upon members of the audience at London's Lyceum theatre to take action by writing to their members of parliament. 'The pressure has got to be kept on the negotiators in Cancun, not just to do what's best for their country, but to do what's best for the planet as well,' he said.
The importance of apes
Host of the evening Sir David Attenborough told Mongabay why he has chosen to lend his support to our closest relatives: 'I hope to raise money and awareness for conservation for apes… as they are particularly important, particularly interesting, and particularly endangered.'
| | |
| --- | --- |
| | Lowland gorilla |
The importance of apes is undeniable; they play a critical role in regenerating the forests in which they live, and upon which we depend. 1.6 billion people rely directly on forest resources, while all life on Earth benefits from the ecosystem services provided by forest ecosystems. Tropical and sub-tropical forests house over half of all species on Earth and act as critical carbon sinks, absorbing one fifth of man-made greenhouse gases each year. These forests are dependent on fruit-eating animals such as primates to regenerate – the seeds of as many as 95 per cent of tropical tree species are dispersed by birds and animals. Conservationists argue that an effective REDD+ (Reducing Emissions from Deforestation and Forest Degradation) mechanism must protect the entire forest ecosystem, including the animals, to ensure that forests are able to maintain their function as carbon sinks.
The Ape Alliance, the coalition of 80 organizations concerned with apes and their habitat that organized the event, has been keeping up the pressure on governments worldwide to enforce a robust mechanism for REDD+. Redmond recently wrote open letters to the Prime Ministers of the UK, urging them to ensure the necessary steps to reduce emissions from deforestation and forest degradation are finalized at in Cancun, as well as the governments of Norway and Indonesia, calling upon them to recognize the value of degraded forests as carbon sinks and refuges for biodiversity. Mounting evidence has shown that as much as 75 per cent of biodiversity persists in forests degraded by multiple rounds of logging , and that they continue to play an important role as carbon stores.
Palm oil continues to be a problem
Palm oil was the other prevailing theme of the evening. Orangutan expert Dr Birute Galdikas pleaded with the audience to check ingredients of the products they buy in the supermarket. Galdikas' mission for the evening was simple. 'I hope to increase people's awareness of the fact that by eating palm oil they are hastening the extinction of wild orangutans,' she told Mongabay.
| | |
| --- | --- |
| | Oil palm plantation and logged natural forest, Sabah, Malaysia. Photo: R. Butler/mongabay.com |
Galdikas, 'the world's foremost authority on the orangutan' spoke of her work in Tanjung Puting National Park in Indonesia, where she has worked for almost four decades and where orphaned or injured orangutans are now flooding into the sanctuaries as a result of the rapidly expanding palm oil industry.
According to Galdikas, the major threats of ten years ago – illegal logging and mining – are less of a problem today thanks to effective government action. 'If orangutans go extinct, the real reason will be palm oil,' she said. Five million hectares of palm oil concessions have been projected for southern Central Kalimantan, Indonesian Borneo, where Tanjung Puting National Park is situated, and other provinces have equally ambitious plans.
Palm oil is also a problem for gibbons, the so-called lesser apes. Aurélien Brulé, or 'Chanee' (Thai for gibbon) as he has become known, talked of how the industry is threatening the 'forgotten apes' often left out of conservation discussions in favor of the better-known great apes: gorillas, chimpanzees, bonobos and orangutans. Disease and the illegal pet trade are also grave threats to gibbons, yet Brulé is refreshingly optimistic; he spoke of the many new research initiatives and conservation projects that are springing up in support of gibbons as well as the increasing public awareness of them.
Opening up the heart of the Congo
Chimpazee in Uganda

Sumatran orangutan
But the palm oil industry is no longer only a threat to Asian biodiversity, as China makes its plans to open up the 'Heart of the Congo' for palm oil plantations. Dr Jo Thompson, who has been working to conserve bonobos, largely in the DRC (Democratic Republic of Congo)for nearly twenty years, predicts this to be a worrying addition to the 'kaleidoscope of threats' that the bonobo already faces, which includes the bushmeat trade, ineffective enforcement, fickle political will, civil conflict, poverty, human population growth and poor governance. Phase one of the Heart of Congo project is already under way, with roads and infrastructure being established in the region by Chinese companies. The project threatens not only the bonobos of the DRC but the gorillas, chimpanzees and all other biodiversity found there.
'If governments can't outbid China then maybe REDD can,' said world-renowned primatologist Dr Jane Goodall DBE in the panel session that ended the evenings proceedings. In her own talk, Goodall looked back on the fifty years of pioneering chimpanzee research at Gombe Stream National Park that she initiated in 1960, and spoke of the work of the Jane Goodall Institute's worldwide 'Roots & Shoots' program.
Goodall told Mongabay that she hoped the evening would help people to understand the plight of the great apes, so that they would want to do something to save the apes and the forests. She also recalled the hint of pessimism that tainted the end of the last Hope 4 Apes event, but noted a renewed optimism this time round.
'Hope for the future? Of course there's hope for the future,' Goodall said. 'But we can't simply rely on the politicians and the scientists – it's up to us, we have to take responsibility.' She sees hope in new technology, in the young people of today and in the resilience of nature and the 'utterly inspirational' work of people who refuse to let species on the brink of extinction vanish forever.
'And finally, the last reason for hope is the indomitable human spirit, especially of those people tackling seemingly impossible tasks who simply won't give up. And how can we give up, as a species capable of so much intellectual brilliance, so much compassion, so much of all these things that truly make us human?'
Kara Moses is a freelance journalist
Other articles by Kara Moses
Power, profit, and pollution: dams and the uncertain future of Sarawak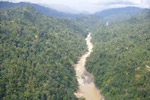 (09/03/2009) Sarawak, land of mystery, legend, and remote upriver tribes. Paradise of lush rainforest and colossal bat-filled caves. Home to unique and bizarre wildlife including flying lemurs, bearcats, orang-utans and rat-eating plants. Center of heavy industry and powerhouse of Southeast Asia. Come again? This jarring image could be the future of Sarawak, a Malaysian state on the island of Borneo, should government plans for a complex of massive hydroelectric dams comes to fruition. The plan, which calls for a network of 12 hydroelectric dams to be built across Sarawak's rainforests by 2020, is proceeding despite strong opposition from Sarawak's citizens, environmental groups, and indigenous human rights organizations. By 2037, as many as 51 dams could be constructed.
Saving the tsingy forests in Madagascar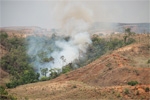 (08/17/2009) After the success of their Sahafina Forest project, Biodiversity Conservation Madagascar is now branching out to the tsingy forest of Beanka, a project set to launch in October this year. Biodiversity Conservation Madagascar (BCM) has been granted a 25-year lease on a 14,000-hectare area of dry hardwood forest, the Beanka tsingy, situated 75 km east of Maintirano in western Madagascar. 'Tsingy' are spectacular razor-sharp limestone pinnacles found on the west and north of the island, formed by acidic rain erosion. The deciduous forests that inhabit them are characterized by high plant and animal endemism. The Malagasy organization plans to apply the same principles here – protection of the forest, socio-economic development and forest restoration – that brought them success with their last project, the 2,500-hectare forest block of Sahafina on Madagascar's east coast.
Borneo ablaze: forest fires threaten world's largest remaining population of orangutans
(08/16/2009) Raging fires have broken out in the peat-swamp forests of Central Kalimantan, Indonesian Borneo, threatening the largest population of orangutans in the world. The fires were started by people but have spread uncontrollably due to the extreme drought that Borneo is currently experiencing as a result of El Niño conditions.