Mongabay.com's Rhett Butler reviews what happened this week in forest news
Dutch to use only certified palm oil by 2015
The Netherlands has committed to only using palm oil certified under the Roundtable on Sustainable Palm Oil or RSPO by 2015, providing a boost for the certification standard which aims to improve the social and environmental performance of the world's most productive oil crop. The pledge makes the Netherlands the first country to commit itself to using only sustainable palm oil.
The Netherlands is Europe's largest trader of palm oil, importing and exporting nearly 2.5 million metric tons in 2007.
Asia Pulp & Paper's emissions 500 times higher than claimed
A new report from the Rainforest Action Network (RAN) and the Japan Tropical Forest Action Network (JATAN) claims that emissions from Asia Pulp & Paper are 500 times higher than estimated by the paper products company.
The report says Asia Pulp & Paper fails to account for conversion of peatlands and forests in its calculations. Factoring land use change, the Rainforest Action Network estimates each ton of Asia Pulp & Paper product generates 16-21 tons of CO2 emissions. Asia Pulp & Paper estimates emissions at 0.03 tons of CO2 per ton of paper.
Asia Pulp & Paper reacted strongly to the report, calling it a gross exaggeration.
Environmental Resources Management, the company that conducted the carbon footprint analysis for Asia Pulp & Paper, expressed concern over how the paper company has represented the results.
Nobel Prize winner, anti-poverty group, scientists fire back at logging lobbyist
Nobel Prize Winner Wangari Maathai blasted the use of her name by a front group linked to Sinar Mas, a conglomerate that controls logging, wood-pulp, and palm oil companies.
The group, World Growth International, was criticized last week by 12 prominent scientists for distorting and misrepresenting facts around deforestation.
Asia Pulp & Paper, which is controlled by Sinar Mas, admitted last week to supporting front groups in the United States.
Wildlife trafficker gets 5 years in Malaysian prison
Notorious wildlife trafficker Anson Wong was sentenced to 5 years in prison in Malaysia after he was caught attempting to smuggle 95 boa constrictors to Indonesia.
Wong previously served time in U.S. prison for animal smuggling.
Better protection of cultural heritage sites could generate $100B in poor countries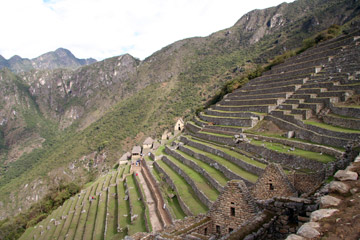 Better protection of cultural heritage sites could generate $100B per year in poor countries, according to a report published by the Global Heritage Fund (GHF).
The report assesses 500 major archaeological and heritage sites in developing countries and finds that nearly 40% are at risk due to development pressures, unsustainable tourism, insufficient management, looting, and/or war and conflict.
To better protect heritage sites, the group has launched an early warning and threats monitoring system – Global Heritage Network (GHN) – that uses satellite imaging technology and ground reporting to enable observers to "identify and solve imminent threats within the legal core and protected areas of each site."
California voters reject repeal of climate law
California voters rejected Proposition 23, which would have repealed the state's climate change legislation.
The proposition, which was largely backed by oil companies, lost by more than 20 percentage points.
California's climate legislation includes provisions for protecting tropical forests.
Epidemic hits Amazonian indigenous group
A malaria outbreak killed at least 17 Yanomami tribe members in Venezuela.
Illegal gold miners were blamed for the outbreak.
Former Indonesian REDD+ negotiator arrested on corruption charge
Wandojo Siswanto, one of the lead negotiators for Indonesia's delegation at last year's climate talks in Copenhagen and a key architect of its Reduced Emissions from Deforestation and Degradation (REDD) program, has been arrested and charged with receiving bribes.
Wandojo was questioned this week by investigators from Indonesia's Corruption Eradication Commission. He is accused of receiving a bribe of about $10,000 to win favorable treatment for a telecommunications company in the Ministry of Forestry's budget.
Wandojo said he was taking orders from his superiors.
Related articles
Week in Forests, Oct 29, 2010
Week in Forests, Oct 22, 2010
Week in Forests, Oct 15, 2010
Week in Forests, Oct 8, 2010
Week in Forests, Oct 1, 2010