Down to just over 100 individuals, DNA analysis has revealed one of the world's most imperiled bird species: the western ground parrot Pezoporus flaviventris.. Genetic evidence collected from museums specimens, some well-over a century old, have led scientists to "cautiously suggest" that Australia's ground parrot be split into two distinct species—the eastern and the western—and not subspecies as they are currently considered. According to the study, the ground parrot species split apart some two million years ago, around the same time as the first members of the genus Homo evolved.
| | |
| --- | --- |
| | An adult Western Ground Parrot photographed in Fitzgerald River National Park, Western Australia. Photo by Brent Barrett, West Australia Department of Environment and Conservation. |
"The discovery has major conservation implications," Australian Wildlife Conservancy and team leader Stephen Murphy said in a press release. "The western ground parrot has declined rapidly in the last 20 years, there are now only about 110 birds surviving in the wild and most of these are confined to a single national park. It is now one of the world's rarest birds."
Nearly the entire population of western ground parrots survive in Cape Arid National Park.
"A single wildfire through the national park or an influx of introduced predators, such as cats, could rapidly push the species to extinction. There is now an urgent need to prevent further population declines and to establish insurance populations into parts of the former range," said West Australia Department of Environment and Conservation Dr Allan Burbidge.
Whereas the western ground parrot is dangerously close to extinction, the eastern ground parrot is listed as Least Concern by the IUCN Red List. Researchers are frequently discovering species through DNA analysis; such new species are referred to as 'cryptic', since they may look similar to other species but DNA proves their unique evolution.
Related articles
Discovery of new population boosts almost-extinct Colombian bird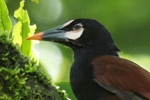 (09/28/2010) The Baudo oropendola (Psarocolius cassini) has gone from less than a dozen known individuals to nearly a hundred due to the discovery of two new colonies in northwestern Colombia by local conservation group, Fundación ProAves. However, the new colonies are located in an unprotected area currently being impacted by deforestation. George Fenwick, president of American Bird Conservancy which focuses on bird conservation, said in a press release that his organization "is thrilled to have helped fund the research expedition that led to this stunning discovery of these two new colonies of this rare bird. Now we need to work with ProAves to conserve and protect them."
Goats, cats trigger near extinction of Hawaiian bird in past 7 years
(09/14/2010) A new survey by the United States Geological Survey shows the population of the Palila (Loxioides bailleui), a beautiful songbird found only in Hawaii, has fallen from 4,400 birds to 1,200 birds since 2003, a decline of nearly 75 percent. The bird is being driven toward extinction by introduced sheep and goats, which are destroying the Palila's key food source, and feral cats, which are killing off adult birds and hatchlings, according to the American Bird Conservancy.
Population of Asia's rarest waterbird 30% higher than previously thought
(09/13/2010) A record-breaking 429 White-shouldered Ibis (Pseudibis davisoni) were recorded in a new survey in Cambodia, dramatically expanding the known global population of the critically endangered bird species, reports BirdLife International.