A biological survey in Northeastern Madagascar has turned up evidence of extensive logging in Masoala National Park, a UNESCO World Heritage Site renowned for its biologically-rich rainforest. The findings suggest that harvesting of valuable hardwoods—including rosewood, ebony, and palissander—continues despite an official ban on the logging and export of timber.
A team of scientists from the Missouri Botanical Garden found dozens of rosewood stumps, log depots, and logging camps during a general botanical inventory of a forest area between the Ankavia and Ratsianarana rivers in the eastern part of Masoala National Park. The researchers estimate 10,000 people are working in the park, felling trees and hunting wildlife, including endangered lemurs. The botanists found several traps for lemurs, which are increasingly sold in a commercial bushmeat market in local towns.
| | |
| --- | --- |
| | Click to enlarge |
The findings come shortly after a video implicated Madagascar's interim president, Andry Rajoelina, in illegal timber shipments to China. The video, which was filmed by undercover investigators with the Environmental Investigation Agency, captured Chinese rosewood traders claiming to do deals directly with Rajoelina, who seized power last year in a military coup. Rajoelina's associates had earlier been linked to illicit timber sales, but the video provided the clearest indication to date of the president's alleged involvement.
Logging exploded last year in the aftermath of the March coup which displaced Marc Ravalomanana, the democratically elected, but increasingly autocratic and, some say, corrupt president. In the ensuing chaos, armed gangs stepped up logging in Madagascar's rainforest parks. Timber worth hundreds of millions of dollars has been shipped to China where it is turned into pricey furniture.
As international outcry over the destruction of Madagascar's forests intensified and some semblance of governance returned to Madagascar, the transitional authority headed by Rajoelina announced a ban on the rosewood trade. But while European shipping companies—stung by criticism for facilitating timber trafficking—appear to be so far respecting the moratorium, timber stocks continue to grow in eastern ports, especially Vohemar and Tamatave, and some timber has been smuggled out of the country. In September two representatives from Maersk in Toamasina (Tamatave) were arrested for allegedly allowing rosewood-filled containers to leave the port aboard one of their ships. Last week a rosewood trader—claiming to act under an exemption granted by Rajoelina—tried to ship roughly $20 million worth of rosewood aboard the Kiara, a vessel owned by the shipping company CMA-CGM, but was rebuffed by local authorities with the Ministry of Water and Forests.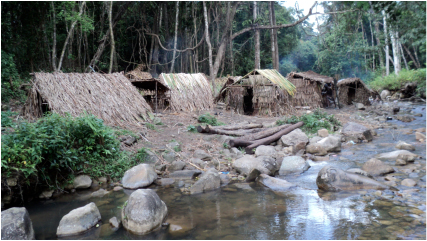 Logging camp in Masoala. Courtesy of the Missouri Botanical Garden
While the last eighteen months have seen a rise in logging, rosewood trafficking has plagued Madagascar for decades. Research published in the June issue of the journal Madagascar Conservation & Development found that rosewood logging has followed a cyclical pattern since at least the 1990s. Timber is harvested on a continual basis and stockpiled until a natural disaster, like a cyclone, or political strife creates an opportunity for shipment. Logging syndicates make a fortune until opposition from conservation groups and international aid agencies shuts down the trade, at least until the next event.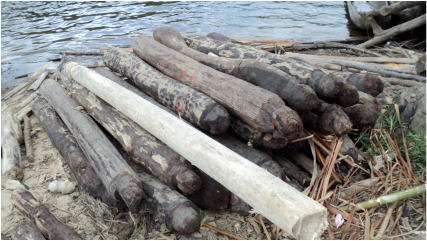 Rosewood log depot in Masoala. Courtesy of the Missouri Botanical Garden
"Illegal exploitation continues throughout the entire cycle, as the government only really controls the export process (i.e., from the loading of containers on board a ship in port to its departure). Timber exporters accumulate stocks while waiting for a favorable phase in the cycle," wrote Randriamalala and Liu, authors of the Madagascar Conservation & Development article.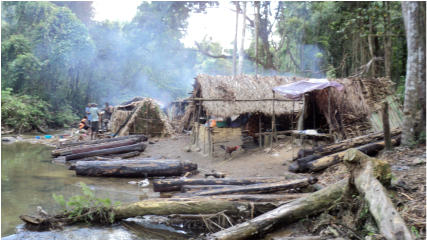 Rosewood logging camp in Masoala. Courtesy of the Missouri Botanical Garden
Most of the benefits from illegal logging accrue to a small group of wealthy individuals. The costs are borne by the rest of Malagasy society, which is increasingly dependent on tourists who come to see the island's natural attractions, including endemic wildlife like lemurs and impressive landscapes like rainforests and coral reefs. Deforestation can also reduce the availability of clean water and food sources.
"Madagascar's tourism industry annually brings nearly a half-billion US dollars to tens of thousands of people involved in all aspects of the industry (hotel and restaurant staff, guides, drivers, taxi operators, boat skippers, artisans and more)." Randriamalala and Liu wrote. "By contrast, the illegal high – end timber industry has resulted in a one-time windfall of an estimated $ US 220 million for just twenty-three individuals."
Related articles