Despite the worst drought on record in the region, deforestation in the Brazilian Amazon during September fell by 20 percent relative to September 2009, reports Imazon, a research institute that provides monthly updates on forest clearing.
Imazon's satellite-based tracking system found accumulated deforestation during from August 2010 to September 2010 totaled 380 square km, down 22 percent from the 489 sq km cleared from August 2009 to September 2009.
But not all the news was good. Imazon found a sharp increase in forest degradation, which usually arises from logging and fires. Degradation is often a precursor to outright deforestation.
Imazon estimates degradation for August 2010 and September 2010 at 2,055 sq km, a 213 percent increase from the same period last year when forest degradation totaled 657 sq km. 85 percent of degradation in recent months occurred in the state of Mato Grosso, which accounts for much of the Amazon's beef and soy production.
The Amazon is in the midst of the worst drought in recorded history, with dried up rivers isolating communities and stranding boats. Meanwhile fires have cast a pall over much of southern Brazil, Bolivia, Paraguay, and parts of Argentina.
The drought is consistent with climate models that predict drier conditions as the tropical Atlantic warms.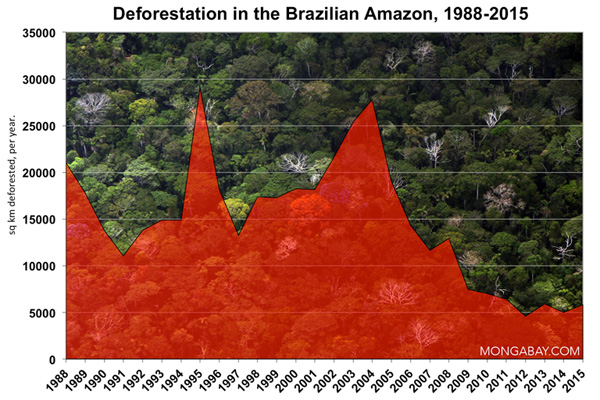 Related articles