A letter signed by over 50 NGOs is calling on three big oil companies—Perenco, Repsol-YPF, and ConocoPhillips—to withdraw from Peruvian territory inhabited by uncontacted indigenous tribes. The letter states that the oil companies' presence in the area threatens the uncontacted tribe with diseases, for which they have little immunity, and puts the lives of oil company workers in jeopardy, since past encounters have ended in violence.
Signed by Survival International, Amazon Watch, Save America's Forests, the Rainforest Action Network (RAN), and Rettet den Regenwald among others, the letter states in part: "by permitting Perenco, Repsol-YPF and ConocoPhillips to operate in the region, the Peruvian government has disregarded the extensive anthropological evidence supporting the existence of uncontacted tribes there. Working on land inhabited by uncontacted tribes would be contrary to international law, which requires that indigenous peoples are consulted about projects affecting them."
According to Survival International, Perenco has applied to construct an oil pipeline in block 67, while Repsol-YPF and its partner, ConocoPhillips, have applied to cut seismic lines and build heliports in block 39. Perenco has already begun flying infrastructure and materials into block 67.
"Operating in this area demonstrates an utter disregard for some of the most vulnerable people on the planet, who may feel forced to defend their territory. If the companies have any sense, they will leave the area to its rightful owners before lives, and reputations, are ruined," said Stephen Corry, director of Survival International in a press release.
Peru has begun a drilling boom in its rainforests. According to Amazon Watch, 75% of Peruvian Amazon is now open to oil and gas exploration and drilling.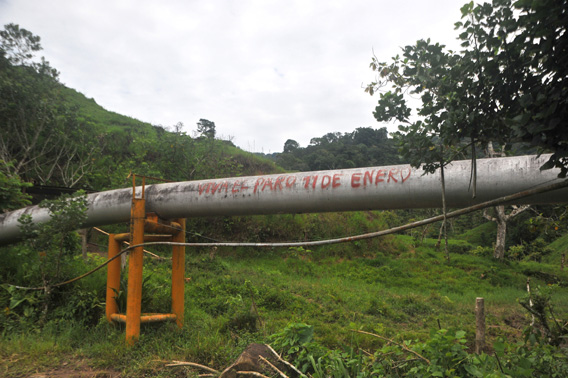 The north Peruvian pipeline, transporting oil from deep in the Amazon to Peru's Pacific Coast. Photo: © Thomas Quirynen/ Survival International.
Related articles
NGO warns oil exploration in Peru may 'decimate' uncontacted tribes
(10/17/2010) Survival International has warned that oil exploration in northern Peru threatens two uncontacted tribes. The organization, devoted to indigenous rights, has sent a letter to the UN's Special Rapporteur on indigenous peoples, James Anaya, alleging that Peru is "violating international law" by allowing oil companies to explore a region home to uncontacted people, who are especially vulnerable to disease.
More of the Amazon opened to oil development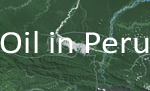 (05/24/2010) Perupetro, the Peruvian government's oil and gas corporate leasing body, announced last week that it will open an additional 25 lots for oil and gas exploration in the Amazon covering an area of 10 million hectares (nearly 25 million acres). Peru's national Amazon indigenous group, AIDESEP, criticized the move calling it a 'new threat' to Peru's indigenous group. According to Amazon Watch these new lots mean that 75 percent of the Peruvian Amazon is now open to oil and gas exploration and drilling.
Oil company to cut 454 kilometers of seismic lines in uncontacted tribe territory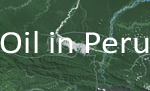 (04/21/2010) Repsol YPF, a Spanish-Argentine oil company, plans to cut 454 kilometers (282 miles) of seismic lines in a territory of the Peruvian rainforest known to be home to uncontacted indigenous peoples, according to a press release from Survival International. To construct seismic lines paths will be cleared in the forest and explosives set-off regularly. Seismic lines allow energy companies to locate oil deposits by creating a cross sectional view of the subsurface.