The mystery of the legendary chupacabra, a beast said to drain the blood of domestic animals at night, has been solved according to a scientist at the University of Michigan.
Biologist Barry OConnor says that most chupacabra sightings are probably linked to coyotes with mange, a disease caused by mites burrowing under the skin of coyotes.
Mange leaves coyotes with extreme hair loss similar to that described by people who claim to have seen chupacabra. Analysis of alleged chupacabra carcasses by scientists has usually turned up evidence of mange, which is caused by the same species of mite (Sarcoptes scabiei) that triggers the itchy rash known as scabies in people.
| | |
| --- | --- |
| | Scientists believe legendary chupacabras monsters are actually coyotes with severe cases of mange, like the animal pictured here. Image courtesy of the University of Michigan |
Domestic dogs have been associated long enough with humans to evolve the ability to fight off mange, but wild dogs—foxes, wolves and coyotes—have not.
"Whenever you have a new host-parasite association, it's pretty nasty," said OConnor in a statement. "It does a lot of damage, and mortality can be relatively high because that host species has not had any evolutionary history with the parasite, so it has not been able to evolve any defenses like we have."
Severe cases of mange can leave wild dogs susceptible to bacterial skin infections, producing a foul odor in addition to hair loss and thickening of the animal's skin. The end result: "an ugly, naked, leathery, smelly monstrosity"—an animal characterized by "chupacabra syndrome."
| | |
| --- | --- |
| | Frozen head of a so-called Chupacabra in Cuero, Texas. (AP Photo/Eric Gay) |
The weakened condition of mange-infested animals may lead them to hunt easier prey: domestic animals.
"Because these animals are greatly weakened, they're going to have a hard time hunting," OConnor said. "So they may be forced into attacking livestock because it's easier than running down a rabbit or a deer."
Mange can also affect non-canine species. In Australia, there are cases of wombat cubracabra, while in other areas serious mite infections can cause weakened-squirrels to fall out of trees, according to OConnor, suggesting the chupacabra can be found in trees and Down Under.
The myth of the chupacabra dates back to 1987 when Puerto Rican newspapers El Vocero and El Nuevo Dia reported on mysterious deaths of animals which were said to have been drained of blood. Its name, coined by Puerto Rican comedian Silverio Pérez, translates to "goat sucker." The creature is sometimes blamed for the disappearance and loss of goats, chickens and other farm animals. It is described as "dog-like, rodent-like or reptile-like, with long snouts, large fangs, leathery or scaly greenish-gray skin and a nasty odor."
Related articles
Pictures from Indonesian New Guinea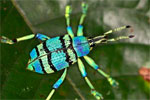 (10/22/2010) Indonesian New Guinea is one of the planet's last frontiers: rugged mountains and rainforests conceal untold numbers of species and hundreds of cultures. But these forests—especially in the province of West Papua—are increasingly under threat from conversion to plantations, logging, and mining. The cultural heritage of the region is also at great risk due to outside influences and colonization.
Losing nature's medicine cabinet
(10/04/2010) In all the discussions of saving the world's biodiversity from extinction, one point is often and surprisingly forgotten: the importance of the world's species in providing humankind with a multitude of life-saving medicines so far, as well as the certainty that more vital medications are out there if only we save the unheralded animals and plants that contain cures unknown. Already, species have provided humankind everything from quinine to aspirin, from morphine to numerous cancer and HIV-fighting drugs. "As the ethnobotanist Dr. Mark Plotkin commented, the history of medicine can be written in terms of its reliance on and utilization of natural products," physician Christopher Herndon told mongabay.com. Herndon is co-author of a recent paper in the journal Biotropica, which calls for policy-makers and the public to recognize how biodiversity underpins not only ecosystems, but medicine.
Stunning toxic frog protected as a result of drug trafficking conflict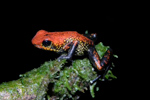 (09/29/2010) A spectacular poison dart frog on the edge of extinction in the wild has been afforded temporary protection by warring drug gangs in Colombia's Chocó region, reports ProAves. The La Brea Poison Frog (Oophaga occultator), a colorful species only documented by scientists in 1975, has suffered from unsustainable collection for the pet trade, severe deforestation for coca cultivation, and aerial spraying for coca eradication, resulting in a substantial population decline. But the species has clung to life in a deforested landscape along the Saija River in Colombian Pacific coast in part due to conflict between three armed groups which has kept collectors out of the area.
Extinct animals are quickly forgotten: the baiji and shifting baselines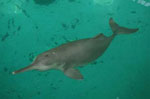 (02/23/2010) In 2006 a survey in China to locate the endangered Yangtze River dolphin, known as the baiji, found no evidence of its survival. Despondent, researchers declared that the baiji was likely extinct. Four years later and the large charismatic marine mammal is not only 'likely extinct', but in danger of being forgotten, according to a surprising new study 'Rapidly Shifting Baselines in Yangtze Fishing Communities and Local Memory of Extinct Species' in Conservation Biology. Lead author of the study, Dr. Samuel Turvey, was a member of the original expedition in 2006. He returned to the Yangtze in 2008 to interview locals about their knowledge of the baiji and other vanishing megafauna in the river, including the Chinese paddlefish, one of the world's largest freshwater fish. In these interviews Turvey and his team found clear evidence of 'shifting baselines': where humans lose track of even large changes to their environment, such as the loss of a top predator like the baiji.
Chupacabra story is a hoax; likely a Xolo dog breed
(09/04/2007) An alleged chupacabra carcass found in Texas is likely a hoax to sell T-shirts say dog experts. The animal, described in an Associated Press report last week as "a cross between two or three different things", was found as road kill last month near the Texas town of Cuero. The woman who discovered the carcass has been using it to market chupacabra T-shirts. In lively Internet discussions dog breeders say the carcass appears to be a Xoloitzcuintle or Xolo, otherwise known as a Mexican Hairless dog, rather than the blood-sucking creature of legend.
Man swims entire length of Amazon river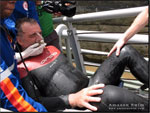 (04/09/2007) Slovenian marathon swimmer Martin Strel became the first person to swim the entire length of the Amazon River Saturday when he arrived in Belem, Brazil. Strel was immediately taken to the hospital in critical condition but is now recovering in a local hotel. Strel, 52, swam 5,265 kilometers (3,272 miles) in 66 days.
(08/12/2007) The Aldabra banded snail (Rachistia aldabrae), a rare and poorly known species found only on Aldabra atoll in the Indian Ocean, has apparently gone extinct due to declining rainfall in its niche habitat. While some may question lamenting the loss of a lowly algae-feeding gastropod on some unheard of chain of tropical islands, its unheralded passing is nevertheless important for the simple reason that Rachistia aldabrae may be a pioneer. As climate change increasingly brings local and regional shifts in precipitation and temperature, other species are expected to follow in its path.
Extinction of the Yangtze river dolphin is confirmed
(08/08/2007) After an extensive six-week search scientists have confirmed the probable extinction of the baiji or Yangtze river dolphin. The freshwater dolphin's extinction had been reported late last year.
Blind pink snake discovered in Madagascar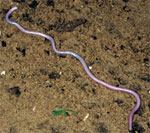 (02/14/2007) A pink worm-like snake has been rediscovered in Madagascar more than 100 years after it was first found. The snake, which is blind and measures about ten inches long, is described in the February 1, 2007 edition of Zootaxa, a leading taxonomic journal. The snake, named Xenotyphlops mocquardi, is one of 15 blind snakes species known from Madagascar. Blind snakes live underground or beneath a layer of rocks, sand, or leaves and rarely emerge from their hideouts. They have poor eyesight and rely primarily on smell and heat detection to locate their prey consisting of insects and insect larvae.
Unusual prehistoric shark beast captured in Japan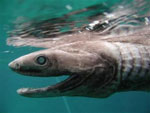 (01/24/2007) A rare frilled shark was captured live by fishermen off the coast of Japan. The toothy eel-like creature was taken to Awashima Marine Park in Shizuoka where it later died according to Reuters. The 5-foot (1.6 meter) long beast was believed to be ill because it was found in shallow waters. Generally the species, known as Chlamydoselachus anguineus, lives at a depth of 488-4550 feet (150-1400 m). It is considered a primitive shark, largely unchanged since prehistoric times.
China uses snake-based earthquake prediction system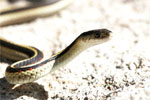 (12/27/2006) A province in southern China has come up with a unique way to predict earthquakes: snakes. According to China Daily and as reported by Reuters, the earthquake bureau in Nanning, capital of the Guangxi province, has set up a 24-hour video feed to monitor the behavior of snakes at snake farms. The scientists say that snakes are particularly sensitive to vibrations caused by impending earthquakes.
In search of Bigfoot, scientists may uncover unknown biodiversity in Malaysia

(02/01/2006) Malaysian scientists are scouring the rainforests of Johor state in search of the legendary ape-man Bigfoot, supposedly sighted late last year. But they are more likely to encounter some less fantastic but unique creatures that dwell in these still unexplored ecosystems. In recent years a number of new and conspicuous animals have been discovered in the forests of South and Southeast Asia, including 361 new species in Borneo over the past decade and 43 new species of vertebrates in Sri Lanka.
Sex vs. Intelligence: Bigger balls mean smaller brain
(12/13/2005) In a recent study of bats, Scott Pitnick, professor of biology at Syracuse University, found that testis size is negatively correlated with brain size. In other words, the bigger the balls of a bat species, the smaller its brain.
Scientists search for Mongolian Death Worm
(05/03/2005) A group of English scientists are spending a month in the Gobi desert in search of the Mongolian Death Worm, a fabled creature said to lurk in the sands of the hostile region. The three to five feet long long creature is known to the locals as Allghoi khorkhoi, Mongolian for intestine worm because it is reported to look like the intestine of a cow. Mongolian nomads have made extraordinary claims about the animal, reporting that the death worm can spit a corrosive yellow saliva that acts like acid and that they have the ability to generate blasts of electricity powerful enough to kill a full grown camel.