Most Americans don't understand the basics of climate change, according to a new poll by researchers with Yale. The poll found that over half of Americans deserve an 'F' on basic understanding of climate science and climate change, while only 1% would receive an 'A'.
While 63% of Americans say that the globe is warming, only 50% attribute that warmth to human activities, i.e. greenhouse gas emissions. Nineteen percent of those polled stated that the climate was not warming. Fifteen percent believe the world is cooling despite long-term scientific data that shows it is warming.
While most Americans correctly identified emissions from burning fossil fuels and deforestation as causes of climate change, a majority also believed, erroneously, that the hole in the ozone layer, aerosol spray cans, and acid rain contributed to warming temperatures worldwide.
One of the most surprising findings of the poll was that only a quarter of Americans have ever heard of ocean acidification or coral bleaching.
"This study demonstrates that Americans need to learn more about the causes, impacts and potential solutions to global warming," said study director Anthony Leiserowitz of Yale University. "But it also shows that Americans want to learn more about climate change in order to make up their minds and take action."
Just over 75% stated they needed more information before "making up their mind" on the issue. The number one source for information about climate change was from television according to the poll.
Three-fourths of respondents said that schools should teach children about climate change, while 68% said they would like to see a government program devoted to climate change education for all Americans.
Until recently the US was the world's largest emitter of greenhouse gases—it has been eclipsed by China. However, the US has been slow to tackle climate change: a climate change and energy bill recently failed in the US Senate due to widespread opposition amongst Republicans and some opposing Democrats. The US lags behind Europe and China in the development of green energy sources.
Related articles
Citizens of 188 countries challenge leaders on climate change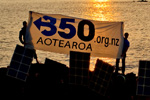 (10/11/2010) As world leaders continue to fumble a coherent, rapid, and comprehensive response to climate change, citizens from around the world yesterday sent a message to inert politicians by participating in over 7,300 events against climate change, according to 350.org, the head organizer of the day dubbed the 'Global Work Party'. "The fossil fuel industry may have thought that the collapse of the Copenhagen talks and its victory in the U.S. Congress were the final word—that people would give up in discouragement," said, Bill McKibben, founder of 350.org, so-called because 350 parts per millions (ppm) is the 'safe' amount of carbon in the atmosphere according to many scientists. Currently the concentration is around 390 ppm.
Obama science adviser wields evidence to undercut climate change denier
(10/04/2010) US President Barack Obama's science adviser, John Holdren, took on climate change deniers in a comprehensive, data-heavy speech last month at the Kavli Science Forum in Oslo, Norway. Proclaiming that "the earth is getting hotter", Holden went on to enumerate on the causes of climate change (human impacts) and its overall effect (not good), discussing at length the science that underpins the theory of climate change. For environmentalists and international officials frustrated with the US's slow pace on combating climate change—which is decades behind Europe's and many other nations'—Holdren touted that the Obama Administration had made progress on the issue and stated that the administration plans to pursue legislation again after a new congress is elected. However, given current predictions that Republicans will pick up seats in November, comprehensive climate and energy legislation seems unlikely since historically the majority of the GOP has been against tackling climate change.
Summer from hell: seventeen nations hit all-time heat records
(08/09/2010) The summer isn't over yet, but already seventeen nations have matched or beaten their all-time heat records. According to Jeff Masters' WunderBlog, Belarus, the Ukraine, Cyprus, Russia, Finland, Qatar, the Sudan, Saudi Arabia, Niger, Chad, Kuwait, Iraq, Pakistan, Colombia, Myanmar, Ascension Island, and the Solomon Islands have all equaled or broken their top temperature records this year. In addition, the hottest temperature ever recorded in Asia was taken in Pakistan at 128 degrees Fahrenheit (53 degrees Celsius); this incredible temperature still has to be reviewed by the World Meteorological Organization (WMO).