As world leaders continue to fumble a coherent, rapid, and comprehensive response to climate change, citizens from around the world yesterday sent a message to inert politicians by participating in over 7,300 events against climate change, according to 350.org, the head organizer of the day dubbed the 'Global Work Party'.
"The fossil fuel industry may have thought that the collapse of the Copenhagen talks and its victory in the U.S. Congress were the final word—that people would give up in discouragement," said, Bill McKibben, founder of 350.org, so-called because 350 parts per millions (ppm) is the 'safe' amount of carbon in the atmosphere according to many scientists. Currently the concentration is around 390 ppm.
Rather than focusing on protests, the Global Work Party was meant to get citizens actively working on solutions to climate change. For example, students planted trees in Kabul, Afghanistan; a research station installed six solar panels in the desert of Namibia; supporters handed out cloth bags in Sana'a, Yemen; roofs were painted white in Lima, Peru; after being injured by an oil spill African penguins will be releases back into the wild in South Africa; and a group cleaned up beaches in Kota Kinabalu, Malaysia.
| | |
| --- | --- |
| | Bangladeshis demonstrate in flood waters. The Southeast Asian nation is considered one of the most vulnerable to rising seas. Photo courtesy of 350. org. More photos of the event are available at: to Blogger Photos and Media Photos. |
Despite the emphasis on work, protests also occurred. Seven thousand people marched in the streets of Istanbul, Turkey. Flood victims in Bangladesh—one of the world's most vulnerable nation to climate change—symbolically demonstrated in flood waters, sporting a sign that said: 'Change behavior, not climate'.
A quarter of the events were held in the United States (2,000 events), which has seen comprehensive climate change legislation fall to wayside this year after a number of politicians, both Democrats and Republicans, were unwilling to support it. Events were held in all 50 states: a massive bike ride was held in New Orleans, Louisiana; a special climate justice religious service was held in Atlanta, Georgia; while native grasses were planted in prairie lands in Lincoln, Nebraska.
"It's time for us to roll up our sleeves and get to work on building the clean energy future that will generate economic opportunity and provide a better, safer, healthier world for our children," UN Secretary Ban Ki-moon said about the day.
One of the most notable events of the Global Work Day was in China. Over 30,000 students from 200 Chinese universities launched a program devoted to climate action.
| | |
| --- | --- |
| | Thousands of people march in Istanbul, Turkey. Photo courtesy of 350. More photos of the event are available at: to Blogger Photos and Media Photos.org. |
"This was the biggest show of youth environmental action in China's history," media spokeswoman Joanna Wong told the AFP. "It is about China's youth showing the world they want to take responsibility for our country's green future."
To kick off the campaign, President of the Maldives, Mohamed Nasheed, installed solar panels on his roof. Among the world's most low-lying islands, the Maldives is on the front lines of rising sea levels attributed to climate change.
Scientists overwhelmingly agree that the world is warming due to massive greenhouse gas emissions from human impacts, such as burning fossil fuels and deforestation. Among climate change impacts are rising sea levels, worsening and more frequent severe weather, long-term droughts, and massive species extinction. While researchers say it is not possible to link a single weather event to climate change, they point a number of tragic event this year as consistent with expected climate change impacts, such as devastating floods in Pakistan, a surprising heat wave in Russia, and unusual floods across the United States.
"The turnout today—at what is almost certainly the most widespread day of political action in the planet's history—demonstrates that people are fed up with the inaction of their leaders and ready to take matters into their own hands," McKibben said, adding, "Game on."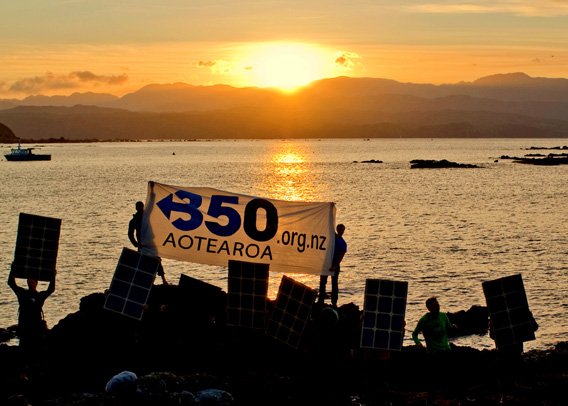 New Zealanders performed a 'solar panel boogie' at sunrise. Photo courtesy of 350.org. More photos of the event are available at: to Blogger Photos and Media Photos.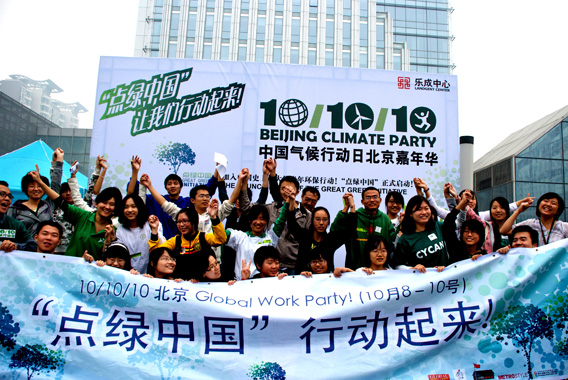 Activists in Beijing, China. The nation saw unprecedented action yesterday on climate change. Photo courtesy of 350.org. More photos of the event are available at: to Blogger Photos and Media Photos.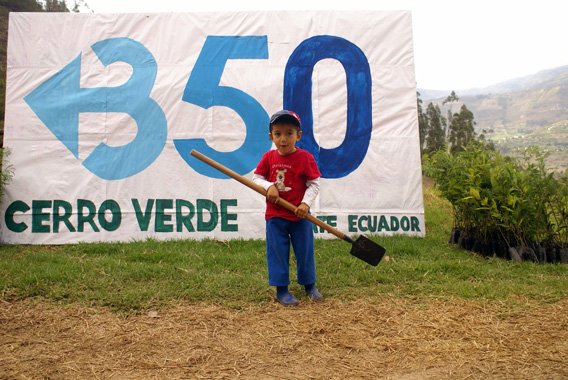 Young and old planted trees in Ecuador. Photo courtesy of 350.org. More photos of the event are available at: to Blogger Photos and Media Photos.

Related articles
As a tiny island nation makes a big sacrifice, will the rest of the world follow suit?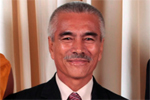 (09/15/2010) Kiribati, a small nation consisting of 33 Pacific island atolls, is forecast to be among the first countries swamped by rising sea levels. Nevertheless, the country recently made an astounding commitment: it closed over 150,000 square miles of its territory to fishing, an activity that accounts for nearly half the government's tax revenue. What moved the tiny country to take this monumental action? President Anote Tong, says Kiribati is sending a message to the world: 'We need to make sacrifices to provide a future for our children and grandchildren.'
$28 billion pledged by rich nations to fight climate change
(08/24/2010) $27.9 billion in "fast-start" funding has so far been pledged by industrialized countries to help developing countries mitigate and adapt to climate change, according to a new climate finance tracking tool released by the World Resources Institute (WRI). The tool aims to create transparency around climate change funds to ensure that rich countries follow through on their commitments and that the money is not wasted or "lost."
NASA image captures one of the warmest Julys on record
(08/19/2010) The NASA Goddard Institute for Space Studies (GISS) has found that the global average temperature of July 2010 was nearly 1 degree Fahrenheit (0.55 degrees Celsius) higher than average temperatures from July1951-1980. In fact, this July was tied for the warmest on record with July 2005 and 1998.
Summer from hell: seventeen nations hit all-time heat records
(08/09/2010) The summer isn't over yet, but already seventeen nations have matched or beaten their all-time heat records. According to Jeff Masters' WunderBlog, Belarus, the Ukraine, Cyprus, Russia, Finland, Qatar, the Sudan, Saudi Arabia, Niger, Chad, Kuwait, Iraq, Pakistan, Colombia, Myanmar, Ascension Island, and the Solomon Islands have all equaled or broken their top temperature records this year. In addition, the hottest temperature ever recorded in Asia was taken in Pakistan at 128 degrees Fahrenheit (53 degrees Celsius); this incredible temperature still has to be reviewed by the World Meteorological Organization (WMO).
Officials point to Russian drought and Asian deluge as consistent with climate change
(08/08/2010) Government officials are pointing to the drought and wildfires in Russia, and the floods across Central and East Asia as consistent with climate change predictions. While climatologists say that a single weather event cannot be linked directly to a warming planet, patterns of worsening storms, severer droughts, and disasters brought on by extreme weather are expected as the planet warms.
US government fails on climate change
(07/26/2010) Not even intense international pressure, the BP oil spill, worsening floods, or the fact that the last six months have been the warmest on record globally was enough to push US climate legislation through the Senate. In the end the legislation died without a single Republican supporting it and a number of Democrats balking. Democratic Senate leader, Harry Reid, said they would continue to push climate legislation in the fall, but analysts say success then is unlikely given up-coming elections in November.
June was the 304th month in a row above average temperatures
(07/20/2010) Data released from the US's National Oceanic and Atmospheric Administration (NOAA) and the National Climatic Data Center shows that June 2010 was a record breaker. It was the warmest month of June globally since record-taking began in 1880 and it is the 304th month in a row that has been above the 20th Century average. The last month to fall below the average was February 1985: the month Nelson Mandela, who recently celebrated his 92nd birthday, rejected an offer of freedom from the then apartheid government.
Arctic ice hits lowest record for June
(07/14/2010) In June the average sea ice extent in the Arctic was the lowest on record for that month, according to the National Snow and Ice Data Center (NSIDC). Measured by satellites, the seasonal movements of Arctic ice have been tracked since 1979 with a dramatic decline seen over the last 30 years. This decline is linked by climatologists to climate change.
Most climate change doubters lack expertise
(06/25/2010) An analysis of the scientific prominence and expertise of climate researchers shows that the few who are unconvinced of human-caused climate change rank far below researchers who are convinced. Most news media accounts fail to include that context when reporting claims from the doubters.
2010 the second hottest year on record through May
(06/23/2010) The first five months of 2010 have been the second warmest on record, according to data released by the University of Alabama Huntsville.
Freak floods in US predicted by 2009 climate change report
(06/16/2010) A rash of flash floods has struck the US during this spring: Rhode Island, Tennessee, Arkansas, and most recently Oklahoma have all faced devastating floods that have resulted in the loss of property and in some cases tragic deaths. While flash floods have occurred throughout US history, the number of big floods this year appears abnormal at best, but not unexpected by researchers. Climatologists warned last year that an increase in floods and severe storms is very probable as the world warms.