Tanzania's plan to build a road through the Serengeti has raised the hackles of environmentalists, conservationists, tourists, and wildlife-lovers worldwide, yet the proposed road is only the most recent in a wide variety of threats to the Serengeti ecosystem. A new study in mongabay.com's open-access journal Tropical Conservation Science looks at the wide variety of issues facing the Serengeti and how to save one of the world's most beloved landscapes and wildlife communities.
According to author Jafari R. Kideghesho, the Serengeti National Park faces threats from illegal hunting and human encroachment due to "rapid human population growth, poverty, and failure of conservation authorities to offer compensation for losses that local people suffer as a result of conservation", as well as development projects such as the proposed road.
| | |
| --- | --- |
| | Female lion guards a wildebeest kill in Tanzania. Photo by: Rhett A. Butler. |
Illegal hunting is largely done by local impoverished tribes who kill animals both to feed themselves and to sell commercially. Wildebeest are particularly targeted, leading to concern for one of the world's last great mammal migrations. In addition, the sizeable human population, which continues to grow rapidly, at the park's edges have led to "agriculture, unplanned fires, settlements, overgrazing, and mining" both inside and outside the park impacting wild animal populations.
Linking poverty to Serengeti's issues, Kideghesho argues that these problems could be limited by hands-on help from conservation groups and the Tanzanian government to local communities adjacent to the park.
"The government and conservation agencies can intervene by supporting local people in improving agricultural production […]. With proper and adequate support, food security can be guaranteed, and therefore pressure on species and habitats can be reduced. Furthermore, alternative livelihood strategies such as small business enterprises, ecotourism, poultry production, and beekeeping can be secured," Kideghesho writes.
While aiding local communities in developing eco-friendly economies is paramount, improving environmental education and maintaining regular discussions with local groups would also remedy the situation.
In addition, authorities must finally confront one of the underlying issues in the Serengeti: population growth.
"[Population] has barely been accorded adequate attention in the conservation policies. This factor is often neglected, thus making dealing with conservation problems similar to treating the symptoms rather than the real cause of the disease," Kideghesho argues.
To deal with the sensitive issue of over-population authorities must better control immigration into the area, develop family-planning programs, hire locally, and increase awareness of the problem.
The other major issue facing the Serengeti is governance as the Tanzanian government is planning large-scale development projects that could severely harm the ecosystem, such as the proposed road which would cut through the entire park.
"All projects should be subjected to a thorough Environmental Impact Assessment (EIA) before implementation, and those with detrimental impacts on wildlife species and habitats should be rejected outright," Kideghesho writes, noting that past experience with new roads through protected areas have proven critical threats to wildlife through collisions and interruptions of migration routes.
By directly facing issues of poverty, over-population, and new development projects with an eye toward safeguarding the Serengeti and bettering the lives of local people, the world could preserve one of our most beloved landscapes for future generations.
CITATION: Jafari R. Kideghesho. 2010. 'Serengeti shall not die': transforming an ambition into a reality. Tropical Conservation Science Vol. 3 (3): 228-248.

Elephants in a marsh in Tanzania. Photo by: Rhett A. Butler.

Related articles
Road through the Serengeti will eventually 'kill the migration'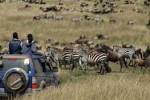 (07/08/2010) Tourists, conservationists, individuals, and tour companies have launched an international outcry against the Tanzanian authorities in response to the announcement of the planned construction of the trans-Serengeti Highway highway. There is even a Facebook group and an online petition with 5,038 signatures. But the government has responded by saying that the plans are still on course.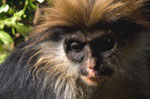 (03/23/2009) Bushmeat hunting constitutes the most immediate threat to wildlife populations in the Udzungwa Mountains of the Eastern Afromontane biodiversity hotspot in Tanzania. A new study, published in Tropical Conservation Science assesses the impact of hunting by comparing densities of mammalian species between the little hunted West Kilombero Scarp Forest Reserve, the medium-hunted Udzungwa Scarp Forest Reserve and the intensively hunted New Dabaga Ulangambi Forest Reserve.
Conserving wildlife in Tanzania, Africa's most biodiverse country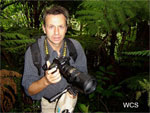 (11/09/2006) With ecosystems ranging from Lake Tanganyika to Mt. Kilimanjaro, Tanzania is the most biodiverse country in Africa. Though Tanzania is world famous for its safari animals, the country is also home to two major biodiversity hotspots: coastal forests of Eastern Africa and the montane forests of the Eastern Arc Mountains. Tanzania has set aside nearly a quarter of its land mass in a network of protected areas and more than one-sixth of the country's income is derived from tourism, much of which comes from nature-oriented travel. Despite these conservation achievements, Tanzania's wildlands and biodiversity are not safe. Fueled by surging population growth and poverty, subsistence agriculture, fuelwood collection, and timber extraction have fragmented and degraded extensive areas that are nominally protected as parks. Hunting and unsustainable use of forest products have further imperiled ecosystems and species. In the near future, climate change looms as a major threat not only to Mt. Kilimanjaro's glaciers, which are expected to disappear within ten years, but also to Tanzania's many endemic plants and animals found in its montane forests. Working to better understand these threats and safeguard Tanzania's biodiversity for future generations is Tim Davenport, Country Director for the Wildlife conservation Society (WCS) in Tanzania.